It's been a busy Winter! When I started my DIV-GAP Portfolio on SA, I planned on adding articles and updates every few weeks or more often if time permitted. (The Dividend for Growth And Payment Portfolio is outlined here) Having finished quite the busy season, I am finding myself ready to tackle a few things on my to-do list including some updates on picks for stocks. I will be starting with CSX Corp. (NASDAQ:CSX).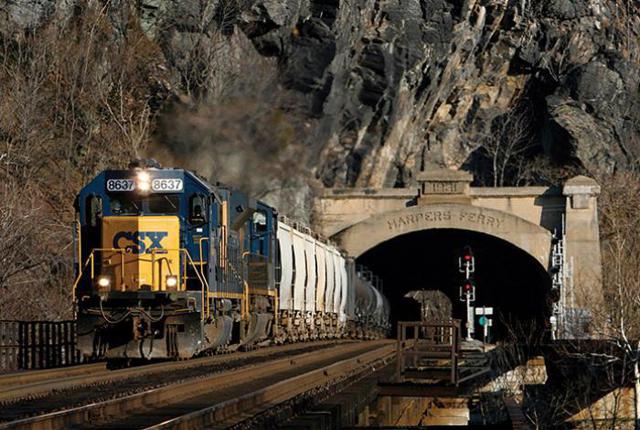 I have always wanted to own stocks in rail companies. Considering my family has a lot of train buffs, and I have plenty of interest as well it seems wise to follow advice and invest in what you know. Lately the Industrial Sector has been hammered by what appears to be deflationary forces. (Though many will not admit that is what it looks like.) I have been eyeing Union Pacific (NYSE:UNP), Norfolk Southern (NYSE:NSC), and CSX for years and have never found what I felt was a good time to invest in railroad stocks due to price. I am now seeing favorable prices and am seeing what looks like market mispricing on some of these transports. (Barring a full-blown financial meltdown, of course.)
Also, note that I am not a statistician or expert in technicals for stocks. I look for trends I can follow, and try to spot them early. After a trend is spotted, I look for areas where I believe the market is mispricing something for a long-term investor. (While I am not necessarily a buy and hold forever investor, I do plan on building a safe portfolio that I can buy and hold long term. Also looking to buy when I have funds and the prices seem down based on what I know of Bollinger Bands, PE, EPS, RSI, etc.)
U.S. Coal
Obviously it's been a rough road for U.S. Coal companies and the railroads transporting it. I will not get into the most in depth analysis of coal because I believe everyone already knows that coal shipments do not look good for a while. U.S. coal exports have gone down over the last few years and will probably continue for as long as the dollar remains strong. Let's face it… when the dollar is up, countries outside of the U.S. will have to pay more for coal from the U.S., meaning exports will go down.
Coal, being a large percentage of business, has hurt the bottom line of every rail company. CSX recently announced a 32% decline in coal shipments during the fourth quarter. Clearly this is not a pretty picture however it seems that there will be other sectors leading the way in the future and that is what leads me to believe CSX has a bright future when the market turns.
Intermodal
CSX's intermodal unit appears to be a beneficiary of many upcoming trends that can be capitalized on. Fourth quarter revenues show a gain of 4%. Four percent is not exactly going to rocket the company higher, but it is a nice increase in a rough environment. It also shows that intermodal is gaining ground, and I believe intermodal traffic will lead to a resurgent CSX at some point in the future for numerous reasons, including the completion of the Gateway Project and the Panama Canal expansion.
Gateway Project will benefit Intermodal, as well as other CSX areas
CSX currently has some bottlenecks with regards to freight traffic. Double stack intermodal units cannot fit in some of the tunnels and have caused CSX to either alter their routes or single stack in some areas. Since CSX realizes the most efficient route is the closest to a straight line, they have been working on expanding tunnels, bridges, and adding tracks in order to be more efficient in the future. This is a great long term investment for the company.
Not only will CSX be able to get more freight to areas faster, they will be able to get more trains through areas that are currently single tracked when the double tracking is complete. This will also lower fuel consumption, saving money for the company. It may even allow them to use fewer locomotives which could reduce employee count, and related expenses, by a little.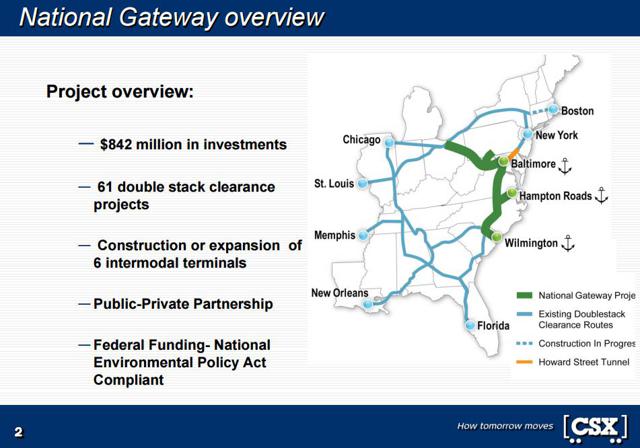 As intermodal business picks up further, they have a more direct route that allows for more shipments and then we have a greater chance at intermodal business moving the needle for CSX. The FHWA (Federal Highway Administration) expects freight traffic to double by 2040. Even if that is a rosy outlook, it supports increased business for CSX.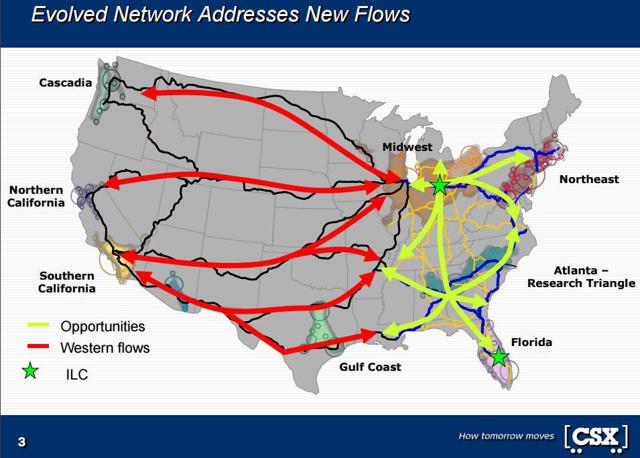 Why would I assume intermodal business would pick up? It has already been growing for CSX, however the Panama Canal expansion is nearing completion and will drive efficiency efforts for shippers as well.
Panama Canal Expansion is opening soon
According to current reports the Panama Canal expansion will be completed and open for business on April 1st, 2016. Most areas show 96% completion or better, with testing already started in the locks. Once completed, the canals will start receiving larger ships capable of up to 14,000 TEUs instead of the current limit of 5,000 TEUs.
Shippers are either efficient, or they are replaced. Due to this focus on cost and efficiency, numerous ships once headed towards West Coast ports will make the journey through the new canal and can head directly to the South or the East Coast. CSX and Norfolk Southern - and to a lesser extent Florida East Coast railway - should see increased activity of intermodal shipments soon after the opening. The expansion of the canal indeed "spurs investment opportunity" for people interested in the details.
West Coast ports will still be receiving ships up to 15,000 TEUs, however BNSF and UP will most likely lose a good percentage of business that would have been loaded onto a train and transferred to CSX or NS to reach the Eastern region. While trains can move the freight faster, most people understand that shipping is cheaper, and this will reduce the cost to the buyer. (Possibly the profit margin to the seller as well.) Any Longshoreman contract disputes will further push business to the Eastern U.S. Ports.
Basically, the opening of the canal can allow Asian exports easier access to Eastern ports. That is a business opportunity for CSX and NS. C.H. Robinson Worldwide has estimated that the opening of the canal expansion could shift 10% of Asian exports to the U.S. to Eastern ports that were headed to Western ports. Those Eastern ports belong to CSX and NS. (This is a great reason why Canadian Pacific (NYSE:CP) would want Norfolk Southern so badly.)
CSX's updated, or expanded, ports in Miami, New Orleans, Tampa, Mobile and Pensacola are all raring to pick up that extra business headed to the South while expansion of larger ports at Wilmington, Hampton Roads, Baltimore, New York, and Boston will happily pick up the Eastern materials as well.
Timing and Outlook
Timing is the stickiest subject. While numerous authors say get out now, I believe most investors realize they will never exactly pick a bottom for a stock or market. (Though we might get lucky more than others, it is still luck… even if assisted by knowledge!) Even CSX's own people have stated that 2016 will be a tough year. Low commodity prices and a strong dollar are forces that will continue to cause challenges. However I believe starting to average in to names like CSX will be a good plan.
With the money I have sitting on the sidelines, ready for market use I will be buying into CSX in the next few days. Current price of $22.17 and a dividend over 3% is too good an opportunity to pass for me. I will be purchasing at least a third of my hopeful full position. If prices fall below $19-20 I will happily purchase more. Any final amount will wait until I see commodity prices increase regularly, or the dollar start to weaken.
Today or tomorrow I will officially be long CSX.
Disclosure: I am/we are long CSX.
I wrote this article myself, and it expresses my own opinions. I am not receiving compensation for it (other than from Seeking Alpha). I have no business relationship with any company whose stock is mentioned in this article.