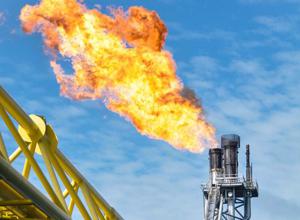 For Petróleo Brasileiro S.A. - Petrobras (NYSE:PBR), things have gone from bad to worse in the past three months as it is down over 33%. Apart from the slowdown in the oil and gas market, Petrobras has been negatively impacted by the economic crisis in Brazil, and it is likely that the company will continue struggling this year. Let's see why.
Brazil's economic slowdown will impact oil demand negatively
After contracting 3.71% in 2015, it is anticipated that Brazil's economy will shrink 2.95% this year. In fact, this latest forecast of Brazil's economy by analysts is worse than the preceding week's forecast of a 2.81% contraction in the economy. At the same time, inflation in Brazil is also soaring as last year, the country's consumer price index shot up to 10.67% from 6.41% in 2014.
As a result, almost all basic necessities in Brazil have become expensive, with food costs increasing 12% in 2015, along with an 18% rise in housing and a 10% increase in transportation costs. Thus, due to a contracting economy and rising costs, the Brazilian consumer is under pressure, and this trend is slated to continue this year.
As a result of the recession in Brazil, auto sales in the country are expected to fall once again this year after a woeful 2015. According to Brazil's dealership association, a drop of 5.2% is anticipated in car and light truck sales in the country, while sales of buses and heavy trucks are anticipated to decline 4.2%. This comes after a drop of 24% in auto sales in Brazil in the first 10 months of 2015. Thus, a consistent decline in Brazil's auto sales is one of the many reasons why oil consumption will fall in the country.
At the same time, the recession is having an impact on industrial production as well, which was down 7.8% last year and is expected to decline another 3.5% this year. Thus, like last year, it is likely that Brazil will continue seeing weakness in oil consumption this year, which will negatively impact Petrobras' prospects. In fact, as shown in the chart below, Brazil's anticipated oil consumption over the next five years is expected to grow at a far slower rate than the previous five-year period, but the situation could be worse if the downtrend continues: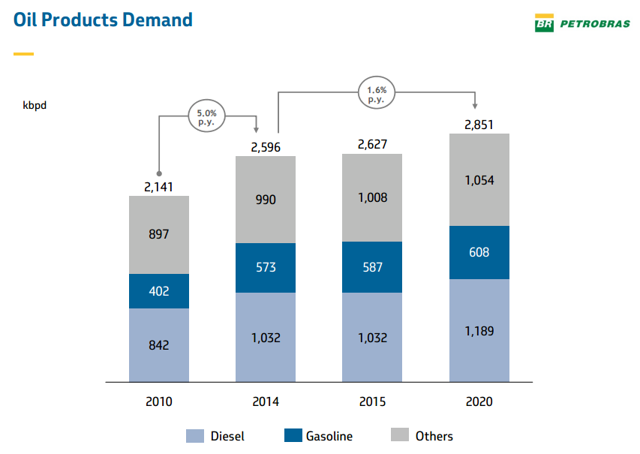 Click to enlarge
Source: Petrobras
On the other hand, Petrobras' downsized business plan indicates that oil production in the country will increase 27% from 2016 to 2020, indicating a CAGR of 4.94%. As a result, the oversupply in the Brazilian oil industry will persist going forward, which will have a negative impact on pricing and Petrobras' financials.
Petrobras' weak fundamentals will get worse
Though Petrobras remains quite optimistic about reducing its leverage levels going forward and has been cutting down its business plan spending to achieve the same, a look at the company's fundamentals indicates that it is not going in the right direction currently. For instance, as shown in the chart below, Petrobras' debt-equity ratio has increased at an alarming pace of late, creating more interest burden.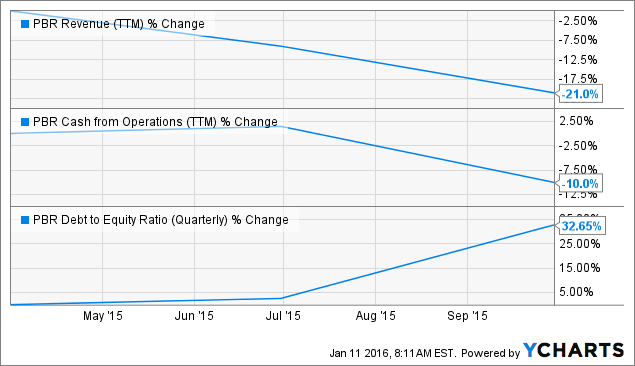 PBR Revenue (NYSE:TTM) data by YCharts
Along with the weakness in the end market, a higher leverage has created pressure on its operating cash flow. Moreover, since the company's revenue is anticipated to continue declining in light of the recession in Brazil and overall weakness in the oil market, its cash flow will come under more pressure. In fact, a look at Petrobras' debt burden of $125 billion clearly indicates that it has high interest expenses.
In comparison, Petrobras' cash position of $25.7 billion and operating cash flow of $18.8 billion generated in the past year are nowhere near its huge debt. The company also has a weak current ratio of 1.61, which indicates that it faces a challenging short-term liquidity position. Considering the headwinds discussed earlier in the article, it won't be surprising if Petrobras continues to see weakness in its fundamentals going forward and its balance sheet will get under more pressure.
Conclusion
Petrobras has had a woeful time on the stock market of late, and given the points discussed above, I don't think that the company will be making a comeback anytime soon. So, in my opinion, I think that it will be a good idea to stay away from Petrobras as the stock could be set for more downside.
Disclosure: I/we have no positions in any stocks mentioned, and no plans to initiate any positions within the next 72 hours.
I wrote this article myself, and it expresses my own opinions. I am not receiving compensation for it (other than from Seeking Alpha). I have no business relationship with any company whose stock is mentioned in this article.