Introduction
Ctrip (NASDAQ:CTRP) has corrected more than 18% since December 2015 on two fears:
competition
rising fears of Chinese slowdown
In this article, I look at both of these threats with particular focus on competition in the sector. I recently accumulated shares in CTRP following the selloff as I think fears of rising competition are slightly overblown.
Rising competition
Fears of competition in the online travel agency (OTA) space are nothing new. The intense competition faced by CTRP from 2010 to 2014 saw a gross and EBITDA margin contraction for CTRP and other OTA players such as Qunar (NASDAQ:QUNR).
In my initiation report on CTRP however, I talked about how their stake in QUNR and eLong (China's number three OTA player in terms of hotel bookings volume) could help turn things around for CTRP as price competition between them has resulted in suffering for all players in the industry.
In my initiation report on CTRP, I argued in detail why the stake in QUNR and eLong (NASDAQ:LONG) was a game changer because price competition is hurting the entire industry. A study done by Hurun Research Institute also shows support for this view (the report is in Mandarin). According to the study, price ranked second lowest among Chinese travelers with regards to the factors they consider when choosing a hotel, just slightly above food. Among the qualities most important for the Chinese are brand, service and facilities. An overwhelming majority, over 55%, consider these the three most important factors.
I think the report illustrates that, moving forward, the Chinese OTA players need to focus on partnerships to improve their offerings to the Chinese to attract customers. The result of the survey shows that the growing Chinese middle classes have shown themselves to be relatively price inelastic when it comes to travel.
The good news is that the Chinese OTA players are beginning to know this as well. This is the reason why they have departed from the costly price war they used to engage in and instead focus on offering value to consumers, which is good in the long-term for consumers and the industry.
Meituan's Group Buy model as a threat?
For the benefit of readers here who are not exactly familiar with Meituan's business model, I will elaborate on it a little. Meituan is China's leading local service platform offering a broad range of services from hotels, food and movie tickets, among others. You can see it for yourself here.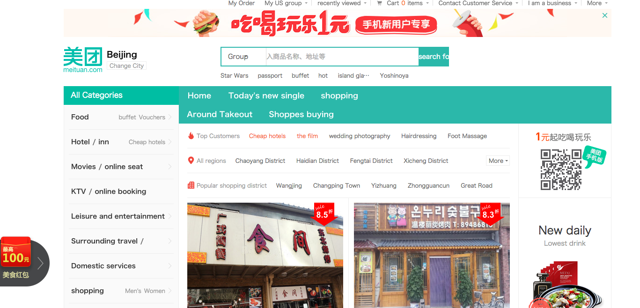 Click to enlarge
Source: Company website [This page has been translated to English]
Meituan uses a group buy business. The idea is simple: By buying in bulk, they derive a bigger cost savings than if one had bought individually. The result is that consumers are able to derive larger cost savings by using their site.
Meituan first entered the hotel business in 2012 and since then, they have been attempting to expand their service offerings. In July 2015, the Group announced that they will be acquiring Kuxun.com from Expedia's (NASDAQ:EXPE) Tripadvisor (NASDAQ:TRIP).
I think it is too early to dismiss Meituan as we are still in the early stages of the OTA cycle. This is especially so when we consider that only 33% of Chinese in 2014 booked their travel arrangements online, up from 29% in 2011. The threat from Meituan at this stage however, is rather minimal. You can see it for yourself on the link provided above. Meituan currently focuses on budget or independent low-end hotels they can work out this arrangement with. This is different from CTRP's focus of mid- to high-end bookings.
Threat from Alitrip
Again, for the benefit of readers who are not aware of Alitrip's business model, Alitrip is Alibaba's (NYSE:BABA) dedicated online travel marketplace (you could probably have guessed from the name) and operates the same business model as their parent. This means travel agencies, hotels, and airlines can set up an online store at their platform to offer their services to consumers.
The benefit of this model is scale. If Alitrip can get enough travel players from the industry to set up shop on their platform, they can be a one-stop service provider for travelers looking for a good travel deal.
Again, I think that while it is still too early to dismiss them, for the same reasons discussed above, the threat they pose to CTRP at this moment is considerably small.
This is because Alitrip is still at the early stages of setting up and while it is true that they can leverage their parent for traffic to their site, merchants operating online tend to be on an independent or a standalone basis. This means that they are at this moment, unable to provide the same kind of customized service CTRP and QUNR are able to offer.
Valuation
CTRP is currently trading at about 8x based on an EV/Sales (trailing) basis, which is the most apt valuation methodology for the sector at this point since the EBITDA is highly volatile. This is not expensive when we take a long-term view of the Chinese travel industry, which has been growing rapidly over the last five years, growing at an average 19.8% compounded.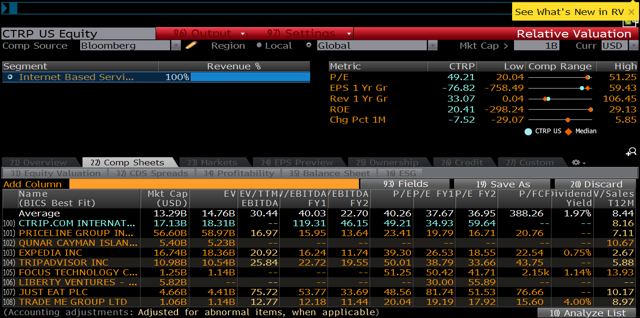 Click to enlarge
Source: Bloomberg
Moving forward, the National Tourism Administration of China expects the travel industry to expand by a 7.8% compounded growth until 2020. I think we are witnessing the turnaround of the Chinese OTA industry, and CTRP is the prime beneficiary of this.
Considerations
I think the question on everybody's mind right now is, are we seeing a slowdown in China? And if so, will this impact discretionary consumption of the Chinese travelers? I think the China slowdown is valid, but a little overdone especially considering how the Chinese economy is growing at more than 6% every year despite the slowdown. Nonetheless, I think this will continue to act as a drag and overhang on the stock in the next few months.
Conclusion
While the fear of a Chinese slowdown is rightly weighing on the stock price, I think fears of rising competition in the sector are a little overdone. The sell down stems from the lack of understanding of the OTA competitive landscape in China. The Chinese travel industry will also continue to grow, even if this might take a little longer. I think patient investors will be rewarded from the uptrend in this industry, so sit back and enjoy the ride.
Disclosure: I am/we are long CTRP.
I wrote this article myself, and it expresses my own opinions. I am not receiving compensation for it (other than from Seeking Alpha). I have no business relationship with any company whose stock is mentioned in this article.