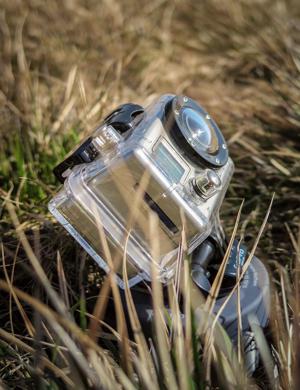 GoPro (NASDAQ:GPRO). What a mess!
In case you haven't heard (and odds are you probably have), GoPro announced that it plans to deliver a massive miss on Q4 revenue and earnings. Expectations were for revenue in the range of $500M-$550M but the company now says it expects to report just $435M.
This news really makes me question the viability of GoPro long term and I wouldn't have said that just a few weeks ago. Everything that seemed like it could have been a catalyst for a rebound in December seems to have pretty much evaporated with this news.
The assumption for the past year or more has been that demand for action cameras has essentially been drying up once the first wave of buyers got their hands on the product. JPMorgan analysts noted recently that the company's Hero4 Black and Silver models both experienced strong holiday sales. Unfortunately, we realize now that much of those sales came at cut rate prices as the company did what it could to move merchandise off the shelves.
In the news yesterday, the company said that it blamed weaker than expected camera sales at retailers through the first half of Q4. Putting those two pieces together, you could conclude that sales weakness came in the first half of the quarter and that stronger sales came in the second half once the holiday shopping season rolled around but that feels like a reach. The optimist's view could be that the company beats the $435M when it reports actual results but that's from a sure thing.
The company announced plans some time ago to launch a consumer 360 degree camera. I would have considered that a short term catalyst for GoPro a few weeks ago but it doesn't seem that this camera would be quite as impactful now. If retail consumers aren't buying GoPro's cameras as it is now it's probably likely that they're not going to buy the new 360 camera either. You might get some sales from the hardcore thrill seekers but this once promising item now seems like it has more bust potential.
It may be now that GoPro's only real potential new revenue generator may come from the virtual reality space. Facebook (NASDAQ:FB) will be debuting the Oculus Rift soon and GoPro has its Odyssey panoramic capture device available for sale to professionals. Given the company's recent new product launch failures coupled with the fact that several other companies are looking to get in on virtual reality it's questionable, even doubtful, that GoPro will make headway. Entertainment Chief Zander Lurie has already jumped ship suggesting that the company's GoPro channel might not be as potentially lucrative as once thought either.
Conclusion
At its core though, GoPro faces the main issue that its product just isn't unique anymore. Companies like Sony (NYSE:SNE) and TomTom (OTCPK:TMOAY) are building comparable cameras at competitive prices. Even smartphones are capturing pictures and videos with stunning quality these days. The list of competitors to GoPro is growing and the company may very well be getting squeezed out altogether.
It's easy to jump on the negative bandwagon when news like this comes out but it looks like GoPro could be in serious trouble. Product demand is shrinking. Its new product launches have been unsuccessful, its new revenue initiatives are questionable at best, high level employees are leaving and competition is growing. There's just not much here to suggest that GoPro will be successful long term and the Q4 warning may be a signal that things will continue getting worse before they get better. If they ever do.
Disclosure: I/we have no positions in any stocks mentioned, and no plans to initiate any positions within the next 72 hours.
I wrote this article myself, and it expresses my own opinions. I am not receiving compensation for it (other than from Seeking Alpha). I have no business relationship with any company whose stock is mentioned in this article.