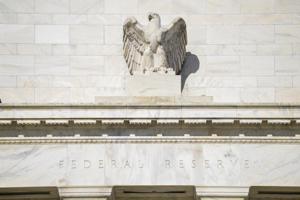 With so many expecting the Fed to continue raising rates, as did (4 more rate hikes) the Fed officials themselves mention in December, it might come as a surprise if the Fed did the complete opposite this year, by actually bringing in more stimulus. I am not sure they are going to bring in more stimulus, in the shape of rate cuts, or perhaps additional QE, but I believe this is likelier than additional rate hikes. Let's analyze the probabilities for 2016 and see the likelihood of this scenario.
2016 starts with some old realities, which were pretty much clear to see by mid-2015. Deflationary pressures were strengthening, and new additional deflationary measures seemed to be more likely than not. There was a huge glut of production capacity out there in energy and commodities and the giant consumer of last resort, China, had for years already started to go on diet, a diet which seemed to get tighter.
Debt levels were not falling pretty much anywhere, but rather rising. Debt levels have been falling in some of the private sector, but governments have been piling on. Aggregate debt has risen sharply since the financial crisis all over the world. Servicing all this debt, while sorting out huge excess capacity in many industrial areas across the world, will continue to be a burden, perhaps a bigger burden in 2016 than in 2015. Consumers will step in to help out in some cases, especially in China where there is still quite a lot of consumption potential.
However US consumers are already stretched. US consumers don't have a lot of savings to tap into and the US economy is so dependent on them that a relatively small change in sentiment can have spiraling effects on the economy. If consumers start to feel jittery in the US because either their stock portfolios look bad, or maybe even their property becomes cheaper, they might as well cut back on spending. And there is ample room for US equities to fall. The US is the only major country in the world with stock markets at near record levels, and far above previous highs of 2000 and 2007. At the same time, the US dollar is strong.
US consumption, and the strong dollar, have been a counterbalance to deflationary pressures from Europe and China since 2011, and in an accelerated pace since the beginning of 2014. The US consumer is pretty much exhausted. However, China and Europe are not on their feet. Chinese authorities have just decided to export even more of their internal deflationary pressures to the rest of the world by letting their currency, the Yuan, fall significantly since the beginning of this year. Since the beginning of 2014, the Yuan has fallen from a low of 6.05 to the USD to 6.58 today (chart below).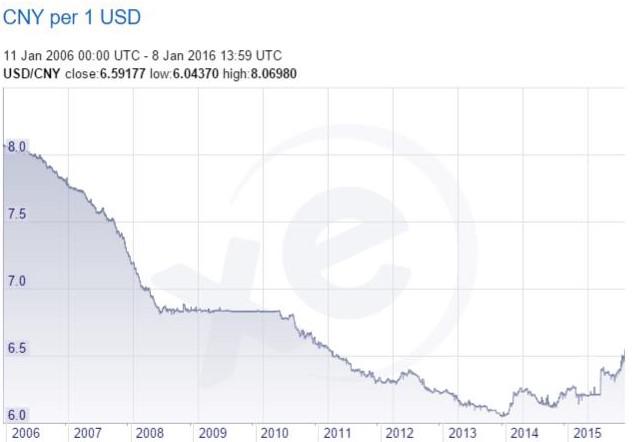 Europe is China's biggest trading partner, so it was understandably tough for the Chinese to maintain a strong currency to the USD while the Europeans depreciated their currency with a massive QE, from almost 1.40 to below 1.10 to the USD today. That is a depreciation of more than 20%. These two massive currency depreciations have been effective to some extent, especially for the Europeans, simply because the US consumer has been strong. That cannot last forever. And we haven't even discussed about Japan, where currency depreciation has been most radical. However, the Fed actually felt confident enough to raise the rates last December. That is just simply unrealistic.
This year Europe cannot afford to stop its stimulative policies. China even less so. Japan will continue as well. With the huge amount of debt out there, nobody can blink. The only way out is to keep interest rates as low as possible, and even come up with new stimulative measures. Many think that you cannot continually keep pumping asset prices in order to encourage consumption. You probably can't, but when your other option is to have debt explosions, then you have no choice. You will have to pump asset prices and maintain them at rather artificially high levels as long as debt levels remain unsustainably high. In the meantime, governments and the private sector can take measures to improve productivity and reduce excess debt.
Because the world economy is so much interconnected, high debt levels in financing countries and financed countries have direct economic effects on each other. America has been, probably unwittingly, the financing country - the only major financing country - for the last two years. Arabs who had some kind of marginal role, especially in Europe, have completely disappeared and have started to take the opposite role recently. While China, Europe and Japan have been the financed ones. If China, Europe or Japan see significant economic problems, repercussions will be felt immediately in the US, and it will turn into a vicious circle by adversely affecting the US consumer, which in turn will adversely affect the financed countries by tightening the financing.
Debt burden being so high across the board, it is impossible to manage the consequences of higher interest rates, no matter how much potential moral hazard low interest rates may produce! The only possible outcome will be, this year that central bankers together and for the sake of their common goal of managing their fragile financial situations, will continue pumping stimulus into their economies. And most probably America will join in too, at least by encouragement of some sorts. This whole money printing is not exactly good for price stability, but in case price stability means keeping them above zero, then it is sometimes the only possibility. And those who say that central bankers cannot take rates below zero are terribly wrong. Central bankers can go below zero, and they have gone below zero in Europe, Switzerland and Sweden (they are still there).
With the US consumer being rather tired after an almost record 7-year bull run, Europe, China and Japan will have little possibility other than further financial stimulus for their economies. America will not afford to take the opposite direction. Such measures to support asset prices will eventually help stock markets too, and at least not allow for significant falls.
Disclosure: I/we have no positions in any stocks mentioned, and no plans to initiate any positions within the next 72 hours.
I wrote this article myself, and it expresses my own opinions. I am not receiving compensation for it (other than from Seeking Alpha). I have no business relationship with any company whose stock is mentioned in this article.