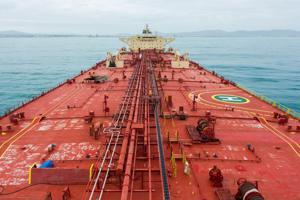 Teekay Offshore Partners (NYSE:TOO) is a Partnership, part of the Teekay Group, which operates shuttle tankers, floating production, storage and off-loading (FPSO) units, floating storage and off-take (FSO) units, and conventional crude oil tankers.
Since IPO in late 206, investors have received more than $15/unit in common distributions. Distributions per unit were even increased during the financial crisis in 2008, and kept on increasing thereafter. However, due to the recent general sell off in high yielding assets and MLPs in the commodity, energy and shipping space, TOO was blocked from the equity capital markets due to unusually high yields. As such, on December 16th 2015, TOO reduced its quarterly cash distributions for the first time to $0.11 per common unit, down from $0.56. TOO expects to use a significant portion of its internally generated cash flow to fund capital requirements and reduce debt levels, therefore eliminating the need to access the equity markets until market stability is restored.
TOO's unit price is down by more than 50% since the revised distribution policy was announced. On the positive side, TOO's cashflow is supported by long-term contracts, with no direct exposure to oil prices.
TOO has issued 3 preferred shares - Series A, Series B and Series C - of which Series A and B are publicly traded. The preferred shares are trading at substantial discounts to par value. The gap has further widened due to the recent sell-off in high yielding securities and are currently trading at c. 50% discounts to par value.
We believe that TOO's preferred shares offer an attractive yield in excess of 15%, and the distribution can be supported for the following reasons:
Current level of cash from operating activities of around $300m annually, which can support a number of corporate priorities, including CAPEX commitments and paying the revised current common distribution
Robust balance sheet with around $300m in cash as of 30th September 2015
Embedded growth from new projects, the equity portion of which will be funded from the recent common distribution reduction
Since preferred units have seniority over common units, the risk is if TOO cuts the common distribution entirely, which is highly unlikely
Summary
Even though the upside in the common units is appealing in the event of a recovery, we would prioritize buying TOO preferred units, which are trading at substantial discounts to par value. Specifically, the Series A and B are trading at discounts of around 55% and 47%, respectively. Both issues are currently yielding above 15%.
Preferred unitholders are not directly affected by the common distribution reduction due to seniority and will only be at risk in the extreme worst-case scenario of the common distribution being cut to zero
We recently initiated a position and would take advantage of further drops to accumulate at yields in excess of 17.5%.
Disclosure: I am/we are long TOO.
I wrote this article myself, and it expresses my own opinions. I am not receiving compensation for it (other than from Seeking Alpha). I have no business relationship with any company whose stock is mentioned in this article.
Additional disclosure: We recently initiated a position in TOO preferred shares and would take advantage of further drops to accumulate at yields in excess of 17.5%, should the opportunity arise