There is no doubt that January 13th was a down day for most stocks, but hotels REITs got absolutely smashed on misinformation. Captured below is my streamer showing the hotel REITs on 1/13/16:

Click to enlarge
All were down, with most down more than 5% on the day. These losses are on top of the already brutal performance of hotel REIT stocks over the past 52 weeks during which hotels are down about 30%.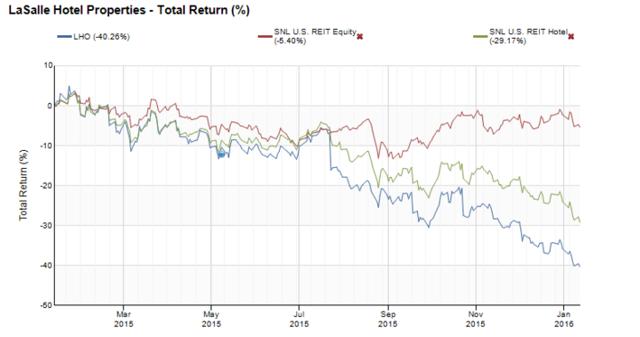 Click to enlarge
Why the decimation?
Well, LaSalle (NYSE:LHO) issued a warning that it was going to miss materially on its fourth-quarter earnings. In it, it cited the cause as weak RevPAR and union issues at two of its properties. Specifically, LHO said its outlook for 4Q15 RevPAR is roughly 0% growth. It seems this has scared investors away from all hotel REITs, not just LHO. Allow me to clear up this misunderstanding.
Misinterpreted by the market
First off, it is odd to phrase estimates of the past (4Q15) as an outlook. Perhaps, this terminology made investors assume it was a continuing 0% growth in RevPAR going forward. This was not the case as LHO actually refused to give a 2016 outlook. Further, the weak RevPAR is LHO specific, not systemic.
In fact, the national RevPAR numbers have already come out from Smith Travel Research, which is arguably the leading source of information for the hotel industry and can be found on hotelnewsnow.com.
October and November US hotel RevPAR increased 6.5% and 4.3% yoy respectively. December's monthly data is not compiled yet, but we have the weekly information on each of the five weeks that were fully or partially in December:
Week ended December 5th - RevPAR increased 1.5% yoy
Week ended December 12th - RevPAR increased 3.2% yoy
Week ended December 19th - RevPAR increased 8.7% yoy
Week ended December 26th - RevPAR decreased 5.6% yoy
Week ended January 2nd - RevPAR increased 8.9% yoy
Taking a simple average of the weekly data, RevPAR increased 3.34% for December.
3.34% is a weak number, and the overall 4Q15 was weak relative to the industry's prior growth rate. However, this was all already known. The LHO press release just happened to hit on a day that was already filled with panic, thereby causing an outsized and inappropriate response in stocks which are unaffected by the information.
Buying opportunity
We view the material dips of today as buying opportunities, especially considering these stocks are already so beaten down.
The industry-wide outlook is far stronger than LHO's release would have the market believe. Currently, STR predicts 2016 RevPAR growth of 5.7%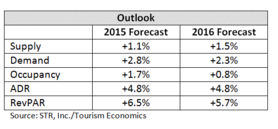 I am a bit more bearish than STR with my prediction being closer to 1% to 3%. In my opinion, STR is underestimating the fear impact of global terrorism and the indirect supply of Airbnb. This illustrates how opportunistic pricing is because even with my substantially more bearish estimate of RevPAR growth, certain hotel REITs are massively underpriced.
Ashford Hospitality Trust (NYSE:AHT) is trading at less than 3X forward FFO. Growth is simply not needed for such an investment to pay off. Sure, people will cite that growth is rapidly slowing, and they may be right, but at that multiple, even mildly negative growth could generate a strong return on investment. Other bears will suggest that Monty Bennett is unpredictable and deeply entrenched. I agree (he scares me, too), but the value is so deep that absent massive fraud, which is unlikely because REIT assets are so physically visible, it is hard to imagine a sufficient amount of value destruction to make AHT not underpriced.
The LHO headline and subsequent reaction today serves as further evidence that the market has become reactionary and demand for market securities is almost entirely price inelastic. I would encourage investors to retain valuation as one of their investment desiderata. Another example of a hotel REIT that has been beaten beyond recognition is Sotherly Hotels (NASDAQ:SOHO), which now trades at only 4.5X forward FFO.
Interestingly, the LHO press release today is actually great news for SOHO fundamentally. Given that we know the actual national RevPAR figures for 4Q15, regions that perform worse than the national average, means there must necessarily be other regions which performed better. SOHO has materially different geographic exposure than LHO, so it is more likely than not to have its regions beat the national average. Specifically, SOHO has large exposure to Atlanta which has consistently been one of the best hotel markets.
We consider AHT a strong buy, but only for investors with high risk tolerance, and SOHO should be a strong buy for a broader range of investors. It is not often that we find valuation this deep when the only fundamental headwind is that growth is slowing from rapid to moderate. Thanks to LHO, we have been given an even better entry point into these companies which each have FFO yields over 20%.
Disclosure: 2nd Market Capital and its affiliated accounts are long SOHO, LHO and AHT. I am personally long SOHO and AHT. This article is for informational purposes only. It is not a recommendation to buy or sell any security and is strictly the opinion of the writer.
Disclosure: I am/we are long AHT, SOHO.
I wrote this article myself, and it expresses my own opinions. I am not receiving compensation for it (other than from Seeking Alpha). I have no business relationship with any company whose stock is mentioned in this article.
Editor's Note: This article covers one or more stocks trading at less than $1 per share and/or with less than a $100 million market cap. Please be aware of the risks associated with these stocks.