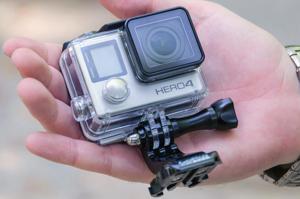 GoPro (NASDAQ:GPRO) reported preliminary results that were awful. The stock is now down more than 16%, as of early afternoon Thursday. Revenues were $435 million for the fourth quarter, while analysts had expectations for $512 million. The Christmas season was a bust for the company. This forced it to cut its workforce by 7%. As of 5:15 PM in Wednesday's after-hours market, the stock was down about 44% from when I went negative on it on November 19th.
I was originally negative on the stock after the IPO because the idea that GoPro was a content company was fabricated from whole cloth. GoPro was never a content company. Management conned individual investors to buy into the story that it could monetize content as if it was the next YouTube. I then backed off of my negativity on the stock because I figured this was priced in at $40. While this may or may not have been priced into the stock at $40, what was not priced into the stock was disappointing sales from the new Sessions product. My realization of this factor caused me to write the article in November advising you to avoid the stock.
Psychology prevented me from shorting the stock at $19 per share. I knew it was overvalued, but I couldn't get out of my head the fact that I tried several times to short the stock in the mid $70s. I couldn't get any shares to borrow in the $70s, so I couldn't short it. In reality my failed attempts to short it shouldn't have affected my decision to short GoPro in November, but it did. I think acknowledging this mistake will make me a better investor in the future.
Mistruth #1
There have been several bullish theses on GoPro that reality has continued to shoot down. The numbers don't lie. As I said, the first mistruth was the concept that GoPro could monetize its content. It's illogical because usually the content is owned by the creator, not the product company. It would be as if Asus asked me to monetize this article because I used its computer to type it out. I have a YouTube channel, so I am aware YouTube channels aren't hugely profitable ventures. Only the top YouTubers with over 100,000 subscribers can make enough money to make a living from making videos. This is income for one person. GoPro would need well over 100 times the viewers to even make a dent in the bottom line because it is a $2 billion company.
Social Blade gives estimates for the profitability of YouTube channels. As you can see from the screengrab, GoPro makes between $111,700 and $1.8 million per year from its main YouTube channel, which has 3.6 million subscribers. There is an estimated range in earnings because the amount GoPro makes depends how often the ads on the videos are clicked (some ads pay based on impressions and some pay based on engagement). At the high end of the range, the $1.8 million in earnings would represent less than 1% of GoPro's trailing 12 month earnings. This may end up growing in percentage as its earnings decline in 2016.

GoPro has experienced 19.8% growth in total views in the past 30 days. The chart below shows the average number of views per day. It looks like December was a great month. This didn't predict the sales pace for the quarter obviously. The problem with looking at YouTube views is they don't correlate with sales. I have watched many GoPro YouTube videos because they are amazing. I have never considered buying a camera when watching these videos because I probably could never capture such content. This is similar to others' experiences because if every one of the about 300,000 new YouTube subscribers this quarter bought a $300 camera, GoPro would probably have reached analysts' estimates.

Mistruth #2
The second excuse bullish investors and management had was that the Session product was great, it was just priced wrong. This is a poor assertion because the price wouldn't have mattered if the product was differentiated. This bore truth as the company cut the price from $400 to $200 and still missed sales estimates. The reality is consumers don't want the Session product no matter what the price is. It's not that Session was a poorly made product or any worse than the other products already released. It's that new product launches don't matter. Each new product will not create new sales unless it is highly differentiated. Unless GoPro came out with a DSLR, there was no way consumers were going to react positively to a new action camera. I'm not advising this necessarily, although it's possible it could be a good idea.
My main point on GoPro is all of its cameras are the same. If someone wants an action camera, they'll consider a GoPro. They won't go out of their way to buy a GoPro just because a new model came out. I have talked to a few people who just bought a GoPro or got one for Christmas. None of them were able to tell me which model they had just purchased. In the consumer's mind they bought a GoPro. Imagine if someone didn't know which Honda (NYSE:HMC) model they bought or which iPhone they had. That would be bad for Honda and Apple (NASDAQ:AAPL) because it shows they have no differentiation among products.
I'll paraphrase a typical conversation I have had:
Me: So you just bought a GoPro for your boyfriend. Which model did you get?
Friend: I got a GoPro.
Me: No which model did you get? Did you get the Session, the Black, the Silver?
Friend: I don't know. I got the one that cost $299.
Me: So you got the Session? The latest model?
Friend: I'm not sure. The Session is the latest model? That's cool.
As you can see, even consumers who bought the product have no idea which one they got. Imagine how the non-customers feel about the product differentiation.
Mistruth #3
Drones are the final argument promoted by bullish GPRO investors. This argument states that because GoPro is the market leader in action cameras, consumers will buy whatever drone product it offers, no matter how good it is. This is not reality. Even Apple, which has the best brand reputation of any consumer products company in America, is having a tough time expanding to new products outside of the iPhone. I don't see how GoPro will instantly dominate this highly competitive industry just because of its brand name.
The differentiation for GoPro cameras isn't the technology; it is the superb marketing. If GoPro comes out with a product that is similar to other competitors, it will not automatically do well. The slowing camera sales hurt its brand reputation and hurt the traffic to GoPro's YouTube channel. This will make it even more difficult to succeed in this new venture.
Conclusion
GoPro is still a strong sell. It's not a buy because the stock went down. Don't get suckered into buying the stock of a company with no way of improving its sales. There is a possibility GoPro comes out with an amazing new camera model or an amazing new drone. There is also a possibility Apple buys the company. All of these possibilities look improbable to say the least. I would sell it if I owned it and avoid it if I didn't.
Disclosure: I/we have no positions in any stocks mentioned, and no plans to initiate any positions within the next 72 hours.
I wrote this article myself, and it expresses my own opinions. I am not receiving compensation for it (other than from Seeking Alpha). I have no business relationship with any company whose stock is mentioned in this article.