A few months ago I started this portfolio to track purchases through time to see what can be learned, over time, with an objective given at the time of purchase. I described the initial design of the portfolio nearly nine months ago and purchased the first two positions in early November. The theory being tested for the first two purchases is explained here. For the most part I consider myself a value investor who favors an income component to the companies I invest in. However, with this specific portfolio I am branching out a bit. With this addition I have branched out further than I usually do.
On January 13 I initiated a position in Amazon.com (NASDAQ:AMZN) at a price of $599.75. One drawback that has concerned me throughout the portfolio setup was that I wanted to eventually add both Amazon and Google (NASDAQ:GOOG) (NASDAQ:GOOGL) to the portfolio. With a $600 position limit there were going to be issues with trying to add these two. This means I added one share to complete this position (as mentioned previously I do not have any commissions on these transactions). As Amazon began to fall at the beginning of the year I became interested in the idea of adding it if it got under the position limit. Starting in the middle of last week I had a limit order each day in place to purchase the share if the price of the stock dropped below the limit. After missing it on Monday only to see the price rise to over $620 a share, I initiated a long-term limit order to complete the transaction.
Making this purchase I do not believe the company was purchased at a value price, there's a chance that it may also not be in the near future. One thing I am convinced of is that, long term, Amazon will continue to be a retail force. The online giant's revenues continue to soar, although to date this has not flowed through to the bottom line with previous year profit showing as only 70 cents a share. However, looking at the MerrillEdge 2016 profit estimate range ($2.68 to $9.65) and its consensus of $5.65 brings the future PE range close to 100. The biggest question over the next year is where do they fall on that range? If they surprise to the upside this purchase will look solid, if they can't it won't for a much longer period of time. The two questions I ask myself are simple: Is there ever a good time to purchase this company? Valuation metrics most likely would point in a different direction. However looking at the share price over the last few years the inverse comes to mind: Is there a bad time to purchase this company?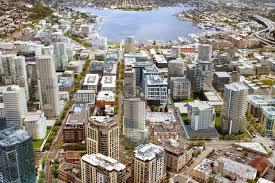 What I'm hoping to learn!
Full disclosure, I live in Seattle, about three miles from Amazon's main campus and the company fascinates me. The goals they've set forth to continuously grow are front and center. The change they have caused in the Seattle landscape over the last five years has been remarkable. From the buildings that are being constructed continuously around the campus, to the new jobs that the company is adding consistently to how the growth is affecting the city, this is a story that is playing out front and center, in my backyard. This has led me to ask myself a few questions, and these are things I'm hoping to learn from myself as an investor with this purchase.
Has the story surrounding the company affected my decision to add them? How much are investors influenced by the environment they live in? Over the next few years I am curious to see if the perceived success locally has influenced my decision to purchase them now. This is important as there are several other companies from this region that I would like to add to this portfolio including: Starbucks (NASDAQ:SBUX), Costco (NASDAQ:COST) and Microsoft (NASDAQ:MSFT). My hope is that as I follow this purchase over the next couple years, I will better be able to answer how strong the story is versus just looking at the company as simply an investment. As investors, how much are we influenced by our own environment and the companies located around us?
Where the portfolio stands today
The first two purchases to date have not worked out as I had hoped, but I don't want to simply report when something works, you learn from the good and the bad. In the initial month after purchase, both Umpqua Holdings Company (NASDAQ:UMPQ) and Columbia Banking Systems (NASDAQ:COLB) had total returns in excess of 8%, since then both companies have had a rough go of it, each being down over 12% on a total return basis since purchase. The prices have been in decline significantly since the start of the year, with Columbia Bank having ended 2015 at $32.58 a share and UMPQ ending at $15.90. Below is the current market price of each position within the portfolio.

Click to enlarge
The lesson I am keeping my eye on between these two companies though is which of them performs better on a total return basis in the long run. There has not been nearly enough time passed yet to make any significant judgment on long-term performance. Each of them has had a different strategy to build shareholder value over the last five years. UMPQ has focused on acquiring struggling banks, creating synergies and then increasing earnings through the process. COLB instead has distributed special dividends each quarter to its shareholders, these special dividends are interesting as they are not reported in the yield published by most finance sites. Currently the special dividends are doubling what the current yield is listed at. As of now there has been one set of reinvestment into COLB while UMPQ should have the first shares added later this month. This purchase continues to be a work in progress.
In the next three months I will be adding another company to the portfolio. I'm constantly looking for ideas to use to learn through this portfolio, if there are any ideas that anyone can think of, I'm always open to new ways of looking at things. As I start to look at possible companies to add I will discuss options in the comment stream for this article or using Instablogs. To get future updates to this portfolio, Instablogs or other articles I write, consider following me in real time.
Disclosure: I am/we are long AMZN, SBUX, UMPQ, COLB.
I wrote this article myself, and it expresses my own opinions. I am not receiving compensation for it (other than from Seeking Alpha). I have no business relationship with any company whose stock is mentioned in this article.