In yesterday's market report, I noted my view that the relationship between oil and stocks should be near crescendo as stock valuations shore up on their price decline. I indicated that another poor oil inventory report should only have a short-lived impact on stocks at this point, and that a rally was possible. In fact, yesterday's disappointing data could not even hold oil down, as today we see both oil and stocks on the rise. Stocks seem to be seeking traction now toward a rally, and I believe they will find it for a few good reasons. Investors want to own their favorite ideas at these discounted levels into their earnings reports. Next week presents its own challenge, namely Iranian oil, but I think we could swiftly recover 3-5% from Wednesday's oversold close of $188.83 in the SPDR S&P 500 (NYSE: SPY) nonetheless. The Iranian oil flow issue is greatly priced in now, and could bring about a buy the fact type of event for oil and stocks when it actually reaches market. I see the SPDR S&P 500 worth the risk here. Also, hedges against the market are becoming weighty and will cause drag to performance near-term; thus, they can be reduced or removed for now.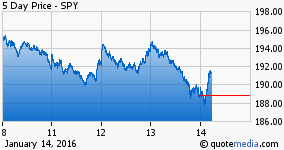 5-Day Chart of SPY at Seeking Alpha
The dive that took us to critical support came on the crescendo of the negative tie between oil and stocks. Now, that tie may tighten again temporarily when Iranian oil first comes to market, but I do not expect it to take oil prices much lower. In fact, I would suggest the actual occurrence of this long feared event could produce a bid for oil and for stocks. After all, hasn't the Iranian oil issue been priced in adequately enough at this point?
And if I may opine, surely Iran was selling some of its oil somewhere to someone before this, though at lower than market value. After all, if the Islamic State could find buyers for its oil, surely Iran could. So then perhaps the impact to the supply/demand imbalance will not be as significant as many have priced into oil. If the Iranian oil flow turns out to be a buy the fact type of event, as I've proposed in the recent past, then equities have some ground to make up.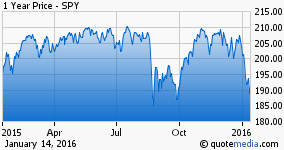 1-Year Chart of SPY
In any case, it would take strong justification to break down stocks further from here. Yesterday, they struck down to a level seen twice before over the past year. Both of those strikes were panic driven and took us to oversold positions that were rebalanced in short enough time. It's tough to look at the P/E of the S&P 500 now, given the impact of rapidly changing energy prices to energy sector earnings. I propose this is a temporary issue, and that the S&P 500 is not deservedly this low. And certainly the ex-energy stocks have been penalized along with energy.
Do stocks deserve to be this cheap? The Fed's plans to raise interest rates raise the cost of capital for corporations, but that change is not going to be abrupt, or so we're told. A higher cost of capital does have a tangible impact on market value, as returns on invested capital will have to be higher in order to achieve the same level of economic value creation for corporations. But if the economy is improving, which is a very important qualifier, corporations might manage that.
Many companies have seen their stocks penalized along with the broader market and do not deserve it. As these macro fears clear, including the China and energy concerns, and I believe excessive dollar strength as well, interested parties will want to own these shares at their discounted prices. China sure looks to me to be better off today than it was just last week, with the overhang of stock now less imposing after a great many holders have committed to not sell shares. And the economy, in my opinion, is stabilizing; after stabilization I believe comes refreshed growth. We saw improved trade data this week.
Thus, in conclusion, I see the recent inching up of the market and the SPDR S&P 500 indicative of a move toward a greater climb. I cover the market closely and report on it regularly, and so invite relative interests to follow my column here at Seeking Alpha.
Disclosure: I/we have no positions in any stocks mentioned, and no plans to initiate any positions within the next 72 hours.
I wrote this article myself, and it expresses my own opinions. I am not receiving compensation for it (other than from Seeking Alpha). I have no business relationship with any company whose stock is mentioned in this article.