I'll be blunt. The labor data does not jibe with the idea of a weak or sluggish economy. No doubt there are lingering problems with the work force but jobs are present and people are going to work. This trend has been strengthening for years and will lead the market in 2016.
Activity Hits New High
The Kansas City Federal Reserve's Index of Labor Market Conditions shows that labor market activity and momentum are healthy and on the rise. In fact, labor market activity rose to its highest level since 2008 in the November/December period. The activity index gained 0.12, rising to 0.04, the first positive reading in nearly 8 years. The index is a composite of 24 labor market indicators, 17 of which made positive contributions to this month's report. The largest contributors were firms planning to add jobs, firms reporting jobs they can't fill and people leaving their jobs voluntarily.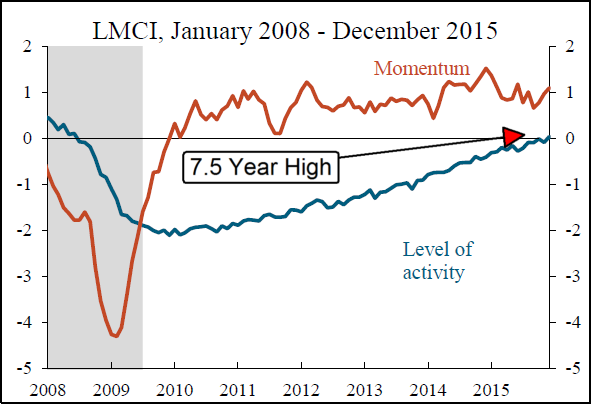 Momentum is also on the rise, adding 0.13 to hit 1.10. This is close to all time high levels and the second month of increased momentum. The figures adding the largest positive impact to momentum are initial claims, the labor force participation rate and layoffs.
Job Openings And Confidence Are High
The JOLTs report is a once monthly report on the number of job openings in the US. The data is lagging, the January report is data for November, but nonetheless is a telling indicator of the labor market. It is also used by the KC Fed in the calculation of the labor market index.
According to the Bureau of Labor Statistics there were 5.4 million job openings in November 2015. The rate of openings ticked higher by a tenth to 3.7% and is approaching the all-time high, set last summer. The number of new hires held steady at 5.2 million while the number of separations crept up to 4.9 million. These number reveal that openings are at high levels and that the number of new hires, also near historic high levels, is outpacing the rate of separations.
The quits rate also ticked higher, to 2%, with an estimated 2.8 million voluntary separations. This number has held steady in the range of 2.7-2.8 million for 15 months and is at levels considered strong. A strong quits rate is a sign of employee confidence because people are more likely to quit one job when they are confident of finding a better one.
Job Creation Is Strong
Both the ADP and the NFP numbers show strength and momentum in job creation. Both figures showed better than expected job creation in December, and at strong levels; ADP is 257,000, NFP is 292,000. Both figures also have a history of positive revisions to previous data running back to the end of last year. ADP bucked this trend in the December data, November figures were revised lower by -11,000, but the 12 month average is still above 225,000 and the revisions to the NFP more than make up the difference. Total revisions for October and November were +50,000 this month, on tops of positive revisions to October in last month's data.
The December data on job cuts reported by Challenger shows that planned layoff's fell 24% from the previous month and are down 27.6% from last year. To put things into further perspective December jobs cuts were the lowest monthly total in over 14 years and the fourth quarter total is the lowest in nearly 4 years. Not only are employers hiring, they are keeping the employees they already have.
Source; Challenger, Gray & Christmas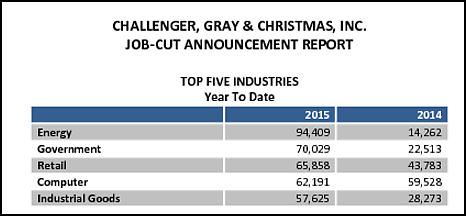 Full year 2015 job cuts was a near record high, granted, but most of those cuts were in the energy sector, about 1 in 6 compared to about 1 in 34 in 2014. The energy sector saw a total of 94,409 job cuts in 2015, up 661% from 2014. Discounting these, cuts in 2015 are flat compared to the previous year.
Wages Are On The Rise
Labor market activity is resulting in wage inflation. Monthly data is not strong but wages are on the rise. The December data shows that wages held steady from November but are up 2.5% year over year.
Data from the Bureau of Economic Analysis shows that personal income has risen at an average rate of 0.34%. This is by no means a strong month to month number but has resulted in a near 3.5% rise year over year. If trends continue as expected this will continue and gain strength in 2016.
(click to enlarge) Source; Bureau Of Economic Analysis

FactSet reports that wage inflation is at least a concern for businesses going into the new year, a sentiment echoed in the Challenger Gray & Christmas 2016 labor market outlook.
A number of companies commented on the impact of higher wages on earnings and revenues as well during their Q3 earnings calls - FactSet

"On the one hand, labor costs are going up, on the other hand, wages are going up and that means, more people are going to be able to afford homes. And I think, it's generally a net positive for the industry." -Lennar (Dec. 18)

the pace of downsizing should slow in the new year, while hiring and wages continue to make gains, according to a new outlook released Monday by global outplacement consultancy - Challenger, Gray & Christmas, Inc.
My 2016 Outlook
It may be hard to believe now but 2016 is expected to be better than 2015. GDP is expected to expand to a pace greater than 3% and S&P 500 corporate profits are expected to grow at a rate greater than 7%, both gaining momentum into the end of the year. This is going to be driven by expanding labor markets, increased earnings and a strengthening consumer. This combination will lead to corporate profits which in turn will help to bolster the very labor trends that are supporting the economy today.
Historically, a rise in positive momentum combined with an upward crossing of the 0 level on these two indices has preceded times of economic boom. This happened most recently in the early 90's and then again in 2003. If history repeats itself we can expect to see strengthening economic expansion over the next 6 to 12 months. I could be wrong but that's the way I see it.
Disclosure: I/we have no positions in any stocks mentioned, and no plans to initiate any positions within the next 72 hours.
I wrote this article myself, and it expresses my own opinions. I am not receiving compensation for it (other than from Seeking Alpha). I have no business relationship with any company whose stock is mentioned in this article.
Additional disclosure: This article is opinion based on my interpretation of available data.