Svein Floden, Head of Liquid Alternatives for Insight Investment, thinks the term "absolute returns" needs to be reconsidered in light of the rise of liquid alternatives. This is the subject of Mr. Floden's recent white paper for BNY Mellon titled "Redefining Absolute Returns in the Liquid Alternative Era."
A Tale of Two Crises
Hedge funds surged in popularity after the dot-com meltdown in 2000, boosted by their massive outperformance during the bear market that followed that bust. The HFRI Index, which measures aggregate hedge-fund performance, lost just 4% during that period, while the S&P 500 fell 45% from peak to trough: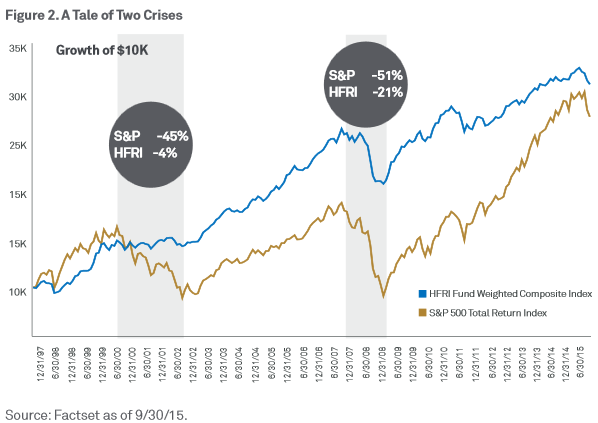 During the bear market that followed the global financial crisis ("GFC") of 2007-08, hedge funds outperformed again - but their 21% peak-to-trough losses were still painful, even if they weren't as steep as the S&P 500's 51% tumble.
The Liquid Alternative
Inadequate liquidity was one of the reasons hedge funds lost more than some investors may have expected them to lose during the months that followed the GFC. Opacity and insufficient regulatory oversight may have also contributed negatively to performance.
In response, liquid alternatives - mutual funds and ETFs that employ hedge-fund strategies - began gaining in popularity. These products have all of the liquidity, transparency, and regulatory oversight of traditional mutual funds, while also being open to everyday investors, whereas hedge funds are reserved strictly for the wealthy. The Venn Diagram below shows the comparative merits of hedge funds and liquid alts, as well as where the two overlap: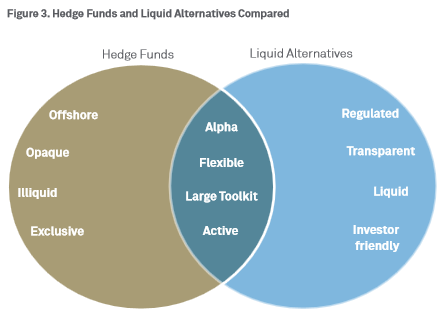 The Rise of Liquid Alts
Liquid alternative mutual funds' assets under management ("AUM") have grown at a tremendous pace since 2007.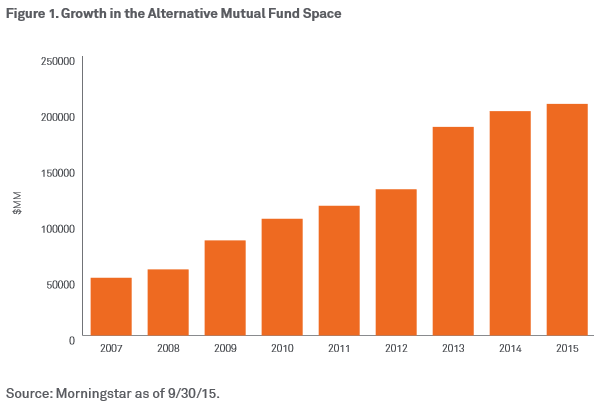 These '40 Act funds generally follow the same strategies as private hedge funds. Although some hedge-fund strategies are unfit for liquid alts, most alternative strategies work well within mutual funds and/or ETFs, and many of these strategies pursue "absolute returns." But not everything labeled "absolute return" can necessarily deliver the low volatility and uncorrelated return streams that investors should expect from the term.
Absolute Returns Explained
According to Mr. Floden, "absolute returns" is essentially a "mission statement" open to any number of asset classes, investment strategies, or techniques. Typically, absolute-return strategies have an unconstrained mandate with a performance benchmark based on the risk-free rate of return (i.e., 400-600 basis points in excess of cash). More importantly, absolute-return strategies seek to generate positive returns irrespective of wider market conditions.
Assessing the performance of an absolute-return product is more difficult than for a benchmark-oriented stock or bond fund, but according to Mr. Floden, a "true absolute returns" fund seeks to deliver three vital characteristics:
Positive returns over a rolling 12-month period
Low volatility
Low correlation to traditional assets
Conclusion
Absolute-returns strategies typically have more stable returns, with fewer losing periods than stocks or bonds, and with far lower average losses during those periods. This return profile can improve a portfolio's risk-adjusted returns, while also offering drawdown protection. However, in order for an absolute-returns approach to work as intended, it must actually follow an absolute-returns approach - and there isn't always precise truth in labeling with liquid alts.
Investors need to understand the objectives and limitations of alternative strategies and what part they can play in delivering the risk/return profile that they are seeking. Used properly, liquid alternative absolute-returns strategies "mark an important stage in the evolution of asset management," according to Mr. Floden, away from peer group or performance and "toward the imperative of outcomes."
For more information, download a pdf copy of the white paper.
Jason Seagraves contributed to this article.