There was no lack of good news for Pacira (NASDAQ:PCRX) in the last few weeks. The company announced a favorable resolution of a dispute with the FDA regarding Exparel's marketing practices in late December, and it also revealed that Q4 revenues were above the analyst consensus. The sequential uptick in sales in the fourth quarter is encouraging and points to a substantial acceleration of top-line growth, which I think will be further boosted by the favorable resolution of the marketing issue with the FDA. The very negative sector sentiment is the main near-term risk for Pacira, but I continue to believe that the company is well positioned for strong growth in the future and am reiterating my bullish view.
Pacira pre-announces Q4 revenues above the analyst consensus
On January 7, Pacira pre-announced its Q4 revenues of around $69.4 million, which was above the analyst consensus of $68 million. The company's share price has bottomed in late October, coinciding with my latest article on the name, where I stated that it had a bright future and that the probable resolution of Exparel's marketing practices should pave the way for strong growth in 2016 and beyond. The company announced a favorable resolution of these issues with the FDA which reaffirmed the broad indication for Exparel. Pacira's sales reps were severely limited with their marketing maneuvering since the FDA issued a warning letter back in September 2014, which has very negatively impacted Exparel's growth trajectory in the last four quarters. The favorable resolution should remove these constraints and enable Pacira's sales reps to try to sell the drug based on its broad indication rather than the indications limited to those in the clinical trials. The resolution will also enable the company to broaden its public relations strategy with Exparel being an alternative to opioids along with the rising amount of clinical data which supports these claims.
The growth in the fourth quarter is also very positive and does not reflect the favorable resolution with the FDA, which I believe will accelerate Pacira's top line growth in 2016 and beyond.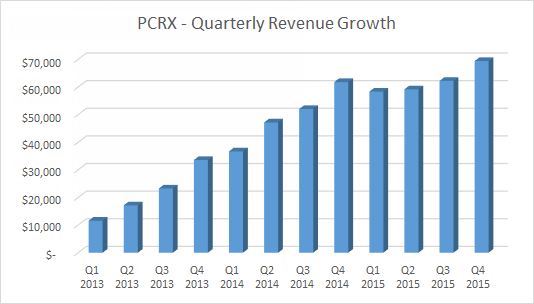 Source: Pacira earnings reports
The strong Q/Q increase in revenues in Q4 has marked the third straight quarter of sequential growth acceleration and a third straight quarter of Y/Y deceleration, but the Y/Y comparisons are not favorable considering the impact of the above-mentioned constraints on this year's growth (FDA's warning letter leading to marketing difficulties and some backlash from medical facilities). Since the FDA obstacle has been removed, Pacira now has a clear way to market Exparel more aggressively going forward, which should lead to stronger top-line growth in the following quarters. I do not expect a significant bump in revenues in Q1 since Q4 is seasonally the strongest quarter while Q1 is seasonally the weakest quarter for Exparel, but I do expect to see a slight sequential uptick in sales due to the FDA warning letter resolution and a more aggressive sales push with significantly lower obstacles for Exparel's uptake.
In addition to the mentioned growth drivers for 2016, the company also has several pipeline developments which should significantly expand Exparel's addressable market. I covered these growth drivers in my previous article, but here are the most important ones:
Oral indication - the company plans to submit an sNDA this year and the approval and launch could happen during 1H 2017.
Nerve block indication is expected to be approved in 2H 2017 and launched in early 2018.
International partnership announcement is planned for late 2016 and a launch could occur during 2017.
If the oral and nerve block indication gets approved, Exparel's addressable market should expand by around 2.4x the current size (from around 40 million procedures a year to around 95 million) without accounting the potential contribution from international markets. There are also some long-term growth opportunities, such as chronic pain (around 2020) with 43 million procedures a year and only two approved products (Morphine and Prialt) along with off-label use of many other medications.
Negative market sentiment the main near-term risk
Pacira has more than doubled since mid-October lows and has significantly outperformed the falling biotech sector in the last six months, even when looking at the prices before the September plunge (see the graph below). The weakness in the sector and the general market is the most important near-term risk for the stock in my view and may negatively affect Pacira's share price in the following months.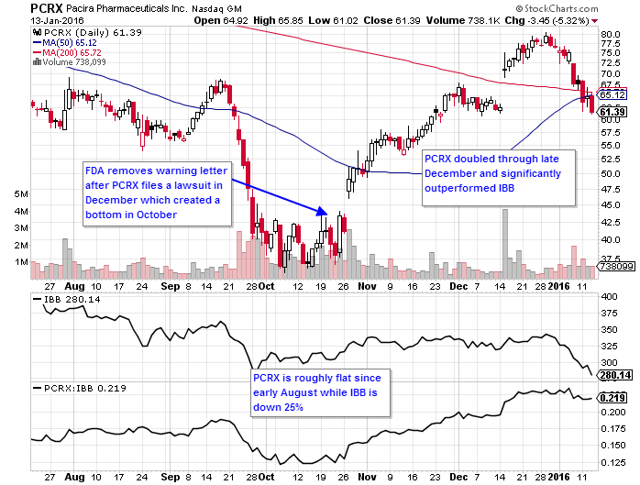 Click to enlarge
Source: Stockcharts.com
The other risk is the valuation, since the stock has doubled from its lows while other stocks in the sector are down 50% or more with no significant changes in their fundamentals. This makes Pacira less attractive compared to other stocks in the sector - Horizon Pharma (NASDAQ:HZNP), Endo Pharmaceuticals (NASDAQ:ENDP) and Depomed (NASDAQ:DEPO) are some of the stocks that I find more attractive compared to Pacira as of this writing and that have solid long-term growth prospects and much lower valuations compared to Pacira, but I still believe that the company should reward its long-term shareholders with significant gains and that it represents an attractive takeover target, especially after the resolution of the issues with the FDA, and I am maintaining my bullish view. If Exparel is approved for oral and nerve block, the addressable market should more than double and low-single-digit market share of the expanded market should lead to a revenue opportunity north of $1 billion. This compares favorably to the company's market cap of around $2.2 billion and does not account for other potential business developments. Pacira stands to receive an upfront milestone payment from an international partner, likely near the end of 2016 or sometime in 2017, which should increase its cash balance along with positive cash flow in the following quarters. The company may use its excess cash to acquire a product or products that are complementary to Exparel and for which there should be a minimal increase in expenses (since Pacira's current sales rep base could easily sell another product or two).
Conclusion
Although Pacira is significantly above its October 2015 lows, I believe that it has a bright future and that it should reward its long-term shareholders with significant gains. The favorable resolution with the FDA, positive pipeline developments and international expansion should drive significant top and bottom line growth in the following years while the negative sector and general market sentiment and a rich valuation compared to other biotech companies are the main impediment for its near-term price performance.
Disclosure: I am/we are long HZNP.
I wrote this article myself, and it expresses my own opinions. I am not receiving compensation for it (other than from Seeking Alpha). I have no business relationship with any company whose stock is mentioned in this article.
Additional disclosure: This article reflects the author's personal opinion and should not be regarded as a buy or sell recommendation or investment advice in any way. I may initiate a long position in DEPO, ENDP and PCRX over the next 72 hours.