Do FriendFinder.com, PerfectMatch.com and AdultFriendFinder.com sound familiar to you? They are all assets belonging to FriendFinder Networks (FFN). Its network consists of 40,000 sites, with nearly 520 million registrants, 70% above the total US population and 62% of Facebook's (NASDAQ:FB) monthly active users. At the end of 2011, the share price was $0.60. Since then, it has nearly quadrupled, to $2.33 now. With more than 31.2 million shares outstanding, the total market capitalization is $72.7 million.
Click to enlarge.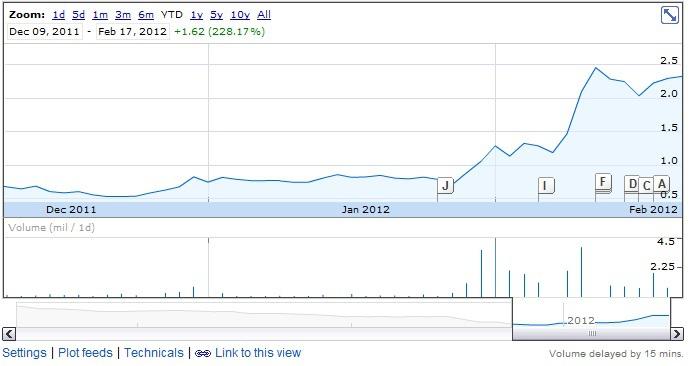 Click to enlarge
FFN is the leading internet and technology company providing services in rapid growth markets of social networking, social commerce and web-based video sharing. The industry is forecast to exceed $2.5 billion by 2015. The business has very good assets in hand. AsiaFriendFinder.com is the largest online dating personals targeted towards Asians with over 34 million members, whereas Amigos.com, which targets Latin Americans, has attracted 75,000 new members each month.
Should investors be excited about the owner of those leading dating websites, and about a nearly 4 times recent gain in its stock price? As of September 2011, the company has $617 million liabilities, including more than $450 million long-term debt. And those long-term liabilities are used to finance $320 million goodwill. The equity is a negative number, of $-119 million.
The recent increase in its stock price might be due to Facebook IPO event. Personally, I think the company is largely overvalued on the balance sheet basis. Potentially, with the large goodwill carried in its book, there is a very high probability that FFN has to write down its goodwill sometime in the future. When it happens, the price will begin to experience contraction. And it might be the time to begin shorting the stock.
Disclosure: I have no positions in any stocks mentioned, and no plans to initiate any positions within the next 72 hours.