As crude oil prices keep testing their secular lows, the value of oil companies continue their steady descend towards rock bottom. The Vanguard Energy ETF (NYSEARCA:VDE), a diverse energy sector index, is trading at about $74, a 52-week low that currently sits 37% below the ETF's April 2015 trailing twelve-month peak.
But in the midst of the carnage, one small cap company has once again crossed my radar. Independence Contract Drilling (NYSE:ICD) is an operator of 12 pad-optimal onshore rigs drilling primarily in the rich Permian basin. Management expects the company's rigs to be 92% utilized in 4Q15 and the walking pad-optimal asset class in general to sustain 80% utilization in 2016. Despite a fairly solid outlook, at least in comparison to the broad energy services sector, ICD shares are down more than 59% since the end of June 2015. This sharp drop correlates with the 49% decrease in WTI crude prices over the same period of time.
At the current market price, I consider ICD a good deal for the long-term investor looking to buy and hold for at least 12 months, but ideally longer. The company is a high-quality name (superior assets, relatively strong balance sheet) within a higher-quality sub-sector (pad-optimized onshore drillers) of an out-of-favor industry that has yet to see the light at the end of the tunnel.
Why ICD?
The investment case for ICD is anchored on 3 key factors: ((a)) a reduction in opex and capex to take place in 2016, ((b)) a backlog that is stronger than the peer group average, and ((c)) historically low valuations that, while in part reflecting the macro landscape challenges, offer investors an opportunity to acquire equity in a solid company at a bargain price.
Liquidity likely to be on better footing in 2016
Once upon a time (in 3Q14, to be more precise), ICD was a debt-free company that held $13M in cash and looked ready to fend off decreasing oil prices. But after spending $68M in capex in 2015 (September YTD) to build new and upgrade old oil rigs, ICD now has about $55M in net debt, and the company's bank account is no longer overflowing.
The deterioration of the company's cash reserves, however, could reach an end in 4Q15. A pause in the rig newbuild and upgrade programs means that capex will likely come to a screeching halt this year. Management expects to deploy no more than $13M in capital investments in all of 2016 (vs. $68M in Sep 2015 YTD), as presented during the most recent Cowen Ultimate Energy Conference, last month. In addition, the company has announced an additional annualized savings of $1.5M in drilling costs going forward. As a result, ICD is expected to break even this year on a FCF basis, based on management's projections. With $44M of liquidity (net cash plus revolving credit available), I believe ICD is well capitalized for the second leg of the energy downcycle.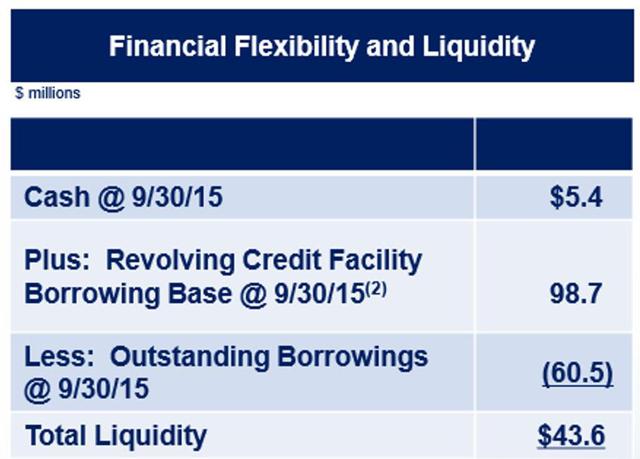 Source: Company reports
Backlog is the strongest in the peer group
Despite 18 months of declining crude oil prices, ICD has done a good job at putting its assets to work. The company's 200 series walking rigs are expected to have ended 4Q15 at an impressive 92% utilization rate. More importantly, nearly 40% of ICD's available rigs have already secured contracts for 2016. This number compares to less than 30% for the second-best player in the peer group, suggesting that ICD is leading the pack in a sub-sector (pad-optimal) that I expect to outperform the broader onshore drilling segment in the next several months. ICD's management, estimating that the utilization rate of the peer group will reach a respectable 80% in 2016, seems to agree. While backlog alone does not guarantee a strong year for ICD, it suggests that the company may be better positioned than most to deliver results in 2016 that I believe will outperform the peer group and the energy services segment in general.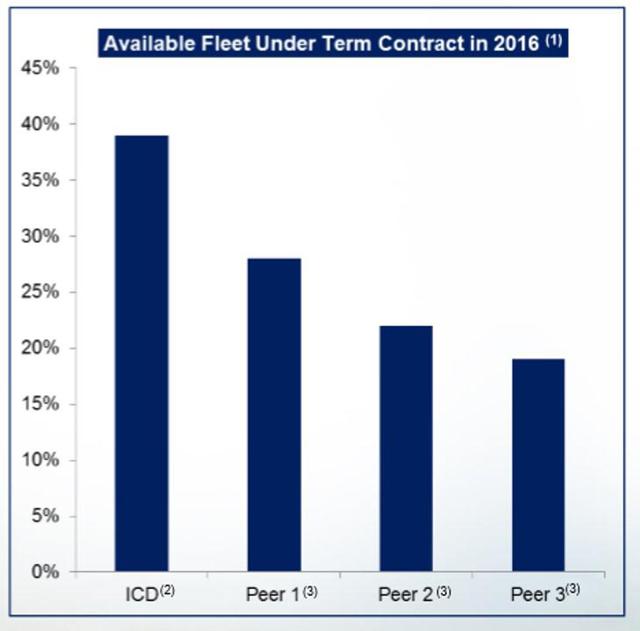 Source: Company reports
Valuation contraction may have created an entry point
After having reached a 52-week high of $9.12 in June 2015, ICD may have hit valuation bottom. In September 2014, shortly after the IPO, shares traded at $11.93, and the enterprise value was 48 times the company's 12-month forward EBITDA of $5.8M. This multiple contracted to 11x in September 2015, also on a forward basis and using 2016 consensus EBITDA of $17.8M as provided by YCharts. Today, I estimate that ICD's 2016 EBITDA should hover around $17.6M, assuming spot market day rates of $16,000 and utilization rates in line with management's expectations for the broad group (see table below). At these levels, ICD today trades at a 8x forward EV/EBITDA multiple, the lowest it has been in recent months.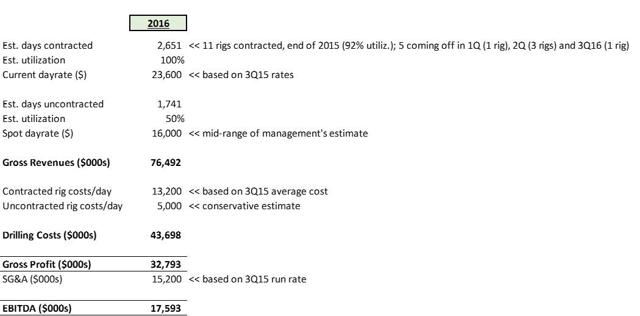 Source: DM Martins Research estimates
Based on the current stock price and my 2016 EBITDA estimate, I believe that now could be a good time for patient, long-term investors to start accumulating ICD ahead of a sector turnaround that could begin to unfold later in 2016 or early in 2017.
Disclosure: I am/we are long VDE.
I wrote this article myself, and it expresses my own opinions. I am not receiving compensation for it (other than from Seeking Alpha). I have no business relationship with any company whose stock is mentioned in this article.
Additional disclosure: I have no positions in any individual stocks mentioned, but may initiate a long position in ICD over the next 72 hours.
Editor's Note: This article covers one or more stocks trading at less than $1 per share and/or with less than a $100 million market cap. Please be aware of the risks associated with these stocks.