At the moment it seems as though nearly every day we're seeing little but red on market screens, or doomsayers like Albert Edwards from Societe Generale calling massive market drops.
Now, if the S&P 500 (NYSEARCA:SPY) were to drop as much as Mr. Edwards is predicting (he sees it possibly going past the devilish low it hit during the 2008 financial crisis of 666 points, and all the way down to 550 points.) then there really isn't much that can save you other than taking all your money and putting it into a good bank account… or under your bed. Whichever is less risky, which is debatable.
But for those of us that aren't as bearish as Mr. Edwards and merely expect a lot of volatility in 2016, but not an all-out crash, we are still looking for active investments to put our money into.
This leads us to Kimberly-Clark Corporation (NYSE:KMB). KMB manufactures and markets a wide-range of products classed as being from natural or synthetic fibers, created by using technologies in fibers, nonwovens and absorbency. In layman's terms the company sells paper towels, tissues, diapers, and other specialist absorbent items for the body. It's the home of Kleenex and Huggies, no doubt you've used something they've produced at some point in your life.
Firstly, whilst few companies can claim to be recession-proof, KMB does provide the kind of products that give it a bit of protection in those dire times. During the last recession revenue peaked before dropping off slightly, as shown below. It's not a company that necessarily crumbles under the weight of recession. It may struggle a little due to lower consumer demand, but the demand does still remain because until evolution changes the way our body works, there's always going to be a need for its products.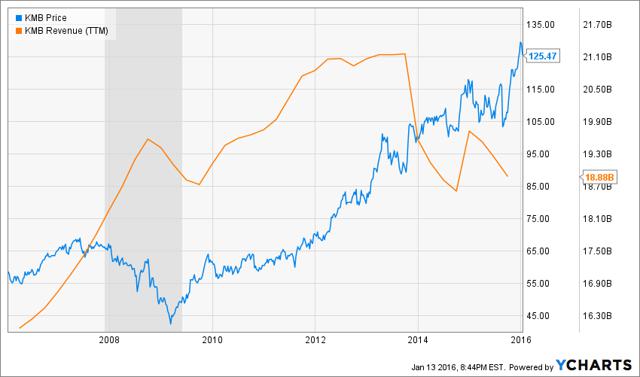 The two key features of the company that we really like are its beta (0.36) and its dividend yield (2.79%). The dividend is not mind blowing we acknowledge this, but it's still a source of income that has been growing at an average of 6% per year for the last decade. The company is sitting on $1.12 billion of free cash flow, so it has more than adequate funds to support dividend increases.
The beta of 0.36 isn't a new thing either. As shown on the chart below it has been at or around this level consistently now for the last five years. When the markets are volatile, this is just what you want to see. But just to reiterate, as we said before, no matter what the beta is, it's not going to protect you in an almighty crash.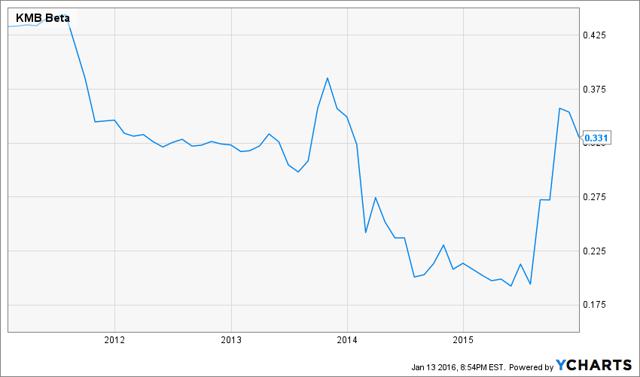 Since December 31 KMB has lost just 1.45% off its share price in stark contrast to the loss of 7.5% from the S&P 500. It goes to show really that a low beta really does pay off in volatile times. We'd obviously be much happier if it were a positive number, but at this point when you factor in the dividend yield we'd still be up over a percent.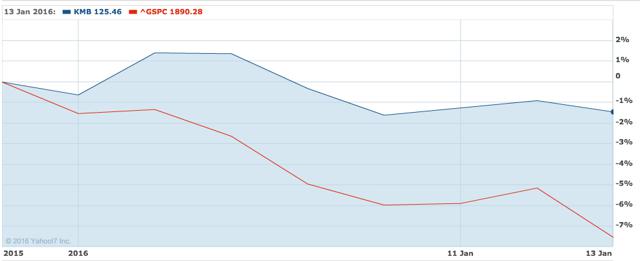 Source: Yahoo Finance
Trading on a trailing price to earnings ratio of 77.83, Kimberly-Clark looks extremely expensive, but it's not. When you take out the one-time pension charge (which we believe benefits the company in the long run) from the second quarter earnings, the stock will be trading at 21.7 times earnings if it hits analysts' expectations when it announces its earnings on January 25 before the market opens. Trading at this level puts it in its usual price to earnings range and therefore fair valued and a good, safe investment in our eyes.
Takeaway
When the markets are as volatile as they have been, it's worth considering stocks like Kimberly-Clark due to their low levels of volatility. Beta is a great way to judge stocks on how they might handle market turmoil, but should not be relied on as single indicator of it. A strong, robust business model should always be part of the consideration too in our opinion. It may not ultimately produce earth-shattering gains, but the preservation of capital can be key during times like these.
Disclosure: I am/we are long KMB.
I wrote this article myself, and it expresses my own opinions. I am not receiving compensation for it (other than from Seeking Alpha). I have no business relationship with any company whose stock is mentioned in this article.