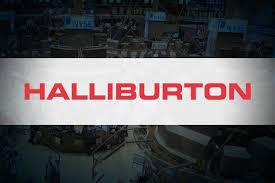 Halliburton's (NYSE:HAL) situation has been declining over the past couple of quarters. The company has faced extremely high pressures on both its financial performance and its backlog, because of downward spiraling oil prices and falling demand. The company's revenue base is highly dependent on growth in North American oil. However, this region is the most strongly impacted by oil's falling prices, due to its potential for high-cost oil production.
In Q3, the company's sales in the North American region fell 47% Y/Y and 7% Q/Q, dropping to $2.49B. In addition, operating income from this region dropped sharply 21%, down to $506 million, compared to the second quarter of 2015. The situation is not much different for Halliburton in other areas of the globe. Revenue from other regions declined 5% with unchanged operating margins, compared to the second quarter of 2015.
In addition to falling revenue and earnings, the company's cash generating potential is also dropping at a considerable rate, which is not even covering its dividend payments. In the first nine months of 2015, it generated free cash flows of only $300 million, while its dividend payments were standing at about $460 million. This means that Halliburton's free cash flows are not sufficient to cover its existing dividend payments. It raises a question mark over the stability of dividends, since its cash generating potential is also likely to remain depressed.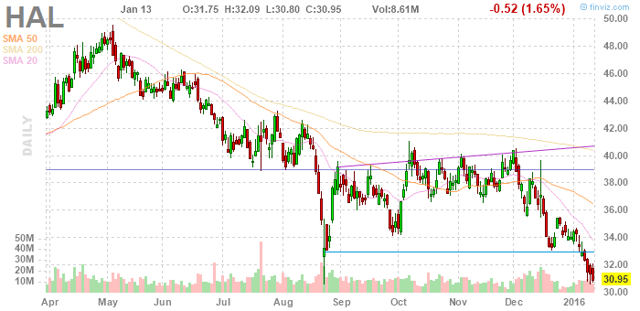 Click to enlarge
The company's share price also tumbled significantly, along with the falling financials and poor market fundamentals. HAL's shares lost almost 18.34% of their value in the past twelve months, which is a significant amount for the company and its shareholders. Now the question is what's next? Does this dip in the company's share price present a buying opportunity, or should investors wait further before buying this stock?
Many investors love to pick stocks when other are fearful. It is always a wise strategy to buy a stock when it's at bottom and sell it high. But it is also important to predict the exact bottom point, as well as the expected upside of that stock. And for that, many investors use valuations and other matrices. While, I also pay attention to valuations, but future market fundamentals are more important to me when predicting the bottom and upside potential of any stock. I believe that future market fundamentals are the growth engine for any company and its share price.
In the case of Halliburton, the company's business model is entirely dependent on growth activities in the oil and gas industry. In 2015, investments in this industry declined by almost 35%, which significantly impacted backlogs and financials of oilfield service companies. In the final two quarter of 2015, many exploration and production companies posted record losses due to very low oil prices. As a result, their cash flows were squeezed and they lost the potential to invest in capital projects.
In the final quarter of 2015, oil prices declined significantly, averaging around $40 per barrel, an amount too low for producers to make a profit. ConocoPhillips (NYSE:COP), the largest E&P Company, said they need oil at $60 per barrel for cash flow neutrality. Therefore, these companies are heading to post big losses for the final quarter of 2015, which I believe will further reduce their potential to invest in future projects.
If we ignore the results from the final quarter of 2015, the prospect looks even bleaker for the first half of 2016. Oil prices have dropped sharply since the start of 2015. At present, oil prices are trading near the $30 per barrel mark, too low a price for most oil producing companies to survive.
In Conclusion
Barclays recently predicted oil will dip to $20 per barrel, which I believe is certainly true. Saudi Arabia and other Arab countries are not looking to cut their production levels, despite falling prices. In addition, many companies are also employing a similar strategy of offsetting low prices by increasing production volumes. This strategy is further exacerbating the imbalance between supply and demand. As a result, I'm not seeing any sign of stabilization in oil prices any time soon.
Halliburton, whose business model is entirely dependent on investment from oil producing companies, will experience a significant pressure on its backlog and financials. Consequently, its share performance will also feel the impact of bleak fundamentals and poor financial performance. Because of this, I suggest investors hold off on buying this stock until they can see of the beginnings of oil price stabilization.
Disclosure: I/we have no positions in any stocks mentioned, and no plans to initiate any positions within the next 72 hours.
I wrote this article myself, and it expresses my own opinions. I am not receiving compensation for it (other than from Seeking Alpha). I have no business relationship with any company whose stock is mentioned in this article.