Bank of America (NYSE:BAC) will hold its corporate earnings conference call webcast on January 19, and the report will most likely contain lackluster data despite the recent increase in the discount rate.
Other Major Banks Lag, Too
In addition, Goldman Sachs (NYSE:GS), JPMorgan Chase (NYSE:JPM), Morgan Stanley (NYSE:MS) and Citigroup (NYSE:C) will be announcing earnings as well, and the five banks are expected to announce less than exemplar results, as Wall Street experts are suggesting that the investment banks realized less revenue from trading in the fourth quarter than they did in the difficult third quarter.
The current round of weak results points to market forces and policies, such as the adoption of electronic platforms for trading and the Volcker ban on proprietary trading, have negatively impacted profitability for the large investment banks.
Together the five banks represent close to $8 billion in revenue generated from their trading units and core debt sales, according to estimates by Credit Suisse. This amounts to a measly 2% increase over the same quarter in 2014 and a significant decrease of 15% from the third quarter in 2015.
While most investment banks experience a decline in trading activity close to the end of the year, this year is expected to be weaker than previous years.
Particular Points of Meltdown
Two international developments played a critical role in the lack of activity, as investors remained wary of continuing weak oil prices and increasing fears of the meltdown in Chinese markets. In addition, the mounting political tensions created by the breakdown of diplomatic ties between Saudi Arabia and Iran, as well as the reported test of a nuclear bomb conducted by North Korea, have convinced many investors to sit on the sidelines for now.
The healthy mergers and acquisitions market could help to defray the negative trading results, yet Bank of America and others earned M&A fees that were represented approximately one-tenth of the revenues derived from trading and sales for the first three quarters in 2015.
Moynihan Sends Warnings Ahead of Earnings Cast
In anticipation of the dreary earnings report, Bank of America CEO Brian Moynihan announced pessimistic predictions of the fourth-quarter trading revenue. At the time of the announcement in early December, the Federal Reserve had not raised its interest rate, although it did raise rates soon after on December 17.
The Federal Reserve decision to raise rates with only two weeks left to the year limited its potential to positively impact financial results.
Mr. Moynihan did not offer any insights into how much the bank's fixed-income revenue could fall in comparison to the previous quarter. However, he suggested that the results would be similar to other fourth-quarter results when compared to third-quarter results in prior years. That %-age change has ranged from a decline of 35% to an increase of 2%.
Even so, the results should be better than the fourth-quarter of 2014, which was particularly difficult. However, investors in Bank of America stock have waited for better performance from the CEO, whose strategy to produce higher profits has yet to be accomplished.
Additional Headwinds For BAC
Two other factors that have had a negative impact on Bank of America's performance are its net interest margin and return on assets (ROA).
The average net interest margin for all banks in the United States is currently at 3% on a trailing 12-month cycle. However, BofA's net interest margin has hovered around 2% for several years. Rising interest rates could help the bank to expand, however, at the moment it is too early to tell. Investors may not see a positive impact in this regard for another quarter.
BAC's ROA has been low for the past several years as a result of the interest rate environment, continuing litigation stemming from the financial crisis and other economic factors.
Near a 52-Wk Low
Bank of America's stock is near a 52-week low closing on January 11 at $15.31. The stock reached a high in 2015 on July 22 at $18.45 then tanked to $15.26 on August 25. After recovering to $17.95 on November 6, the stock dipped again to finish 2015 at $16.83. It now trades far lower at $15.00 (1.14.2015).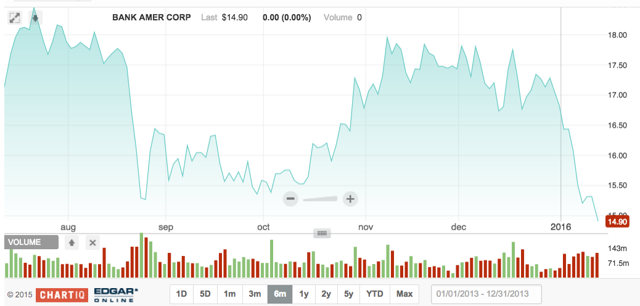 Click to enlarge
Conclusion: Sell BAC Ahead of Earnings
Although BAC has fallen dramatically in 2016 and was dead money for shareholders in 2014 and 2015, we believe it has further to fall, pressured by low oil prices, ongoing legal fines and fees, poor public relations, and a slew of other factors.
Following the earnings announcement of the past seven quarters, BAC stock has fallen at the start of trading five times and fallen further over the day six times; investors should consider selling ahead of the event to protect against further losses.
Disclosure: I/we have no positions in any stocks mentioned, and no plans to initiate any positions within the next 72 hours.
I wrote this article myself, and it expresses my own opinions. I am not receiving compensation for it (other than from Seeking Alpha). I have no business relationship with any company whose stock is mentioned in this article.