SunPower (NASDAQ:SPWR) has proven to be the most fundamentally sound high-efficiency solar manufacturer over the past few years. As one of the few truly dominant players in the U.S. (and the world), SunPower is extremely well positioned in a booming market. This is especially true given the recent extension of the U.S. solar ITC, which should boost SunPower's prospects dramatically. While SunPower has a large international presence, the U.S. unsurprisingly remains one of the company's most important markets. In fact, approximately one-third of the company's global pipeline is located in the U.S.
With that being said, the company's international prospects have also increased dramatically over the past few weeks as a result of the ambitious global climate deal. SunPower, along with the rest of the solar industry, is poised to benefit greatly from this deal. Given that the climate deal will positively impact the economics of emerging global solar markets, the climate deal will be particularly beneficial in SunPower's case. In fact, SunPower recently made the risky move of acquiring the lower efficiency module manufacturer Congenra Solar in order to target such global solar markets.
Despite SunPower's recent embrace of lower efficiency module technologies, the company is still primarily a high-efficiency module manufacturer. Although competition has been heating up on the high-efficiency front with SolarCity's (NASDAQ:SCTY) moved into module manufacturing, SunPower will likely still lead in this arena for the foreseeable future. SunPower superior technology has allowed the company to build a strong balance sheet and diversify its markets. In fact, profit machine First Solar (NASDAQ:FSLR) may be SunPower's only true competition in terms of balance sheet strength. However, SunPower is far more diversified than First Solar, which will likely play out to SunPower's favor moving forward.
Business Diversification Will Likely Prove Vital
SunPower has been extremely smart to diversify its revenue across all the major solar segments. In fact, SunPower's Q3 revenue was pretty evenly balanced across the power plant, commercial, and residential solar segments at $133.2 million, $145.9 million, and $162.3 million respectively. As most solar companies are still heavily focused on single solar segments (e.g. First Solar in utility-scale solar), SunPower is ahead of the curve in this respect.
The degree at which SunPower has diversified its business is impressive, especially considering the fact that the company's power plant revenue was almost double that of its commercial and residential segments a year ago. With the general solar industry rapidly starting to branch out of the power plant business, SunPower's diversification is a major plus for the company. By having a solid foothold in the commercial and residential sectors, SunPower is ensuring its place in the future solar landscape. In fact, residential solar's growth has eclipsed that of the utility-scale segment in the U.S., indicating that SunPower is moving in the right direction by diversifying.
SunPower's international assets are far more diversified than those of its competitors.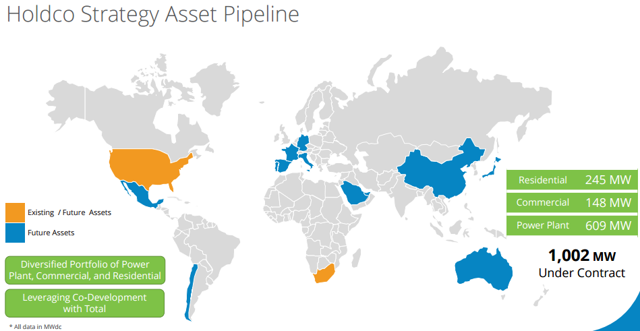 Click to enlarge
Source: SunPower
SunPower's Technology
SunPower's ability to diversify into multiple solar segments has much to do with the company's high-quality and high-efficiency solar modules. Given that high-efficiency modules are more effective for smaller solar projects (reduces the disproportionate soft costs of such projects), SunPower has the hardware to continue establishing a strong foothold in small project markets like residential solar. As a vast majority of solar companies are still not manufacturing modules anywhere near those of SunPower in terms of efficiency, SunPower has plenty of time to cement its growing dominance in smaller project markets.
While competition on the high-efficiency module front is undoubtably ramping up, SunPower still has a solid lead on this front. Only SolarCity truly represents a threat to SunPower's dominance in the high-efficiency module arena. However, SolarCity has yet to ramp up its 1 GW high-efficiency module manufacturing facility, which will be dedicated exclusively to servicing SolarCity's residential solar operations. As even SunPower's biggest competitive threat does not seem to be a near-term problem for the company, SunPower does not have much to worry about in the near-term. With average cell efficiencies of approximately 23% across its production lines, SunPower will likely be the premier solar technology company for the foreseeable future.
Relatively Slow Growth May Present a Problem Moving Forward
SunPower's attention on technology and overall quality of growth has come at the expense of capacity expansions. While this relatively slow growth strategy has worked wonders so far, a faster pace of growth may become necessary moving forward. As industry overcapacity is decreasing and as organic global solar demand is increasing, manufacturing capacity expansions will likely become far less risky. With the extension of the 30% U.S. ITC and the emergence of an ambitious climate deal, demand for solar products will likely only accelerate in the coming years. This makes SunPower's conservative growth strategy all the more risky.
SunPower currently plans to triple its manufacturing capacity over the next half decade. While this may sound ambitious, solar demand growth will likely eclipse SunPower's capacity expansion growth plans. Given the declining cost curve of solar and recent positive industry catalysts, solar demand will likely continue to grow at around its historical rate of approximately 30% per annum (at the minimum). Even if demand begins to slow down more than expected over this timeframe, SunPower can still afford to increase its capacity expansion rate given its strong fundamentals. At its current growth rate, SunPower will likely lose market share to more ambitious solar companies.
Conclusion
SunPower is a good investment opportunity at a market capitalization of $3.3 billion and a forward P/E ratio of 14. Given SunPower's advantages on the technological and balance sheet front, the company should be able to capitalize on the growing global solar opportunity. As the global solar industry is starting to show more growth in the commercial and residential sectors, SunPower's diversified approach will likely be a big differentiator in the future. While many leading solar companies are still trapped in the commodity technology and high debt model, SunPower continues to strengthen its fundamentals with industry-leading technology.
Disclosure: I am/we are long SCTY, SPWR.
I wrote this article myself, and it expresses my own opinions. I am not receiving compensation for it (other than from Seeking Alpha). I have no business relationship with any company whose stock is mentioned in this article.