After the bell on Thursday, chip giant Intel (NASDAQ:INTC) reported its fourth quarter results. While the company beat on the top and bottom lines for Q4, guidance wasn't as strong as it could have been. With sentiment in the name at a multi-year high, results were not strong enough to send the stock higher in the after-hours.
The fourth quarter numbers showed an interesting result. The best number was perhaps a 1% decline in Client Computing Group revenues, which is the PC + mobile segment. With PC sales dropping off in Q4, this was a bright spot. However, the Data Center Group only saw a revenue increase of 5%, after a more than 13% rise through the first nine months of 2015. With the DCG being the highlight of future growth, you would have liked to see the DCG do a bit better. Also, the large EPS beat was primarily due to a much lower than expected tax rate.
The most disappointing parts of this report perhaps came in the full year 2016 forecast. Remember, Intel originally provided guidance back in November 2015, but this was prior to the completion of the Altera acquisition. The fact that Intel only went from "mid single digit growth" to "mid to high single digit growth" for revenues seems a bit conservative. When Intel closed the Altera deal, analysts were looking for about $1.8 billion in revenues during 2016 from Altera. That alone represented about 3.27% of Intel's full year 2015 revenues, and if you add an extra week in (Intel's 2016 period is 53 weeks), you are looking at about 3.33%. As a result, you would have expected Intel's guidance to be just high single digits. Remember, the Altera acquisition and the extra week in the fiscal period will account for more than half of the company's revenue growth in 2016. Organic growth is in the low single digits.
Because of Altera, Intel also lowered its GAAP gross margin forecast to 61% for 2016, with a non-GAAP forecast of 63%, compared to the previous forecast for 62%. Additionally, one of the keys to profitability has been operating expenses, which have continued to rise as seen in the chart below.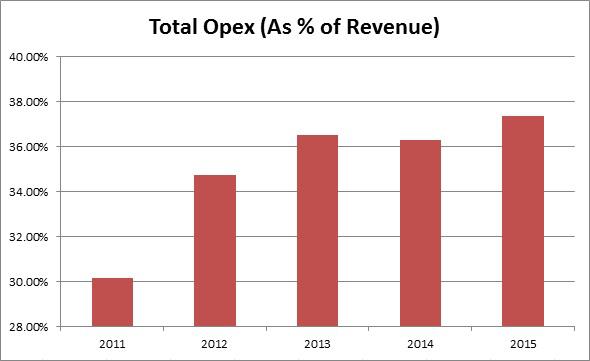 Management originally guided to R&D plus MG&A expenses (as a percentage of revenues) coming down by half a percentage point in 2016. If we assume roughly 7% of revenue growth, GAAP guidance implies just an 11bps improvement, whereas non-GAAP guidance called for about 28bps. Remember, this doesn't include two other important charges, amortization and restructuring, which I included in the chart above. Thanks to the Altera acquisition, Intel guided to about $350 million of amortization expenses this year, well above the five year average of $284 million. I also assume that there will be restructuring expenses, but management did not give those as part of guidance. With all of these operating expenses continuing to rise, profitability improvements cannot be made.
Thus, when we look at Intel's overall forecast, I calculate Intel's EPS on a GAAP basis in a range of $2.15 to $2.20. The street was looking for $2.37, so this definitely looks light. On a non-GAAP basis, I get $2.40 to $2.45. The difference is primarily in gross margins as well as more than 5 cents of amortization expenses. Both of these ranges use 7% for revenue growth, along with moderate restructuring expenses and no buyback. Overall, this guidance seemed to include a bit more Altera expenses than some might have expected. There will be some choppiness in the results for the next few quarters as Intel shifts to a GAAP & non-GAAP basis, whereas the company had only been GAAP in recent years.
One item I should point out is that the bear camp has really run away from Intel in recent years. As you can see in the chart below, short interest finished 2015 at around 82 million shares. That's the lowest point seen since I started tracking Intel's short interest in April 2012. Since the 2013 peak, almost 68% of shares short have been covered, so there has been a major shift in sentiment regarding the name.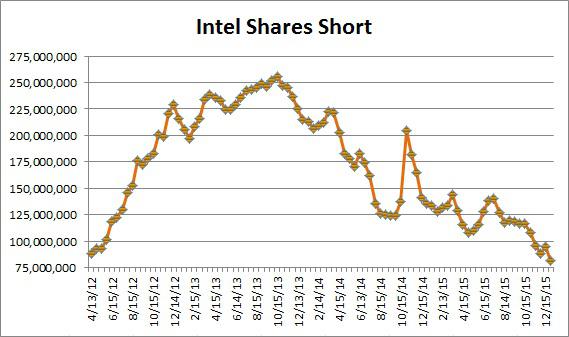 (Note: last data point on chart is for settlement date of 12/31/15)
Intel shares were down about 3% in the after-hours, and I think that's a fair response to the company's report. The Data Center Group slowed a bit in Q4, and 2016 guidance disappointed in a number of respects. With the fall in shares, the annual dividend yield is up to about 3.30%, which makes the name worth a look for income investors. I stated in my previous article that I believed fair value for the stock was in the mid $30s. Investors might want to use this weakness to buy for the long-term, but I don't think investors should expect tremendous upside in the near term.
Disclosure: I/we have no positions in any stocks mentioned, and no plans to initiate any positions within the next 72 hours.
I wrote this article myself, and it expresses my own opinions. I am not receiving compensation for it (other than from Seeking Alpha). I have no business relationship with any company whose stock is mentioned in this article.
Additional disclosure: Investors are always reminded that before making any investment, you should do your own proper due diligence on any name directly or indirectly mentioned in this article. Investors should also consider seeking advice from a broker or financial adviser before making any investment decisions. Any material in this article should be considered general information, and not relied on as a formal investment recommendation.