Thesis
Party City Holdco Inc. (NYSE:PRTY) is a retail store focusing on the design, manufacture, and distribution of decorating party supplies. It operates in two segments, retail and wholesale, and sell a variety of products including costumes, tableware, and stationary.
PRTY initially IPO'd in April of 2015 at a price of $16.00 per share and is currently trading at $11.51 at time of writing this article. It has approximately 900 retail locations and were originally founded in 1947. Interestingly enough, Party City was actually taken private in 2005 by a private equity firm (and then re-IPO'd in 2015). The total consideration paid in the buyout was said to be $364 million meaning that the IPO in 2015 valued the company at roughly 5 times the value paid for the company in 2005. (2015 IPO valued the company at $1.86b) It is still not really clear to me why the valuation of the company increased so significantly over this 10-year period.
Party City offers no real competitive advantage over alternative online retail/e-commerce options and I believe it represents the best short opportunity in 2016. Additionally, the financials look poor and the future earnings prospects are grim in a highly competitive marketplace with strong and more diversified competition. It is heavily levered (2.76b in liabilities and a debt/equity ratio of 2.46!) and underperforming. Management is offering very weak arguments for the lackluster performance of the business, and the majority of future operating income is going to be swallowed up by interest payments.
If PRTY unveils a mediocre Q4 (I think it probably will), the stock is not going to recover in the near term. Assuming PRTY has an above-average Q4, I still believe the long-term pressure and lack of future growth catalysts will crush the company.
Qualitative Catalysts
The brick and mortar/online retail environment is heavily saturated with competition in this space, and while Party City offers a higher number of "party" SKUs, nearly every other large retailer offers similar products at lower prices, both in-store and in their e-commerce offering. (Wal-Mart (NYSE:WMT), Target (NYSE:TGT), most grocery stores, Dollar General (NYSE:DG), Amazon (NASDAQ:AMZN), Disney stores (NYSE:DIS), etc.) I cannot come up with a compelling reason why Party City offers any sort of competitive advantage or "moat" around its business. Even the PRTY bulls are starting to question their opinions. "Vertical integration" is not a growth catalyst.
I suppose that one could make the argument that PRTY offers more SKUs in this category as a specialty retailer, but I would counter that by saying that if we are valuing a business based on the quantity of SKUs, Amazon.com would still be the better option. Additionally, I cannot think of a compelling reason (other than convenience) why a person would choose Party City over the alternative options as most of these goods are shipped easily and cheaply via online retail. Honestly, the only reason why a person needs to enter the store would be to inflate balloons or purchase a specific licensed product not carried elsewhere, and this does not strike me as a compelling reason to own the stock. (Especially since balloon inflation can be done at nearly any grocery or big box retail store and Amazon offers nearly all of the same if not more diversity of SKU)
I also have some issue with the excuses provided in the Q3 earnings transcript where management blamed poor sales in Q3 on the following factors:
1. Moving the costume wall from the back of the store
2. The "Frozen" phenomenon caused Moms to buy products incorporating Frozen images and themes because of the popularity of the franchise and not because of a celebration
3. General softening in retail delaying Halloween purchases
I find these excuses to be pretty flimsy at best and don't fully believe that they were exclusively to blame for the poor performance of PRTY. I think competitive pressure is eroding its market position.
Point 1, regarding the disruptive movement of the costume wall from the back of the store - this seems like a very flimsy excuse as any experienced retailer should be able to adjust their store configuration while minimizing the impact to the overall business.
Point 2 seems like a pretty weak excuse as well, blaming Frozen for a nearly 2.5% drag on the third quarter guidance. Management believes that Frozen had such a large impact because "the Frozen parties, which were not necessarily all birthday parties, obviously, involved little girls really dressing up as Elsa and Anna for tea parties at home," which seems like a laughably weak excuse for a poorer performance than expected. I suppose anytime Disney has a popular franchise, we should expect Party City to have a poor year? (Better look out for Frozen 2!)
For point 3, I can see some merit as you can see on the below chart (S&P Retail Select Industry Index), the retail sector was fairly soft generally.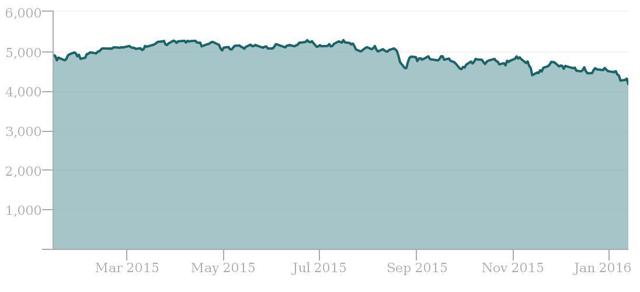 Click to enlarge
However, there were reports from Wal-Mart, Home Depot, and TJX (NYSE:TJX) that Q3 was actually not that bad with Wal-Mart even reporting that, "Wal-Mart said back-to-school and Halloween sales had been strong, with some weakness in early October because of the warm weather."
Additionally, in the Q3 transcript another flimsy excuse for the potential of a weak 2016 Halloween was offered:
As we look forward to 2016, where Halloween shifts to a Monday as a result of leap year, we anticipate that our 2016 Halloween season could possibly experience some contraction in adult spending on the holiday."
If management believes that their business is so weak that a leap year Halloween on a Monday will materially impact their biggest earnings season, then I do not have much confidence in the overall business as a whole.
PRTY's earnings are always somewhat "lumpy" in the sense that Halloween is the biggest earner for PRTY (followed by summer, graduation, New Years, and Christmas). An argument I have seen for the merits of PRTY are that people tend to purchase their Halloween costumes last minute and therefore have to go to a brick and mortar store to make the purchase. As e-commerce takes a bigger and bigger bite out of this market by offering shorter shipping times, I do not believe that in the long term this offers a compelling reason to continue to shop at PRTY (Amazon Prime's 2-day shipping at a better price point still beats PRTY's offerings).
The current analyst opinion about PRTY is mixed, but generally do not reflect all of the negatives I have highlighted in this article. Expect analyst opinions to turn uber-bearish if the PRTY Q4 performance is bad.
Fundamental Analysis to Show Overvalue
2015 Q3 was poor in terms of performance and the early expectations for Q4 earnings are not great.
Taking a look at the financials: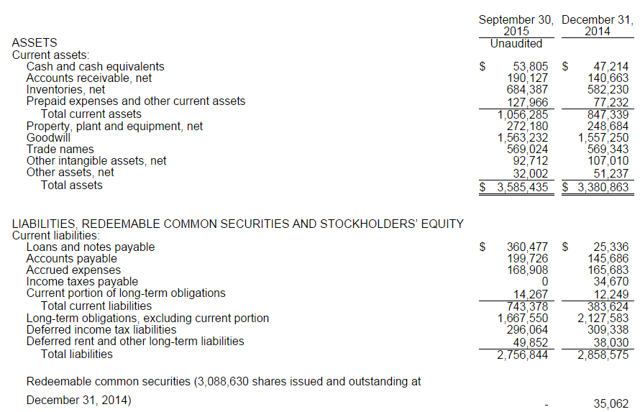 Click to enlarge
We see that PRTY has some massive liabilities including $1.6b in long-term debt and a questionable valuation of goodwill at $1.5b. I fail to see how Party City has any meaningful proprietary technology, patents, or incredibly loyal customer base to the brand that justifies such a high goodwill valuation. In fact, I believe the "goodwill" valuation is a holdover from the IPO which was clearly already an overvaluation in the first place based on the terrible balance sheet. I expect a writedown of goodwill in the future if PRTY remains on the current trajectory with no growth catalysts on the horizon.
Continuing the look into the financials: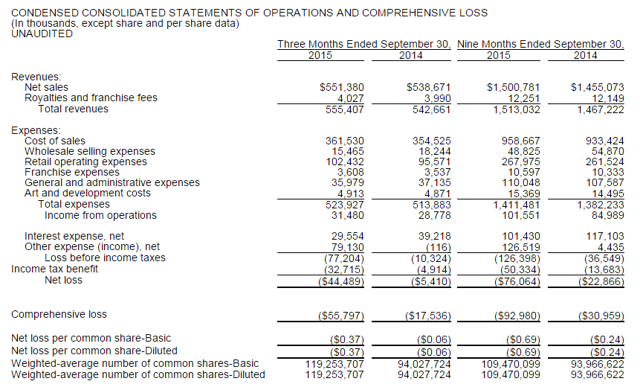 Click to enlarge
The picture here does not seem much better as PRTY is currently spending nearly all of its operating income to service interest payments on its massive long-term debt. I'm not the first person to notice this as another SA author points out, "First three quarters of this year, PRTY has produced $101.55m operating income and accrued $101.43m interest payments."
This is a company that spends 9 months of the year earning money to finance its debts.
Additionally, we can see that sales growth is anemic at best, representing a 2.3% increase which is not very impressive for a supposed "growth" story.
Taking a look at EBITDA performance: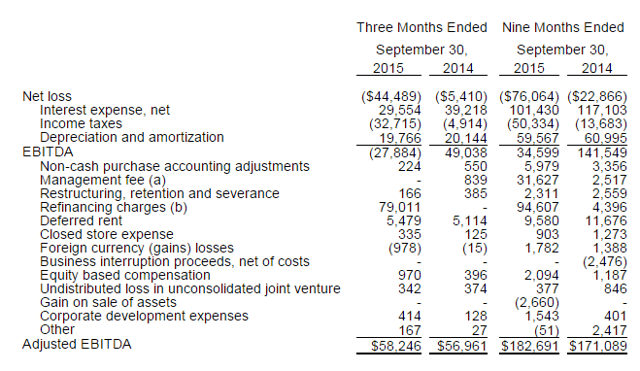 Click to enlarge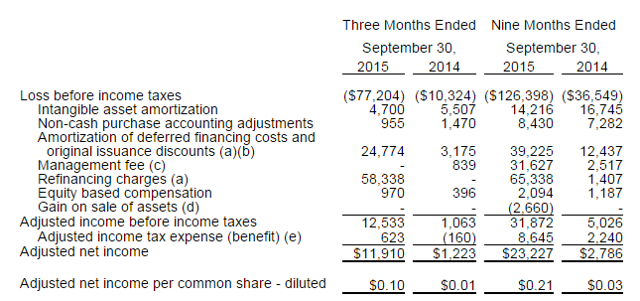 Click to enlarge
As above, not a very good story here as it would appear that that Party City is a company that basically exists to service its own debt. Additional indications are that Q4 earnings will be roughly in line with the previous year as the Q3 announcement actually includes information on the five-week Halloween season:
For the five-week period ended November 7, 2015 (fiscal October, which comprises the majority of Halloween sales), the Company reported retail sales of $429.3 million. Brand comparable sales, which include Company-owned Party City stores and North American e-commerce operations, increased 3.3%. Two-year cumulative brand comparable sales increased in excess of 10%."
PRTY is a non-diversified poor performer with no real prospects for future growth catalysts and an ever tightening noose of competitive pressure by the mega-competition in its market. (WMT, AMZN, TGT, DG, etc.)
Risk/reward skew
Currently, PRTY is trading around their 52-week low as the stock has already collapsed from the highs in August 2015 down to its current level around $11.45 at time of publication. I believe this stock has further down to fall, but the key will be the Q4 earnings and how close they come to management predictions. I am also not convinced that 2016 will be much better for PRTY and management has already started guiding the potential of a lower 2016 (based on a Monday Halloween?).
Party City is under a crippling debt load that will require at least 75% of its operating profits to service the interest alone. At this point, I do not see a future scenario where they can grow fast enough to outrun the weight of the interest. They have no competitive moat, uninteresting and simple to copy products, and a legacy business model that will continue to shrink as more and more retail moves online.
Counterargument/risks
The only compelling counterargument I can think of as to why PRTY is not a good short is that it is already trading at 52-week low and the market may have fully processed how bad this company is (e.g. the short is priced in already). I suppose it is possible for the stock to regain some of its lost ground, but in the long-term view, I believe this company has no real future prospects and will eventually collapse under the weight of competitive pressure from Amazon, Wal-Mart, Target, Dollar General, and every other store that sells tableware, costumes, and balloons.