Like others who have written articles on this company, I believe Gentherm (NASDAQ: THRM) represents a unique investment opportunity with its innovative and R&D-differentiated products. This piece will focus on the company's growth and ROIC.
A look at growth - A top-down approach
Gentherm went through a spurt of explosive growth from 2010 to 2012 as the company successfully established itself as a global supplier to auto OEMs, aided by the acquisition of W.E.T. Automotive Systems. Sales grew at +85%, +228% and +50% in 2010, 2011 and 2012, before normalizing to 20% levels in 2013 and 2014.
I would exercise caution over extrapolating the same 20% growth rates achieved over the last 2 years into the near future, as a 20% growth rate (while possible) would require robust underlying industry performance. In fact, global light vehicle production is forecasted to grow at only +3% CAGR through the end of the decade, according to JPM research. Furthermore, although the global auto industry is generally regarded as a growth industry, almost all of the growth is in emerging markets. As we all know, emerging economies are set for tough times in the few years ahead.
The penetration rates for heated car seats as a product category are at 20%, according to sell-side estimates. Heated and cooled seats have a lower penetration rate, but since these products are variations (and substitutes) of one another, I will use 20% as a blanket penetration rate for simplicity and for the purpose of maintaining conservatism. Gentherm commands 50% market share in this space, which puts the company's penetration rate at 10%. Assuming: 1) overall product category penetration reaches saturation, and 2) the increase from the current 20% happens over 15 years, Gentherm's company-specific penetration would grow from 10% to 25% (assuming constant market share). It also means the penetration would edge up by 1% each year.
In my base case, I use 3% as industry growth, in line with forecasted light vehicles sales growth, and adopt a 1% rise in penetration rate per year. My revenue model yields company sales growth of 13.3%, 12.4% and 11.6% over the next 3 years, and falling below 10% after 2020.

A more bullish case based on a faster penetration rate assumption of 1.5% increments each year, while maintaining the same 3% industry growth, results in sales growth of 18.5%, 16.4% and 14.9% over the next 3 years, which subsequently dips below 10% after 2024.

A 4% industry growth rate, coupled with a 1.5% rise in penetration rate per year would result in sales growth of 19.6%, 17.6% and 16% over the next 3 years. Growth stays above 10% until 2025.

Readers should take note that the results are more sensitive to the rate of penetration than industry growth.
A look at ROIC
Gentherm's ROIC profile is impressive both in relation to its auto parts industry peers and in relation to itself historically.

The company's superior ROIC is mainly attributable to its 1) high and improving margins, and 2) efficient capital turnover.
There have been instances where Gentherm's gross margins reached 32-33% in the past, namely during 2006 and 2007, but have since hovered around 25-29%. The past 11 quarters, however, have seen a meaningful streak of renewed margin expansion. One of the characteristics that make this trend "meaningful" (and unlikely to be accidental) is the consistency in the increases. Except for 2Q13, when gross margins dropped marginally, and 1Q15, when operating margins slipped incrementally, all the remaining quarters saw consistent QoQ improvements. For the 3 quarters reported in 2015, GM were 30.5%, 30.8% and 31.7%, and for the first time in 7 years, full-year GM is likely to rise above 30%. The past 11 quarters of rising margins provides supportive evidence of a structural product mix upgrade, driven by sales of more heated and cooled seats over traditional heated-only seats.

In terms of invested capital, the company's composition is tilted more towards working capital than fixed capital. This is partially due to Gentherm's high fixed asset efficiency (with fixed asset turnover at 9.5x), which makes fixed capital take up a smaller percentage. The other names I included as comparables have fixed asset turnover ranging from 4x to 6x. Net working capital efficiency is relatively on the low side, but honestly, a cash conversion cycle of 62 days (2 months) is very acceptable. Overall, Gentherm's capital turnover (the ratio of total capital to sales) is high, reflecting efficient capital deployment, and simultaneously contributing to superior ROIC.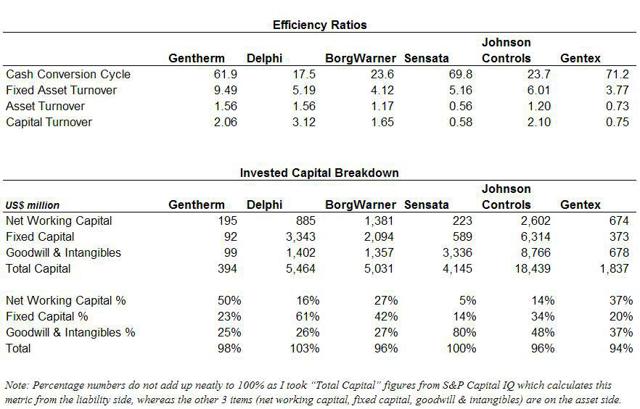 In the upper table, I have included asset turnover, which more readers may find themselves familiar with.
Conclusion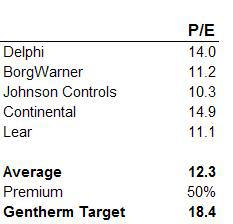 Given 1) Gentherm's growth rate that is triple that of the broader industry, and 2) its high ROICs (with room for possible improvement), I apply a 50% premium to the average (trailing 12M) P/E of large auto parts manufacturers to arrive at a target multiple of 18.4x for the company. I do not believe the 50% premium is excessive, given significantly above-average growth rates which will also sustain over a medium- to long-term horizon.
Gentherm is at 17x trailing 12M P/E after recent stock market corrections, and a small amount of value is emerging in light of my 18.4x target multiple.
Disclosure: I/we have no positions in any stocks mentioned, and no plans to initiate any positions within the next 72 hours.
I wrote this article myself, and it expresses my own opinions. I am not receiving compensation for it (other than from Seeking Alpha). I have no business relationship with any company whose stock is mentioned in this article.