San Miguel (OTCPK:SMGBY) is the Philippines' largest conglomerate with interests in a whole range of businesses apart from its well-known beer brand. Traded as an ADR on the NYSE, it has under-performed the Philippines market over the past year. However, it offers breadth within the Philippines economy, which in terms of GDP growth was the best-performing major economy in Asia in 2015. It has a strong long-term business plan, which should reap benefits in the coming years.
Its debts are very manageable, helped by a recent preferred shares offering, as laid out in my article in September. This share issue was heavily over-subscribed, which can be seen as a vote of confidence in the company. The company's sales are equivalent to 6% of the country's GDP.
The Philippines and Emerging Market Plays
The Philippines is forecast to enjoy GDP growth of 5.5% to 6% in 2016 on the back of growth in foreign workers' remittances, revenues from business process outsourcing (BPO) and buoyant consumer demand. This compares to an Asian Development Bank forecast of 4.9% for S-E Asia as a whole.
BPO now employs 1.2 million people in the country. It should soon overtake foreign workers' remittances as the single biggest earner for the Philippines. It has contributed to a strong property market in the sprawling capital, Manila, and in the second city of Cebu. Unemployment has dropped to 5.6%, the lowest in more than a decade. The country has demographics, which economists like: a young and increasingly well educated population with low household debt. Tourism is flourishing as internal infrastructure in the country slowly improves: visitor arrival topped 5 million for the first time in 2015.
Negative factors are a potential slowdown in China (exaggerated in my view), to which many of the country's exports go, and political uncertainty in the face of this year's general election. Additionally an expected decline in the Philippines peso against the US dollar would make borrowings more expensive to finance for peso-denominated companies. This is a problem all emerging market economies potentially face.
Emerging markets have under-performed in recent years. For instance, the MCSI emerging-markets index has fallen 20% over the past 6 years, while the S&P 500 index has risen 40% in the same period. The IMF is forecasting that emerging markets will finally pick up the growth trend in 2016 (from 3.9% in 2015 to 4.5 % in 2016). Unlike most emerging markets, the Philippines is not over-reliant on commodity prices, or indeed particularly on exports. That should stand the country in good stead for 2016 compared to many others. The Economist Intelligence Unit has the country at a risk level of BBB, which might concern more conservative investors.
San Miguel Financials.
In the first 9 months of 2015 the company's consolidated net income grew 7% to Philippines pesos 26.8 billion although revenues declined on the back of falling oil prices and scheduled maintenance at power plants. Aggregate operating income rose sharply to pesos 58.1 billion from pesos 47.2 billion a year ago. (1 peso = US$0.021). The company's diversification stood it in good stead, however, as can be seen by how the various divisions performed in terms of net income.
Beer business +6%.
Other Alcohol business under San Ginebra brand +8%
Food division + 7%.
Packaging +5%
Power generation -12%
Oil business +58%
The drinks and food businesses should continue to grow this year on the back of strong consumer demand. The packaging division had strong contributions from its Australian subsidiaries. Power generation should improve this year on the back of infrastructure investments and the oil business is growing strongly with particular emphasis from Malaysian subsidiary Petron Corp.
Infrastructure business saw strong growth but direct comparison is difficult due to consolidation. The decline of the peso against the US dollar has made the company's debt more expensive to service and had a negative impact on its net profitability. However the decline of just over 2% is less than most emerging markets.
San Miguel's share price is at $10.75 at the time of writing. When I recommended this stock back in September last year, the price was at $11.08 so in fact the company has weathered the general market storm quite well since then.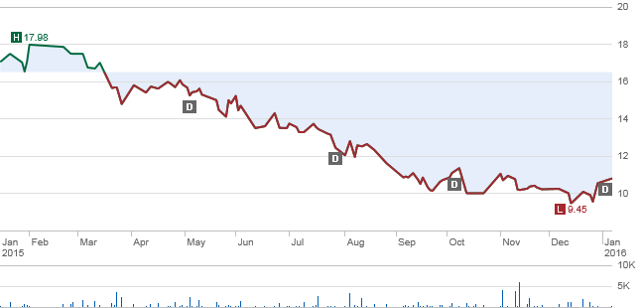 Click to enlarge
The share price's negative direction over the past year is shown in the graph above.
The 52 week range is $9.45 to $17.98 and this again shows how short-term factors have, in my view, wrongly affected the long-term prospects. The company offers a dividend yield of 2.8%. It has a market cap of $2.57 billion.
San Miguel Future Direction.
The company has become increasingly involved in the infrastructure business. This has been damaging short term to its share price due to the large capital investment required and long pay-back time. This should, however, give healthy returns long term as the country invests in much-needed infrastructure projects. Such projects to complete this year include two expressways in Manila and a new airport runway on resort island Boracay.
Recent months have seen much speculation in regard to San Miguel's entry into the somewhat somnolent telecoms sector. This is expected to begin in 2016 in conjunction with Australian telco Telstra, who have pledged an initial $1 billion for the venture. The sector is currently controlled by PLDT (NYSE:PHI) with 58% and Globe Telecom with 42% of the mobile market. The two have very high EBITDA margins and this should be very profit-accretive to San Miguel in the long run. Telstra's experience with 4G networks and technical proficiencies could shake up a market, which is inefficient in terms of broadband speeds and poor network quality. San Miguel can utilize its growing almost inactive telecoms holdings, which it has recently consolidated into one business and with access to a lot of spectrum.
This in turn makes PLDT a less attractive buy now, although after some profit-taking I still keep PLDT in my portfolio as a high-yielding dividend play (currently at 6.7%).
Some had speculated that San Miguel would get out of the beer business, in which it first made its name. It previously sold a 48.1% stake in its traditional beer business to Japan's Kirin brewery. However San Miguel's President Ramon Ang has just announced he is interested to acquire the Grolsch and Peroni beer brands from Anheuser Busch InBev (NYSE:BUD), which they in turn acquired through their takeover of SABMiller. This shows that San Miguel still regards their beer business as a core business. It also suggests that their finances are in order for any acquisitions they consider strategic.
San Miguel Prospects.
The company is effectively run by its President and influential Philippines power-broker Ramon Ang. Chairman of the Board is Eduardo Cojuangco, who hails from what is probably the most influential business and political dynasty in the country. These things matter a lot in the Philippines.
With its wide range of investments across the whole gamut of the economy, San Miguel is well placed to take advantage of the development of the Philippines economy as a whole.
Ang recently predicted that the company would more than double revenues in the next 5 years to between $40 billion and $50 billion. He foresaw this being achieved through a combination of acquisitions and organic growth.
The company's long-term planning at the expense of short-term profit has hit the share price in the past couple of years. To me this is an example of the short-sightedness of stock markets in general. I see this long-termism reaping benefits in 2016 and 2017 and this makes San Miguel a good medium- to long-term play. Like any investment in the Philippines it is not a buy for a conservative, risk-averse investor, however.
Disclosure: I am/we are long SMGBY.
I wrote this article myself, and it expresses my own opinions. I am not receiving compensation for it (other than from Seeking Alpha). I have no business relationship with any company whose stock is mentioned in this article.
Editor's Note: This article discusses one or more securities that do not trade on a major U.S. exchange. Please be aware of the risks associated with these stocks.