Are we going to see another round of impairment charges in the fourth quarter? Embattled energy company Chesapeake Energy (NYSE:CHK) took a $5.4 billion impairment charge in the third quarter that brought total year-to-date impairments to $15.4 billion. A mind-blowing sum. The value destruction in the shale business has been truly staggering, and things are not looking to get any better any time soon.
Crude oil prices are sneaking around $30 per barrel, rendering most shale projects economically unfeasible. Yet, Chesapeake Energy continues to pump oil and gas, and, interestingly, grew production by 3% to 667 mboe/d in the third quarter. The 3% Y/Y growth rate refers to Chesapeake's adjusted production, which is taking asset sales into account, but Q3-15 demonstrated that production volumes are still growing...and that is a big problem for crude oil prices.
OPEC has so far resisted in cutting production and supporting prices in an effort to crowd out U.S. shale supply. While OPEC might turn around and cut back on production in 2016 because low crude oil prices, for instance, have led to a $98 billion budget deficit in Saudi Arabia, pressure on oil prices will remain high as Iranian oil supplies are expected to return to international markets. As a result, stock prices of Chesapeake Energy and other shale companies have been clobbered, and no relief is in sight.
Brutal share chart
Chesapeake Energy has taken a real hit from the oil price crash: CHK is down ~81% over the last year. Year-to-date, Chesapeake Energy has already been clobbered ~19%, and the new year is only fourteen days old.
Chesapeake Energy has consistently reached new lows in 2015, and I am not exactly looking forward to fourth quarter results.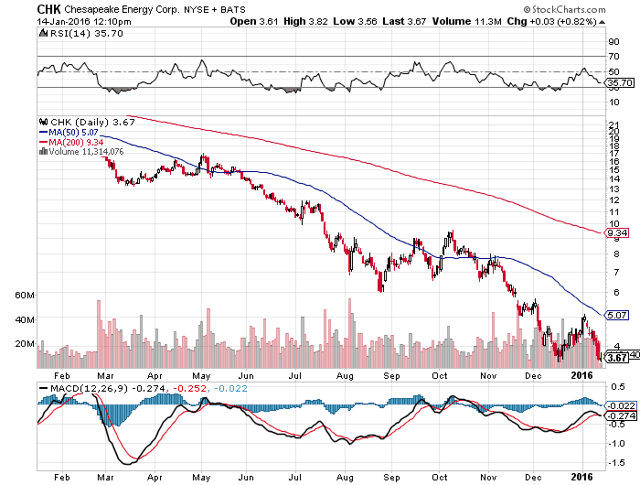 Click to enlarge
Source: StockCharts.com
Upcoming fourth quarter are going to be bad
There is literally no chance that the company will deliver satisfying fourth quarter financials now that it is restructuring and oil prices continue to slide. Importantly, there is a high chance that Chesapeake Energy will have to report another round of impairment charges for Q4-15.
In 2015, Chesapeake Energy took impairment charges in every single quarter of the year. Since the oil price sits now at only ~$30 per barrel, I wouldn't be surprised if the company is forced to report another substantial impairment on its oil and natural gas properties, and that is going to weigh on the stock price. Just like in prior quarters, Chesapeake Energy's hedge book won't matter much...the broad decline in energy prices will show in fourth quarter earnings.
Your Takeaway
Fourth quarter results are not going to be great...and that's probably an understatement. So far, Chesapeake Energy has recognized $15.4 billion in impairments in 2015, a staggering amount. Since Chesapeake Energy's average realized oil price was $62.68/barrel in the third quarter, including realized hedging gains, and crude oil has traded down to $30/barrel, chances are that more write-downs will follow in the fourth quarter.
Disclosure: I/we have no positions in any stocks mentioned, and no plans to initiate any positions within the next 72 hours.
I wrote this article myself, and it expresses my own opinions. I am not receiving compensation for it (other than from Seeking Alpha). I have no business relationship with any company whose stock is mentioned in this article.