Hopefully this article will help you increase your wealth.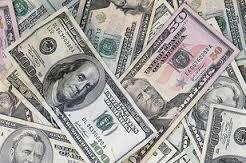 Welltower Inc. (NYSE:HCN) is the largest global healthcare REIT. It renamed itself Welltower Inc. effective September 30, 2015, from HealthCare REIT Inc. to reflect its changes. Welltower focuses on acquiring, planning, developing, managing, repositioning and monetizing real estate assets in the U.S. (>80%), Canada and the U.K. It primarily invests in senior living, post-acute care and outpatient medical services properties. It focuses on superior properties in affluent, high-barrier-to-entry metropolitan markets. HCN partners with leading operators for senior housing and health systems that deliver superior value, while maintaining above-average earnings. 94% of the company's medical office building portfolio is affiliated with a healthcare system. It has a portfolio as of September 30, 2015, of 1,414 properties in 46 states, Canada and the U.K. It has a $35B enterprise value. It carries a Moody's rating of Baa2, a Fitch rating of BBB+, and an S&P rating of BBB. These are all solid investment-grade ratings.
HCN's revenues come 87% from private pay sources (which are of high quality). It pays a healthy 4.85% annual dividend. HCN's board has already approved a 4.2% dividend raise starting in February 2016 to $0.86 per quarter (or $3.44 per year - 5.06% annually). On November 15, 2015, HCN paid its 178th consecutive quarterly dividend. That encompasses almost 45 years and many recessions. If you want a dependable stock that will keep paying you during hard times, HCN may be the stock for you. On top of that the demographic tailwind of the Baby Boom Generation retiring means that HCN should see solid growth for the next 10-20 years at least. Even if HCN's stock price goes down in a new recession, it's virtually certain to recover soon after the recession. With US equities markets showing signs of significant weakness at this time, that is an important consideration.
The chart below shows HCN's long-term uptrend.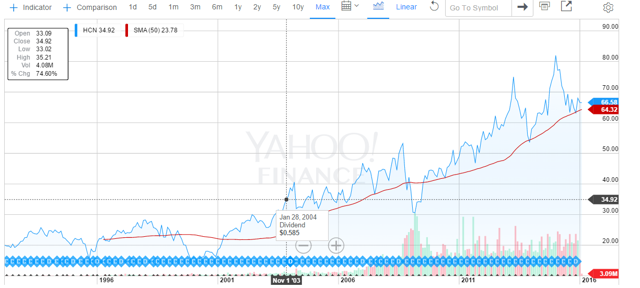 Click to enlarge
With the Baby Boom Generation retirement just starting, fundamentally this uptrend should get stronger over the longer term. The chart below from the US Census Bureau shows just how much faster the 85-plus age group is expected to grow than the 20-34-year-old age group over the next 35 years.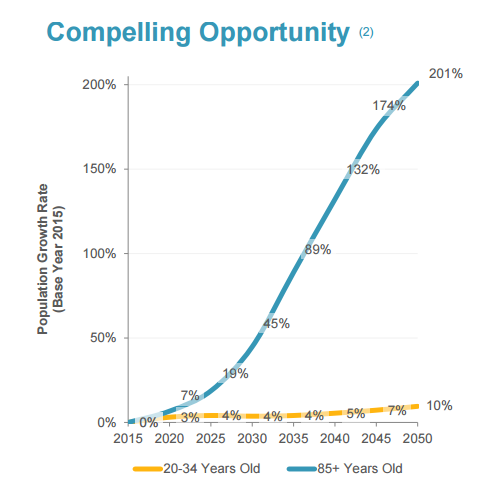 The chart below of the breakout of HCN's portfolio shows why the aging of the Baby Boom Generation is so important to HCN's future growth.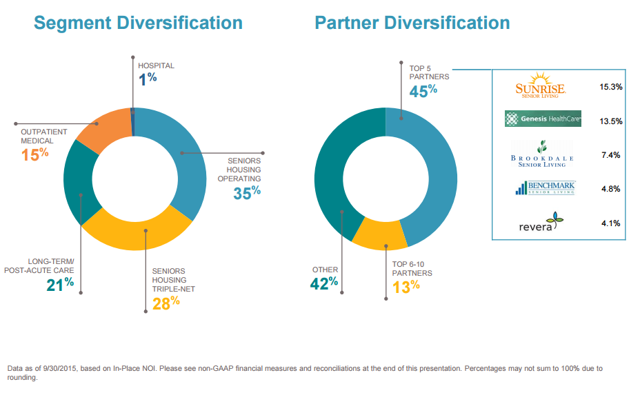 Click to enlarge
As investors can see, 63% of HCN's business is senior housing (or housing of the elderly). Another 21% of the business is long-term/post acute care. Again this is more often for those with advanced years. With roughly 84% of its business significantly dependent on the elderly, even the most pessimistic of investors have to admit that the demographics of the Baby Boom Generation reaching retirement age are virtually sure to be a big plus for HCN's business. When 58% of HCN's business partnerships are with the top 10 retirement care management companies, the picture is that much more impressive.
With a possible BEAR market/US recession coming soon, it is also important that senior housing (63% of HCN's business) is much less sensitive to negative economic conditions (see chart below).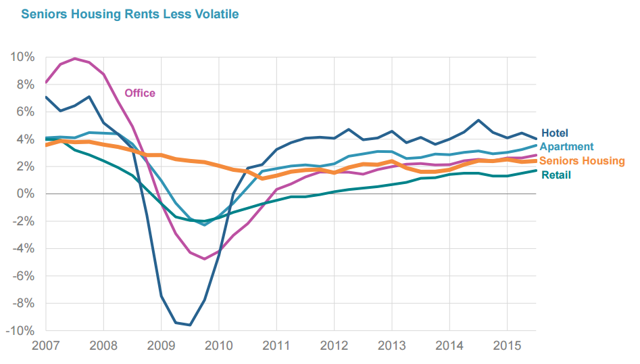 Click to enlarge
Rents may fall a little bit in a recession (2008-2009 in the chart above), but the fall in senior housing rents was minimal in the Great Recession compared to the fall in hotel, office, apartment and even retail rents. With the extremely shaky market we've seen in January 2016 thus far, this factor has to be reassuring to potential investors.
HCN's dividend growth chart is equally impressive (see below).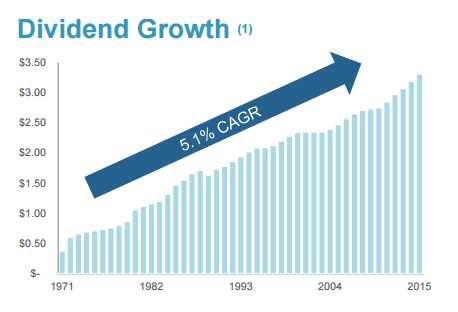 When you can get good, steady dividend growth even through recessions, it is easy to pick HCN as a stock to own through good times and bad. It is a stock that should help you sleep at night, even with a possible bear market and/or recession on the horizon. HCN's board has already approved a dividend raise starting in February 2016 to $0.86 per quarter (or $3.44 per year - 5.06% annually). It is worth noting that in recent years HCN's dividend raises have beaten the rate of inflation by a wide margin. That means long-term investors are getting a higher and higher yield for their initial investment the longer they own the stock. Income investors have to love that.
Of course, some critics will point to the Fed's December 16, 2015, announcement of its intent to raise its Fed Funds rate by 1.0% in 2016 to 1.375% by the end of 2016. Such a move would make HCN's total return look less appealing. It could even cause the stock price to go down, especially if the US equities markets as a whole go down.
The good news on that front is that concerns about inflation have gone down significantly since that Fed announcement. The price of oil has declined from a Nymex opening price of $38.06 per barrel for light sweet crude on December 16, 2015, to the closing price of $30.48 per barrel on January 13, 2016. That is disinflationary or deflationary. The devaluation of the Chinese Yuan against the USD (see chart below) also is disinflationary or deflationary.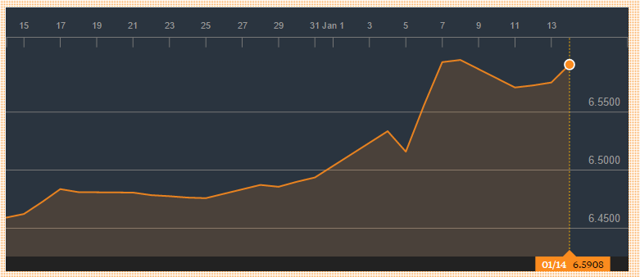 Click to enlarge
The yuan has depreciated from 6.46 to the USD at the close on December 15, 2015, to 6.59 to the USD as of this writing January 14, 2016. Since August 9, 2015, it has depreciated from 6.21 to 6.59 to the USD (about 6%). The US imports a lot of products from China. Cheaper Chinese products will tend to pressure the prices of US and other countries products sold in the US. Many pundits believe that the PBOC will continue to push Yuan rates lower against the USD over time in an effort to increase Chinese exports. They want to stimulate the Chinese economy. What the US will do about this mercantilism by China remains uncertain.
For the near term, the US may see little or no inflation. It could even see deflation. That in turn is likely to mean that the Fed will do no more Fed Funds rate raises for the near future. When you consider that 2016 is a presidential election year, "no more raises" seems like an even more likely scenario. Rate raises usually slow the US economy. The politicians like to have the US economy growing well (or at least decently) during a presidential election year. This makes HCN an even more attractive buy. The stock price fall in 2015 was likely due significantly to the threat of interest rate increases. Only one raise of 0.25% was made. The raises kept getting pushed back. I expect more of the same in 2016, and investors will likely get used to the idea that such raises will not be happening quickly. That should allow REIT stocks to regain some of their 2015 stock price losses. It should also allow them to perform well.
On top of all of the above, HCN has been positioning itself for tougher economic times. The chart below shows the decreased leverage and the increased normalized FFOPS (FFO per share) from December 31, 2011, through September 30, 2015.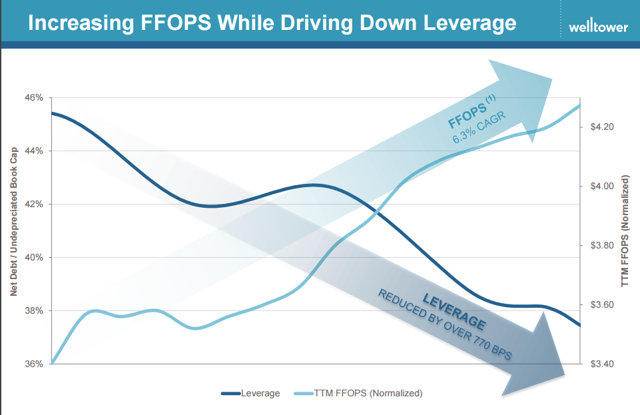 Click to enlarge
The chart above is quite impressive. A -7.7% decrease in leverage should help HCN if we see a new recession (or a bear market). Good growth in the normalized FFO per share on a consistent basis shows good health. Both show good-to-great management is at work at HCN. HCN's management also prides itself on maintaining good relationships with its partners. In fact, a lot of its deals are derived from those good relationships. Over the last five years, HCN has invested an average of $1.2B per quarter, and 60% of those deals have come from existing operating partners. Typically, the terms are better (more profitable for HCN) when HCN does not have to bid against others for new properties.
In the immediate past HCN has continued to do well. It grew normalized FFO and FAD by 8% and 9%, respectively, in Q3 2015 year over year. HCN beat on Q3 2015 normalized FFO by +0.02 at $1.12 per share. It grew same-store cash NOI by +2.7% in Q3 2015 (+3.1% year to date). However, if you exclude the UK results, which were far down due to virulent flu problems there, HCN had same-store cash NOI growth of +3.4% in Q3 2015. Plus, HCN had $3.3B in high-quality gross investments. It reduced its debt to undepreciated book capitalization ratio to 37%. Revenue was $979 million (+15.5% year over year). This was a +$22.45 million beat of estimates.
Guidance Increase for FY2015:
HCN increased its normalized FFO forecast to $4.32-$4.37 per share from $4.25-$4.35 per share (a +$0.055 per share increase in the midpoint).
HCN narrowed its FAD guidance to $3.84-$3.89 per share from $3.83-$3.93 per share.
In sum, HCN seems to be firing on all cylinders. Its management is doing a great job. It has terrific tailwinds due to the retiring Baby Boom Generation and partially due to new enrollees to covered healthcare due to the Affordable Care Act. It is positioning itself well for tougher economic times, and it is still growing well. Its price to midpoint of FY2015 forecast normalized FFO is 15.3. For a leading healthcare REIT, this is probably at the low end of the expected multiple range. The range is likely 15-18. At the high end, the stock could appreciate about 17.6%. If you add the roughly 5% annual dividend, you get a total annual return of about +22.6%. If you instead assume a midpoint multiple of 16.5, you get a 12.8% total annual return. Both of these are without taking the growth in FY2016 into account. If this is about the 6.3% CAGR normalized FFO growth seen in the chart above, that should add directly into the above figures for the one year total return. HCN is a long-term buy for a serious income investor.
NOTE: Some of the fundamental fiscal data above is from Yahoo Finance.

Disclosure: I/we have no positions in any stocks mentioned, but may initiate a long position in HCN over the next 72 hours.
I wrote this article myself, and it expresses my own opinions. I am not receiving compensation for it (other than from Seeking Alpha). I have no business relationship with any company whose stock is mentioned in this article.