Waiting Made Sense For Hedged GoPro Investors
In an October article ("Building A Bulletproof Portfolio Of Top LikeFolio Picks"), we built a hedged portfolio using the top picks of a startup called LikeFolio. As we mentioned in that article, LikeFolio aggregates social media mentions of brands and ties them to the publicly traded stocks those bands roll up to. In late September, it highlighted five stocks as having promising social data metrics: GoPro (NASDAQ:GPRO), Michael Kors (NYSE:KORS), Amazon (NASDAQ:AMZN), Crocs (NASDAQ:CROX), and Wal-Mart (NYSE:WMT). One of those companies, GoPro, maker of wearable cameras such as the ones pictured below (image from the company's website), had dropped 37% by early December, though investors hedged the way we described in our original article were down 16.7%, as we noted in an article at the time ("Revisiting GoPro").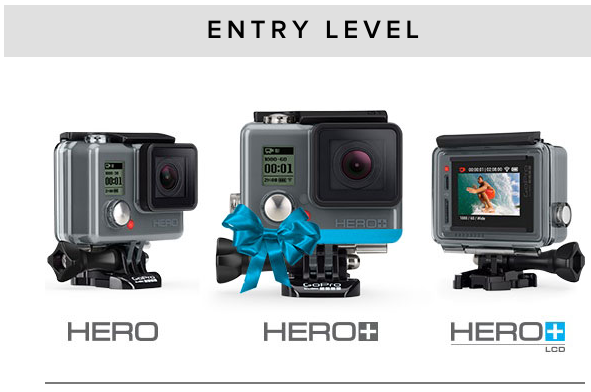 In that article, we reported worrisome updated social data on GoPro from LikeFolio, and suggested that since hedged investors only had a maximum additional downside of 3.3% until the expiration of their hedges in April, they might as well hold a bit longer to see if some good news came out of the holiday sales. That suggestion turned out to be correct, even though those sales ended up being disappointing, as the company acknowledged in its Q4 warning, and the stock is now down 57% since we wrote our October article; thanks to the hedge, GoPro investors were down only 15.3% as of January 14th.
But Now It's Time To Go
At this point, based on updated info we received from LikeFolio co-founder Andy Swan on January 14th (more on that below), we suggest hedged GoPro investors exit their positions now.
Worrisome Social Data In December
When I reached out to LikeFolio co-founder Andy Swan via Twitter in early December to see what his company's current social data metrics were saying about GoPro, his response, as you can see in the image below, indicated the recent data wasn't positive.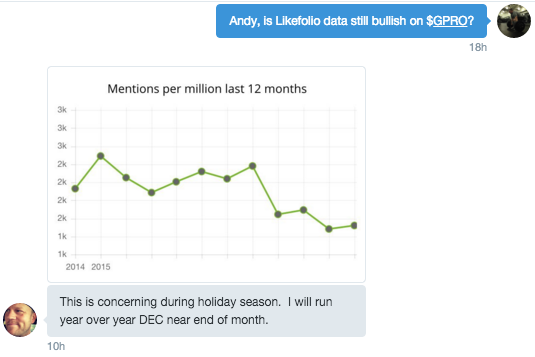 Social Data Sours Further
After seeing GoPro's Q4 warning and its stock swoon on Thursday, I contacted Swan again to see if he'd had a chance to run the year-over-year December comparison he referred to in our correspondence pictured above. He ran it after I asked him, and the results were inauspicious, as you can see from his response below.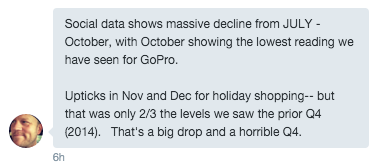 Swan went on to note that social data was particularly telling for GoPro, due to the nature of its products.

How Hedged GoPro Shareholders Limited Their Losses
Below, we'll show the original October 9th GoPro hedge and how it has cushioned the blow for hedged GoPro shareholders.
A Closer Look At The October 9th GPRO Hedge
The optimal collar below was designed to limit an investor's downside to a drawdown of no more than 20% by mid-April, 2016, while capping his potential upside at 71.2%. The reason the cap was set as 71.2% was because this was the potential return calculated for GPRO at the time using the consensus price target of sell-side Wall Street analysts. (Since Portfolio Armor only calculated positive potential returns for two of the LikeFolio picks included in our October article, AMZN and CROX, we used analysts' consensus price targets to calculate potential returns for all of them.)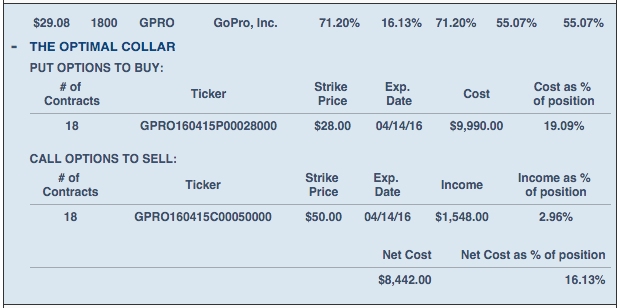 How That Hedge Has Responded To GoPro's Drop
Here is an updated quote on the put leg of the collar as of 1/14.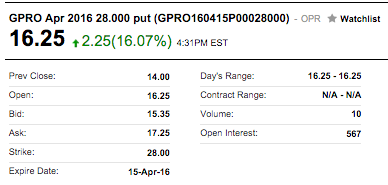 And here is an updated quote on the call leg: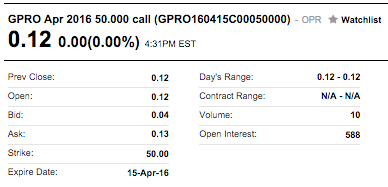 How That Hedge Protected Against GPRO's Drop
GPRO closed at $29.08 on Friday, October 9th. A shareholder who owned 1800 shares of it and opened the collar above then had $52,344 in the stock plus $9,990 in puts, and if he wanted to buy-to-close his short call position, he would have needed to pay $1,548 to do that. So, his net position value for GPRO on October 9th was ($52,344 + $9,990) - $1,548 = $60,786
GPRO closed at $12.48 on Thursday, January 14th, down 57% from its closing price on October 9th. The investor's shares were worth $22,464 as of 1/24 and his put options were worth $29,250, and if he wanted to close out the short call leg of his collar, it would have cost him $216 (Using the last price, to be conservative. In reality, you'd be able to buy these back closer to the bid). So: ($22,464 + $29,250) - $216 = $51,498. This represents a 15.3% drop from $60,786.
Slightly More Protection Than Promised
Although GPRO had dropped by 57% at the time of the calculations above, and the investor's hedge was designed to limit him to a loss of no more than 20%, he was actually down only 15.3% on his combined hedge plus underlying stock position by this point. That's less of a drawdown than the 16.7% the investor was down in early December, despite the further drop in the stock. So, waiting ended up making sense. If there had been good news from social data or holiday sales, the hedged investor would have been positioned to benefit from it, but even in the face of bad news, he ended up being better off holding until now.
Disclosure: I/we have no positions in any stocks mentioned, and no plans to initiate any positions within the next 72 hours.
I wrote this article myself, and it expresses my own opinions. I am not receiving compensation for it (other than from Seeking Alpha). I have no business relationship with any company whose stock is mentioned in this article.