Vale's (NYSE:VALE) shares remain under serious pressure and have already lost more than 30% of their value since the beginning of the year. The speed of the decline is surprising even for a Vale skeptic like me. If someone showed me Vale's chart and did not tell the name of the company (supposing I did not see the chart before), I would have said that the market questions the long-term solvency of the company.
Iron ore prices won't recover this year
The consistent flood of negative news from China influences each commodity including iron ore. If we look at the CME futures data, we will see that expectations for iron ore prices decline as we look further into this year.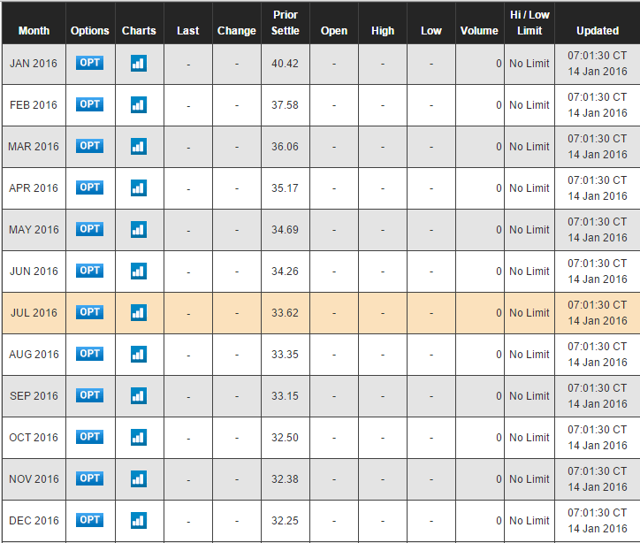 Click to enlarge
In my view, this has to deal not only with the overall skepticism about the commodity space in general, but with Vale's S11D start in particular. I have searched for any viable explanation on how the already weak market could absorb another 90 million tons of iron ore without an additional price weakness, but I haven't found any answer on this question.
Yes, the fact that S11D starts delivering iron ore this year is well known and it could be already included in the current iron ore price. However, I think that the start-up of the project could still wreak havoc in the iron ore market if it is combined with further weakness from the Chinese side.
Almost everything that Vale has done in the recent years led to the company's focus on iron ore and China. I've heavily criticized Vale's strategy before, and currently, I don't see how (and where) the ship could be turned.
Cost mirage
Vale has widely publicized that S11D will bring its costs to $10 per ton and below. As a reminder, Vale's third-quarter cash cost was $12.7 per ton, fueled by the continuing decline of the Brazilian real. Brazilian real remains weak, and in my view, has little chance of a serious rebound because of the multitude of problems that Brazil faces.
Vale repeatedly told investors that pushing costs further down will put the company into a stronger position and will push cash flow to higher levels. Of course, this is true. When producing 110 million tons of iron ore per quarter, Vale will gain $300 million quarterly by lowering its costs from $12.7 per ton to $10 per ton. However, if S11D were to push world's iron ore prices down by $5, the benefit of adding additional 90 million tons of production and pushing costs to $10 will be erased.
The calculation is straightforward. I've used a 350 million tons annual production estimate for Vale (I'm on the optimistic side for production numbers) and compared it with the effect of adding another 90 million tons from S11D. Freight costs' assumption was $16.4 per ton, in line with Vale's third-quarter numbers. Vale gets $3.815 billion of cash from producing 350 million tons with a $10.9 margin per ton.
To arrive at the same result, margin should drop to $8.67 per ton at 440 million tons of production. Taking into account the fact that costs decline to $10 per ton, we arrive to the conclusion that the price of iron ore should be $5 lower for equality of the resulting cash flows.
If we look at the above-mentioned screenshot from CME, we can notice that the market is already assuming that a $5 decline in iron ore prices is very possible. Of course, the math favors Vale if we start increasing the price of iron ore.
The more we increase the price, the more leverage Vale gets from higher production and lower costs. The question is when such an increase happens. So far, nothing points to a rebound in the iron ore market. Additional production increase together with worrisome situation in China are not bullish catalysts at all.
It looks like those responsible for the overproduction problem start to realize what a monster they created. Rio Tinto (NYSE:RIO) CEO Sam Walsh stated that Chinese economic growth was "more modest." This is a huge concession from the company that produced overwhelmingly optimistic forecasts like the one I mentioned in my article "Iron Ore: Further Down The Rabbit Hole."
Dividend is a natural target
A recent press release stated that Vale drew $3 billion from its revolving credit line to pay debt. If Vale were to pay any dividend after this action, it would effectively have raised debt to pay the dividend. Allocating cash to the dividend at times when the whole commodity space is on fire and the company has to "bridge potential cash flow needs until the conclusion of the divestment program" is almost suicidal.
Of course, Vale could be aggressive and propose a $1 billion minimum dividend for 2016, but I don't think that the market will gladly receive this news and I believe that Vale's management is aware of this fact.
Lately, the market has been receiving favorable news about the dividend cuts or suspensions from the companies in the commodity space. I'm not talking about surprises like Teekay Corporation's (NYSE:TK) dramatic dividend cut but rather about more orderly eliminations like in Freeport-McMoRan's (NYSE:FCX) case. Freeport-McMoRan's stock declined nevertheless, but this decline had nothing to do with the dividend cut.
I believe that the market environment is ready for dividend elimination from Vale, as the company clearly has to save money, especially after we take into account the big potential costs of cleaning up the dam burst and paying related damages.
Vale's debt transaction highlights that the company is already stretched on the cash side, and I believe that Vale will prioritize finishing S11D as fast as it can to paying the dividend.
From the stock point of view, there might be a technical rebound after the recent capitulation, but I still don't expect anything stellar as the market will likely continue to punish Vale for its heavy iron ore bets and, at some point, could start questioning the company's debt level.
Disclosure: I/we have no positions in any stocks mentioned, and no plans to initiate any positions within the next 72 hours.
I wrote this article myself, and it expresses my own opinions. I am not receiving compensation for it (other than from Seeking Alpha). I have no business relationship with any company whose stock is mentioned in this article.