For Kinder Morgan (NYSE:KMI) and its shareholders, 2015 has been tumultuous. With the backdrop of declining oil and gas prices, KMI had to yield to market pressures on its capital structure, slashing its dividend by an unexpected 75% in the 4Q15. The cut prompted yield seeking dividend investors to rotate out of the stock, crushing the share price.
Now with KMI selling at multi-year lows, the question some value seekers are struggling with is: is it a good time to buy?
While this analyst was attracted to the company's new consolidated structure and impressed with the way it faced its investors with the blunt truth that it couldn't balance growth and the dividend, I'm remaining on the sidelines with this name until leverage becomes more reasonable.
Background
Kinder Morgan is the largest energy infrastructure and the third-largest energy company in North America. The company owns an interest in or operates approx. 80,000 miles of pipelines and 180 terminals. The company's pipelines transport natural gas, refined petroleum products, crude oil, condensate, CO2 and other products, and its terminals transload and store petroleum products, ethanol and chemicals, and handle such products as coal, petroleum coke and steel. KMI is also the leading producer and transporter of CO2, which is utilized for enhanced oil recovery projects in North America.
On November 26, 2014, KMI simplified its corporate structure with the acquisition of its non-controlling interests in Kinder Morgan Energy Partners, L.P. (NYSE: KMP), El Paso Pipeline Partners, L.P. (NYSE: EPB) and Kinder Morgan Management, LLC (NYSE: KMR); the transactions created one shareholder base, a single dividend policy, no structural subordination, and eliminated Incentive Distribution Rights (IDRs).
The impact of the transactions
The consolidation of these companies was a surprising tactic for Richard Kinder, ex-CEO and now Chairman of KMI, who had once been a strong proponent of the corporate structure known as the Master Limited Partnership (MLP). MLPs are attractive income vehicles because they are pass-through tax entities that must be publicly traded. So they are not taxed at the corporate level, instead the majority of their cash flows are distributed to their unitholders, who are personally responsible for their tax obligations on the distributions they receive. This income friendly structure is combined with much greater liquidity since the MLP must be publicly traded, while in comparison, a traditional partnership that would have similar tax benefits would be private.
Consolidation was a smart move. It helped transform a complex and difficult to analyze structure into a simple one. You can see this in Chart 1. For an analyst, simplicity really is bliss.
Chart 1.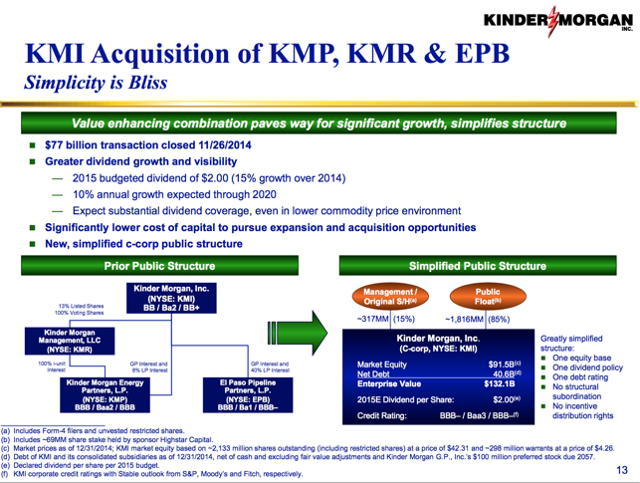 Source: KMI Investor presentation
But the real impact of the transactions was on the company's cost of capital -- a key element to why the deal was so attractive. To understand the dynamics of this, let's discuss one of the core weaknesses of the MLP structure: Incentive Distribution Rights (IDRs) and how it can hinder growth.
An MLP is typically structured with two-tiers, a General Partner (GP) that acts as a holding company and a Limited Partner (LP) that retains the operating assets of the company. In a GP/LP structure, GP holders typically receive IDRs from the LP, which provides economic incentives for the GP to grow the cash flows of the LP. IDRs work by allocating larger percentages of the distribution to the GP as it meets certain cash distribution thresholds. This article is focused on KMI's valuation today and not how MLPs work, but here is a great article on how this typically works for readers who want more background.
In the early years of an MLP, IDRs help to incentivize the GP to grow the LP's assets so it can receive higher cash distributions. This is because the distributions from the IDRs don't kick in unless specific distribution thresholds are met. But as the linked article demonstrates, in the later years IDRs can become a lag on growth because the cost of equity capital rises as the IDRs require a larger amount of cash distributions to be sent to the GP limiting reinvestment capital as well as distributions to unitholders. This in a nutshell was what was happening with Kinder Morgan's prior public structure.
Consolidated under the c-corp of KMI, the company's cost of capital would fall dramatically, allowing the company to see more accretive returns on future projects. According to the company, the long-term cost of capital was now a low ~4% after-tax rate.
Cost of capital, of course, is a moving target. With KMI shares trading around $14 and low oil and gas prices threatening the entire sector, it's absurd to believe that the cost of capital is anywhere close to this original estimate. But it is true that the cost of capital is lower in comparison to KMI's original organizational setup.
Chart 2.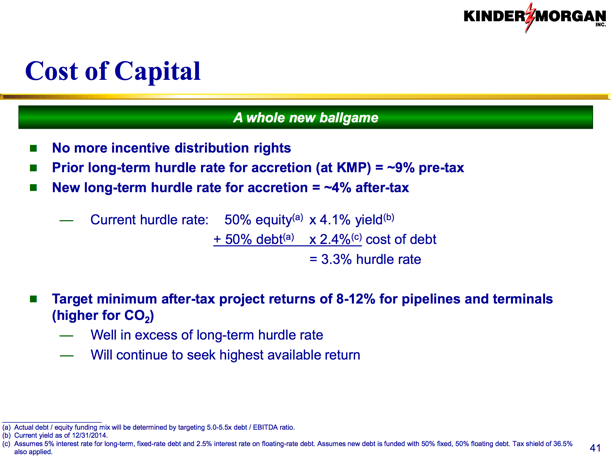 Source: KMI investor presentation
The story behind these transactions provides an important backdrop to the dividend issues that KMI would face in 2015. Armed with a streamlined organizational structure and a cheaper means of funding the development of new assets, KMI outlined an ambitious plan to raise its dividend to $2.00 per share in 2015 and continue to increase it by 10% a year through 2020. A promise that would eventually be broken and leave the stock price tumbling to multi-year lows.
Chart 3.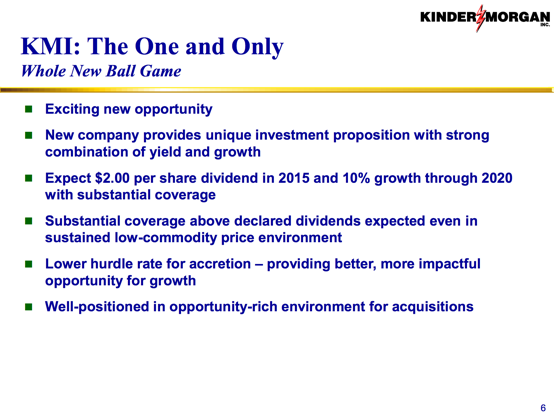 The dividend cut: the "nail in the coffin"
It felt like whiplash the way KMI management reversed on its dividend promise. Throughout 2015, KMI managed to fend off fears that it would cut its dividend and reduce its future growth projections despite the continual deterioration of the oil and gas industry. In fact, at a RBC MLP conference on November 18, 2015, KMI was still touting this well-used slide in its investor presentations:
Chart 4.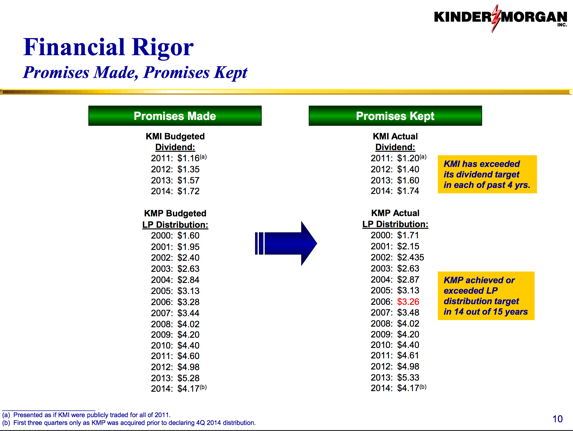 Source: KMI investor presentations
And then less than a month later on December 8, 2015, KMI management dropped the news that it would be cutting its annual dividend to $0.50 per share for 2016.
For many KMI watchers, the nail in the coffin was the company's move to increase its equity interest in distressed National Gas Pipeline Company (NGPL) to 50% from 20% for $136m. The deal was negatively reviewed by Moody's, which felt that KMI would be on the hook for additional interest and debt payments that NGPL could not afford. One SunTrust analyst estimated that NGPL was levered at ~10x and that the acquisition would put pressure on KMI to raise money to infuse capital into the business, putting additional pressure on KMI's capital structure.
For Moody's, which counted up KMI's dividend obligations and growth capital expenditures and saw the industry headwinds, NGPL with its potential capital needs was enough for the credit rating agency to threaten KMI's investment grade credit rating. It would change its outlook on KMI to negative from stable on December 1, 2015. The threat to KMI's investment grade rating forced the company to take a fresh look at its capital obligations, particularly its dividend, and about a week later the cut was announced.
To really understand what Moody's saw, take a look at Tbl 1. which outlines a hypothetical financing scenario without the dividend cut, but assuming the dividend remained flat through 2016. Based on my calculations, KMI would have needed to draw upon its entire credit facility (or issue debt), and probably make up the $1.6bn shortfall with an equity issuance. At $14 per share, this would have added to shares outstanding by nearly 115m shares or 5% of current outstanding stock.
Tbl 1. (in millions)
| Sources of capital | Uses of capital |
| --- | --- |
| Distributable cash flow: $ 5,000 | Growth CAPEX: $ 4,200 |
| Credit facility: $ 4,000 (assume undrawn) | Dividends: $ 4,586 (2,293 x 2.00) |
| | Preferred: $ 150 |
| | Maturing debt: $ 1,667 (assumed paid down) |
| Total: $ 9,000 | Total: $ 10,603 |
With EBITDA headwinds, you can see from the table that management's original capital plan was simply unsustainable, particularly if the company's investment grade credit rating is critical to its capital market options in the future. Clearly without the cut, KMI would have been saddled with higher leverage and any equity issuance would have been pretty dilutive.
Tbl 2. demonstrates the current major uses of capital after the dividend cut. Naturally, maturing debt can be (and usually is) refinanced, but even with the debt paid down, according to my table, KMI still has excess capital after meeting all of its planned obligations in 2016. This is even more comforting when you consider that KMI could cut its growth CAPEX if it needed additional liquidity, which would be less painful than another dividend cut.
Tbl 2. (in millions)
| Sources of capital | Uses of capital |
| --- | --- |
| Distributable cash flow: $ 5,000 | Maturing debt: $ 1,667 (assumed paid down) |
| Credit facility: $ 4,000 (assume undrawn) | Growth CAPEX: $ 4,200 |
| | Dividends: $ 1,150 (2,231 x 0.5) |
| | Preferred: $ 150 |
| Total: $ 9,000 | Total: $ 7,167 |
How the coffin got built
In hindsight, it is easy to understand that KMI's cash flow growth was built on external capital generated from equity and debt issuances, making the company very susceptible to any fickleness in the capital markets. And as oil and gas prices tumbled, both equity and later debt investors would shun KMI (and other midstream companies), making it increasingly difficult to raise the money that it would need to fund its project backlog. The "coffin" was built on easy leverage at some of the cheapest rates the capital markets have ever produced, which fueled KMI's ability to rapidly grow.
In its dividend cut announcement on December 8th, KMI would now fund "the equity portion of its capital budget" with its cash flow, while steering the company towards a net debt-to-EBITDA ratio of 5.5x for 2016. Management is also expecting to reduce its leverage in subsequent years. It seems, at least for now, the days of cheap and easy OPM (Other People's Money) are over and KMI knows this.
The loss of growth -- at least for now
While KMI keeps a tighter rein on leverage and equity prices remain muted, expect to see the company's growth and ROE impacted. This can be seen simply in the breakdown of the Return on Equity (ROE) formula. Recall that ROE is equal to:
Net income/Revenues X Revenues/Total assets X Total assets/Total equity
KMI's management has been exceptionally good at manipulating the last ratio of this equation, namely Total assets/Total equity. Through the use of leverage, KMI has been able to add more assets than was justifiable by internally generated cash flow. This in turn has had the positive impact of increasing ROE.
Chart 5.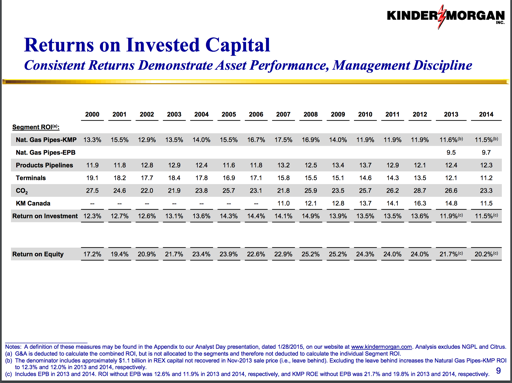 This strategy was made feasible by the company's relatively stable cash flows, the ZIRP of the Fed, and a buoyant oil and gas market. As two of these three dimensions change with the Fed beginning to raise rates and the energy markets in turmoil, it is difficult to see how KMI will continue to manipulate the Total Assets/Total equity ratio to its benefit -- at least in comparison to the recent past. You can also see this in the company's most recent announcement where it has actively said that it will be managing its leverage down in the following years.
The net result of this amended strategy will likely be slower growth and lower ROEs in the future, which implies lower DCF as well. Investors should prepare for this in their overall analysis of this company.
Considering Distributable Cash Flow
Distributable Cash Flow (DCF) is essentially Free Cash Flow to Equity (FFCE) holders. Let's put aside any accounting conventions for the moment and define FFCE logically. The figure essentially represents the amount of money that can be distributed to equity holders (in either dividends or repurchases) after paying all of its operating expenses, debt costs, working capital needs, and expenditures required to maintain the productivity of assets (i.e., capital expenditures).
Now the challenge with DCF, as with all financial figures, is how trustworthy is it?
Tbl. 3
| | 3Q15 | 2Q15 | 1Q15 | 4Q14 | 3Q14 | 2Q14 | 1Q14 | 2014 | 2013 | 2012 |
| --- | --- | --- | --- | --- | --- | --- | --- | --- | --- | --- |
| CFO | 969.0 | 1,282.0 | 1,256.0 | 975.0 | 1,289.0 | 1,085.0 | 1,118.0 | 4,467.0 | 4,122.0 | 2,808.0 |
| DCF before distributions and sustaining CAPEX | 1,281.0 | 1,236.0 | 1,346.0 | 1,434.0 | 1,260.0 | 1,129.0 | 1,304.0 | 5,127.0 | 4,482.0 | 3,601.0 |
| Difference | -312.0 | 46.0 | -90.0 | -459.0 | 29.0 | -44.0 | -186.0 | -660.0 | -360.0 | -793.0 |
Table 3 compares net cash generated from operations (CFO) to DCF. After adding back "sustaining CAPEX" and "declared distributions to noncontrolling interests" to DCF, the figure is now comparable to CFO. The first thing to note about KMI is that it generates prodigious CFO so this isn't a situation where the company is using a proxy such as EBITDA in order to draw investors attention away from money losing operations. The second element to note is that there seems to be a pretty significant difference between the two metrics. In some periods, the difference is higher than 10% of CFO, so this warrants a closer inspection to see if anything untoward is going on.
After reviewing KMI's footnotes, much of the difference seems to stem from items related to the company's investees who are accounted for based on the equity method. Based on GAAP accounting, KMI is supposed to recognize its equity investment at acquisition cost on its balance sheet increased by its proportionate share of the investee's net income and by contributions made, and decreased by its proportionate share of the investee's net losses and by distributions received.
KMI's DCF seems to take this a step further, almost consolidating its portion of its investee's cash flows into the figure. In fact, according to KMI's 3Q15 10-Q, KMI recognized its portion of "Depreciation, depletion, and amortization," "Book taxes", "Cash taxes," and "Sustaining capital expenditures" from equity method investees. These are flows that don't make it into CFO hence the difference between the two numbers.
This analyst thinks that this move is aggressive and isn't inline with how KMI treats the liabilities from these investees. While in many cases KMI has significant control over its investees so an argument could be made for why this makes rational sense for investors, it is important to note that KMI doesn't recognize the proportional share of its liabilities from its investees on its balance sheet. At the end of 2014, these non-current liabilities represented $10.8bn and growing judging by the company's recent increase in the ownership of NGPL.
With leverage at over 6.5x TTM EBITDA (at 3Q15 end), this lack of detail on potential obligations that may require liquidity from KMI makes this a risk that investors shouldn't ignore. And if you believe that this is a non-issue, recall Moody's credit rating action after KMI announced its increased ownership in NGPL. The ratings company assumed the proportionate consolidation of NGPL's debt to KMI's, resulting in a possible downgrade of KMI's investment grade rating.
The point here is that investors should review KMI's non-GAAP DCF calculations with some skepticism. It would be more conservative in fact to use CFO minus sustaining CAPEX as the valuation metric in your models. It's also important to keep an eye on off-balance sheet obligations that could cause investors some problems should KMI become ultimately responsible for them.
The other concern that we need to consider about DCF is whether the company's estimate of sustaining CAPEX embedded in the figure is appropriate. Meaning is KMI spending enough to keep the company's assets economically productive. After all, if the company is under-investing in its assets eventually that would catch up to them in safety violations and accidents. Charts 6, 7, and 8 make me comfortable that KMI isn't doing this with their CAPEX spending, but it is certainly something that needs to be monitored.
Chart. 6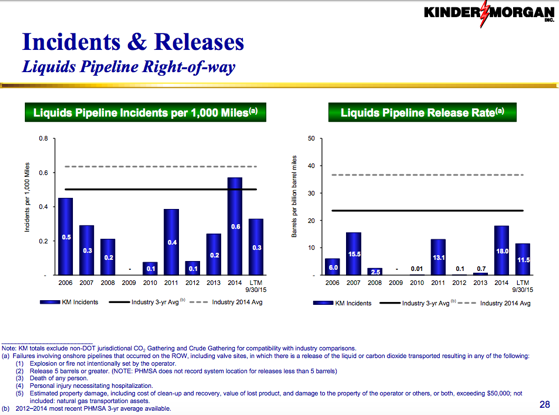 Chart. 7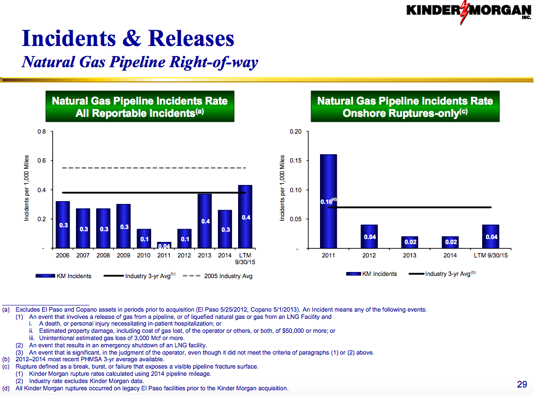 Chart. 8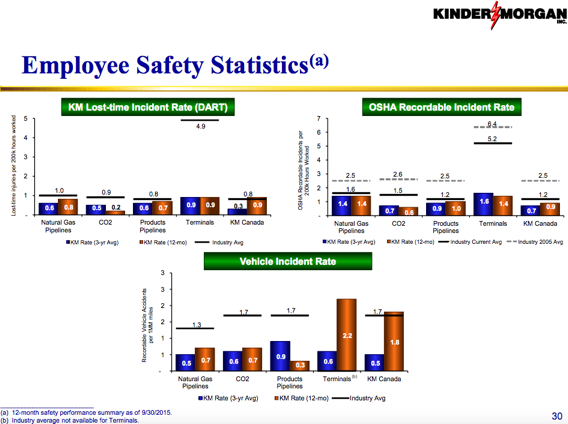 Based on this analysis, KMI has cash flow in spades. In 2016, the company projects DCF to grow to a little over $5bn, an 8% increase from 2015 implying that DCF in 2015 will be around $4.6bn. The company also generated about $4.5bn in CFO in 2014 and $3.5bn through the 9M15. According to company presentations, KMI faces the following debt maturities in the next few years:
Tbl. 4
| Year | Debt Maturities (in millions) |
| --- | --- |
| 2015 | 715 |
| 2016 | 1,667 |
| 2017 | 3,041 |
| 2018 | 2,310 |
| 2019 | 2,800 |
So even if DCF fell by an unlikely 30% to around $3bn, KMI would still have enough money to meet its largest debt maturities -- at least the ones that it is disclosing. Of course this doesn't even consider KMI's $4bn revolving credit facility, which provides even more cushion to the business. Keep in mind though that KMI would have to "trade away" its growth to meet these maturities should the capital markets prevent a refinance.
In sum
When you see a company run by a seasoned management team with a business that has been growing and a stock price decimated, as a value investor you get excited. Kinder Morgan's management is known to be frugal, detail-oriented, and shareholder-friendly. Both Richard Kinder and Sean Kean receive $1 in salary per year.
After consolidating as a c-corporation under KMI, the company looked to be poised for growth with a simpler organizational structure and cheaper cost of capital. Bulls often reflect on KMI's position in the growing natural gas market, stable take-or-pay revenues, and grand plans of 10% dividend growth per year with an already lofty payout.
But excessive leverage has been the downfall of many companies -- great and small. And while recent price action has cheapened the stock to multi-year lows, to this analyst much of it is justified as debt holders own a significant portion of the company's residual cash flows.
While I don't believe that KMI is a "house of cards," the company has shrunk its margin of safety through the reliance of leverage to grow its business. It has nearly $43bn of debt on its balance sheet and potentially other debt obligations hidden with its equity investments against a negligible $179m in cash (at end of 3Q15).
Its revenues are also under threat. Commodity prices and the capital markets can be impossible to predict, but one risk that investors can't ignore is that the energy markets are once again changing. Many believe that the super-commodity cycle kick started by China's industrialization is now over, and it could be years before another developing market fills the gap -- if at all.
Meanwhile, the Fed's ZIRP ended with the first rate hike in December 2015, which will definitely impact KMI's interest expenses on its variable rate debt as well as future debt raises. This will also likely have an impact on KMI's future ROEs. We all know now that KMI was financially engineering its growth with the use of cheap debt. As a result, the company's Assets/Equity multiplier was adding to ROE so logically with leverage no longer as readily available as before, ROE should take a hit.
As investors, we often get caught up in the recent past, projecting -- often too quickly -- that markets will "regress to the mean." But what happens when that regression takes longer than expected? Oil and gas prices stay lower for longer or the capital markets become shut for energy-related companies for an extended period of time.
For companies such as KMI that have stretched balance sheets and little cash to weather long storms, surprises can be devastating. While growth and stability can take years to develop, liquidity and credit issues can destroy value in a matter of months or even weeks -- no matter how excellent the management team may be.
I think the company is coming to terms with this issue, and has actively said that it will be managing its leverage down in the following years. In addition, the company's move to slash the dividend was smart and although painful for existing shareholders, it highlights management's recognition of KMI's new reality. The move also reset expectations on KMI's dividend, which was becoming more of a fixed obligation than a discretionary decision by management.
There is definitely a lot to like about KMI, despite some of the red flags in its DCF calculations and lower ROE expectations, but one thing that I insist on a company having is a rock-solid balance sheet. So I'll be monitoring this company from the sidelines as KMI begins to address its leverage, and if it becomes more reasonable then place a valuation on the company to find an entry point.
Disclosure: I/we have no positions in any stocks mentioned, and no plans to initiate any positions within the next 72 hours.
I wrote this article myself, and it expresses my own opinions. I am not receiving compensation for it (other than from Seeking Alpha). I have no business relationship with any company whose stock is mentioned in this article.