Back in November 2015, I cautioned my Forbes Real Estate Investor subscribers explaining that "I am not adding more Net Lease exposure unless there is another sell-off in the sector." At the time, I felt as though most REITs had already factored in potential risks associated with a Fed rate hike, and the worst may be over.
Remember that the drama commenced in May 2013 and after over two years, it seemed as though the bond look-alike REITs would normalize trading activities once rates moved up. I'm still in a holding pattern and based upon the year-to-date results you can see why:

Click to enlarge
As you can see, Global Net Lease (NYSE:GNL) has been the worst performer so far in 2016, you can read more HERE. Also, Gramercy Property Trust (NYSE:GPT) has turned in disappointing share price results for the first two weeks of 2016 (see my latest article HERE).
Four REITs actually clocked in record 52-week lows today: VEREIT (NYSE:VER), Global Net Lease, Lexington Realty (NYSE:LXP), and One Liberty Properties (NYSE:OLP).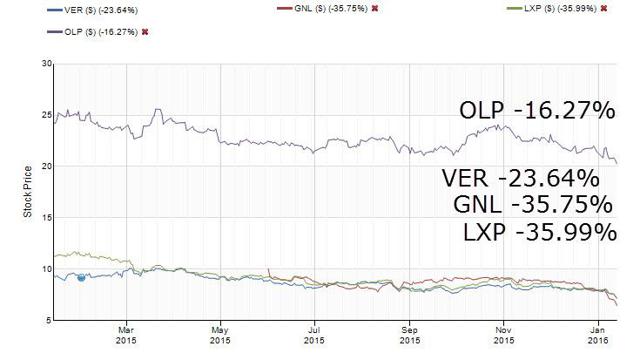 Click to enlarge
There are a number of new Net Lease REITs that have entered the publicly-traded sector and that means that these companies must become relevant by increasing profits and paying dividends. Keep in mind, there were valuable lessons learned with VEREIT (NYSE:VER) (formerly ARCP) in 2015: REITs cannot be financially-engineered to produce high dividends. They must build competitive advantages based on blocking and tackling.
For a Net Lease REIT that means that the company must strive to become the "low cost leader." It's quite obvious that all four of the REITs that achieved 52-week low pricing today suffer from either high debt costs, high equity costs, or a combination.
Some of these companies have catalysts that could significantly improve their cost of equity, while others are somewhat "boxed in" making them vulnerable or what's commonly referred to as a "value trap" play.
I consider GNL, VER, Spirit Realty Capital (NYSE:SRC), OLP, and Gladstone Commercial Corp. (NASDAQ:GOOD) to be a value trap stocks. These REITs are all trading at low multiples seemingly doomed for their inability to remain competitive with the peers. Like many value trap stocks, these 5 REITs look attractive on paper but upon further examination they are "cheap for a reason" and investors become confused when they fail to perform.
I Don't Consider Lexington Realty A Value Trap
A few weeks ago, I wrote on LXP and although this REIT is trading at the lowest multiple in the Net Lease sector, I don't consider it a "Value Trap" stock.

Click to enlarge
Arguably, stocks that trade at low multiples of earnings, cash flow or book value for long periods of time might indicate that the company is in trouble, and that stock prices may not move higher. LXP has not only hit a 52-week low but also a 4+ year low.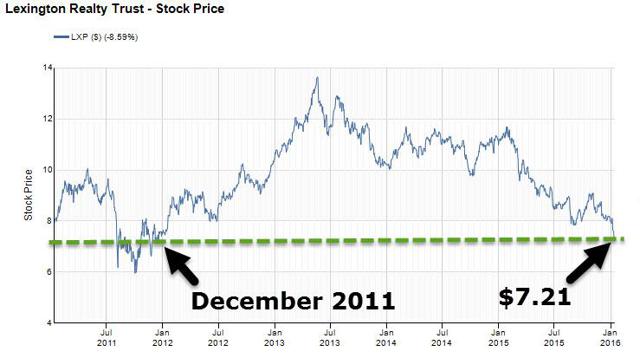 Click to enlarge
There are few things that make LXP unique to the other "value trap" REITs that I mentioned.
First off, remember that LXP has evolved over the years from a diversified REIT into a more focused Net Lease landlord. Unlike the others, LXP has a build-to-suit business that generates higher investment spreads, somewhat mitigating its low cost of capital disadvantages. As you can see below, LXP has several BTS deals coming on-line in 2015 and 2016: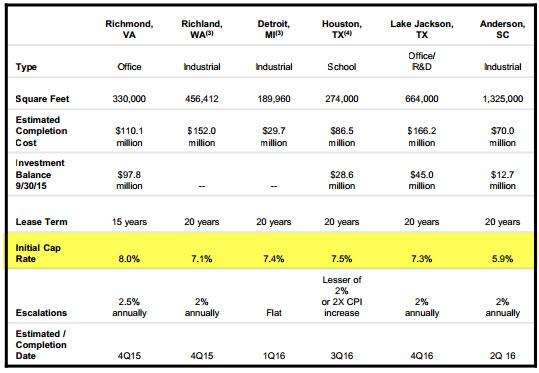 Another important difference with LXP and the other "value trap" names is that the company has been re-positioning its portfolio for a number of years. At one time, LXP had considerable exposure to multi-tenant office buildings and as evidenced by the snapshot below, the company has successfully recycled the portfolio to generate more predictable cash flow.
Keep in mind, VER is in the "early stages" of the asset recycling game and that should help the company improve its overall cost of capital, and eventually pull out of the "value trap." OLP, GOOD, and GNL are all, in my opinion, lower quality portfolios that are forced to fish upstream because of their higher cost of capital.
Although not the only differentiator, I consider management an extremely important element when analyzing a company's competitive advantages. I consider Will Elgin, CEO of LXP, to be a disciplined leader who has provided tactical and disciplined skills necessary for managing risk within the $5 billion enterprise.
The value trap REIT CEOs range from good to bad, with one ugly. I'll save that for another day and I'll even write an article on all Net Lease REIT CEOs soon, examining the various pay packages along with performance results.
So What Could Elgin Do Better?
I'm sure some of you will argue with me that LXP Is a "value trap" and to be honest, I expect to hear from you in the comment section.
For the long investors (like me), I'm sure you are frustrated that the share price has hit a 4-year low. Just take a look at the numerous Seeking Alpha articles that I have written on this REIT.
Think of it like this, every REIT has some good deals, some decent deals, and some bad deals. Just like my REIT portfolio.
A large majority of LXP's deals are good deals, meaning that the assets are producing nice profit margins with a high degree of predictability. Then LXP has some bad assets, for example, the multi-tenant concentration was around 9.1% in 2012 and it's just 3.3% as of Q3-15.
So when you think about the other value trap REITs, consider the fact that LXP has transformed to a much more reliable business model. Conversely, VER generates unreliable revenue from its investment management business and OLP owns numerous buildings leased to companies in the furniture and office supply business. GNL has significant concentration in Europe (i.e. risk) and SRC has exposure to a bankrupt grocery chain among other sub-investment grade tenants.
So when you think about it, the mantra for any Net Lease is to achieve the lowest cost of capital advantage. The value trap REITs that I have referenced have all been forced to take on higher tenant-based risk and along with higher debt costs, these companies have essentially been "boxed in" - hence the so-called "value trap."
Taking a look at the debt component, you can see below that Realty Income Corp. (NYSE:O), National Retail Properties (NYSE:NNN), and W.P. Carey (NYSE:WPC) are the only investment grade-rated Net Lease REITs (by S&P).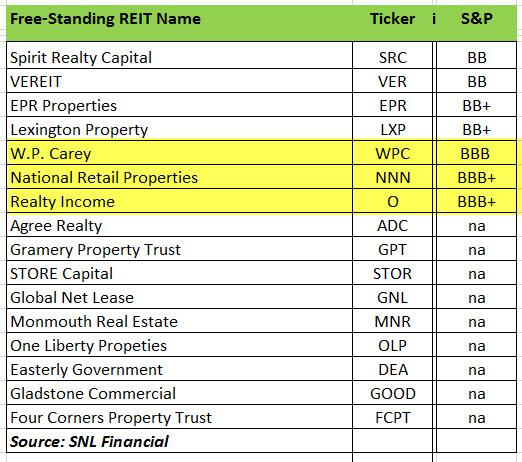 However, LXP Is rated BBB by Fitch and the agency said the rating reflects the company's "granular" portfolio comprising mostly single-tenant, triple-net leased assets that generate "consistent" cash flow growth, its growing unencumbered pool and its "conservative" financing strategy.
The rating agency also said that as LXP sells non-core and underperforming properties while funding build-to-suit developments and forward acquisition commitments, it expects its overall asset quality to improve.
LXP does have higher leverage than O, NNN, and WPC, but to mitigate the risks, LXP has moved away from secured borrowing by recycle and unencumbering assets.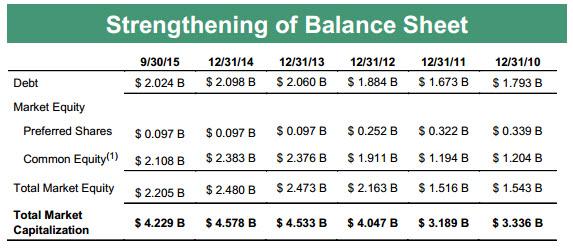 LXP's bigger problems are on the equity side of the balance sheet, and of course, that's why I view this REIT as a compelling value play, not a value trap.
What About Vornado?
In 2008, Vornado Realty (VN) announced it had agreed to purchase 8.0 million common shares (out of a block of 18.7 million being sold) of LXP for $5.60 per share. These shares were previously held by an affiliate of Apollo Real Estate Advisors III, L.P. VNO had already acquired shares in 2006 and so the total investment VNO has in LXP is around 18.5 million shares, representing around 8.5% of LXP's common stock.
It's interesting that LXP owned the 18.5 million shares on May 20, 2013 - that's when LXP's share price was $13.64 or $252.3 million in capitalization. Today, VNO's stake in LXP is worth $133.7 million, a 47% decline in value.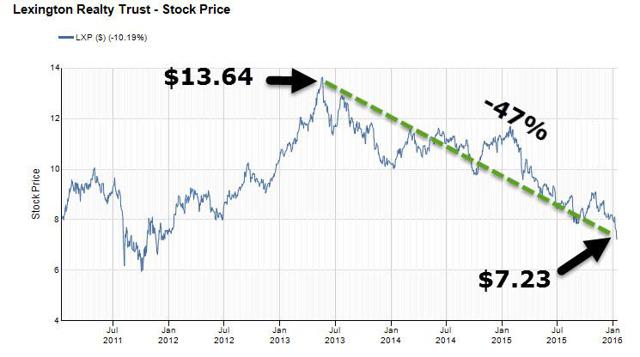 Click to enlarge
In a recent Seeking Alpha article, I explained VNO's "simplification plan" in which the New York-based REIT (under the leadership of its founder, Steve Roth) was previously, "running (the company) in a highly scattered format, operating like a vacuum sucking up practically any deal that generated fees, extending well beyond its circle of competence - what a train wreck."
Yet, since the end of the last recession, VNO's management team has steered away from its "hedge fund" mentality in hopes of becoming a "pure play" office landlord.
As I referenced in a previous Seeking Alpha article, VNO owned (as of 12-14) around 32.4% of Alexanders Inc.'s (NYSE:ALX) common stock, in addition to 26.3% owned by Interstate (Roth is the managing director).
Unlike VNO's relationship with LXP, VNO has substantial influence over ALX and its shareholders. VNO serves as the external manager for ALX, and that means that it manages, develops, and leases all of ALX's properties and shares common senior management (4 trustees on ALX also serve on VNO's Board of Directors).
Also ALX pays VNO an annual management fee equal to $2.8 million, 2% of gross revenue from Reg II, $.50 per square foot of tenant-occupied office and retail space at 732 Lex, $280,000 for managing the common area of 731 Lex, and a 6% development for services rendered. Also, VNO provides leasing services for 3% of rent (years 1-10), 2% (years 11-20), and 1% (years 21-30).
While VNO does not have influence over LXP's operations, the big cap REIT does have control over LXP's share price.
How?
It's simple. VNO should double down on LXP and increase its stake by another $140 million. By doing so, Mr. Market will gain confidence in LXP's evolutionary business model and provide the company with a foundation to begin growing its valuation.
In the past, VNO has acquired a number of businesses that were not within its circle of confidence. Toys-R-Us, JC Penney, and other non-core holdings were big bets that did not payoff and much of the red ink was due to VNO's complexity risk that resulted in big losses.

Click to enlarge
If I were Steve Roth (VNO's CEO) I would double down on LXP. Where else can VNO find a 9.4% yield generated by an enterprise that VNO knows well? Obviously, Roth can't call the shots at LXP, but I'm sure he could lobby for a Board seat and provide LXP with valuable support to get the company back on track.
The Bottom Line: If I thought LXP was a "value trap" I would cut my losses now; however, I believe the biggest risk for this REIT is lack of investor confidence. LXP's payout ratio is one of the lowest in the Net Lease sector, and I believe the company should soon be recognized for its improved risk control profile and more reliable and predictable profits.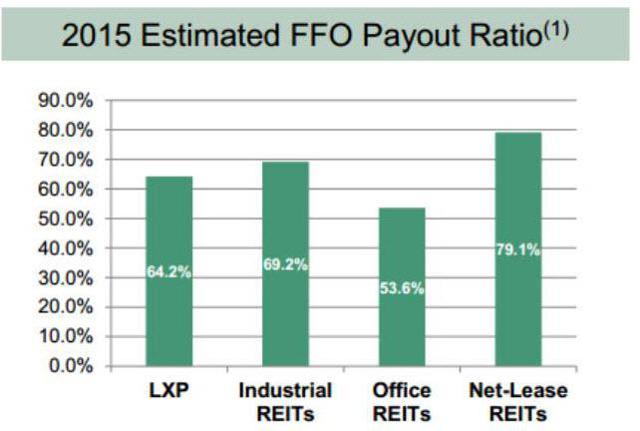 Click to enlarge
Author's Note: I'm a Wall Street writer, and that means that I am not always right with my predictions or recommendations. That also applies to my grammar. Please excuse any typos, and I assure you that I will do my best to correct any errors if they are overlooked.
Finally, this article is free, and my sole purpose for writing it is to assist with my research (I am the editor of a newsletter, Forbes Real Estate Investor), while also providing a forum for second-level thinking. If you have not followed me, please take 5 seconds and click my name above (top of the page).
The only guarantee that I will give you is that I will uncover each and every rock I can in an effort to find satisfactory investments that "upon thorough analysis promises safety of principal and satisfactory return. Operations not meeting these requirements are speculative." (Ben Graham)
Sources: SNL Financial and LXP Investor Presentation.
Disclaimer: This article is intended to provide information to interested parties. As I have no knowledge of individual investor circumstances, goals, and/or portfolio concentration or diversification, readers are expected to complete their own due diligence before purchasing any stocks mentioned or recommended.
Disclosure: I am/we are long O, DLR, VTR, HTA , STAG, GPT, ROIC, HCN, OHI, LXP, KIM, WPC, DOC, EXR, MYCC, BX, TCO, SKT, UBA, STWD, CONE, BRX, CLDT, HST, APTS, FPI, CORR, NHI, CCP, WSR, CTRE, WPG, KRG, SNR, LADR.
I wrote this article myself, and it expresses my own opinions. I am not receiving compensation for it (other than from Seeking Alpha). I have no business relationship with any company whose stock is mentioned in this article.