Hold the presses. The Academy of Motion Pictures Arts & Sciences has just released its nominations, and BBB rated STAG Industrial (NYSE: STAG) just got snubbed, again.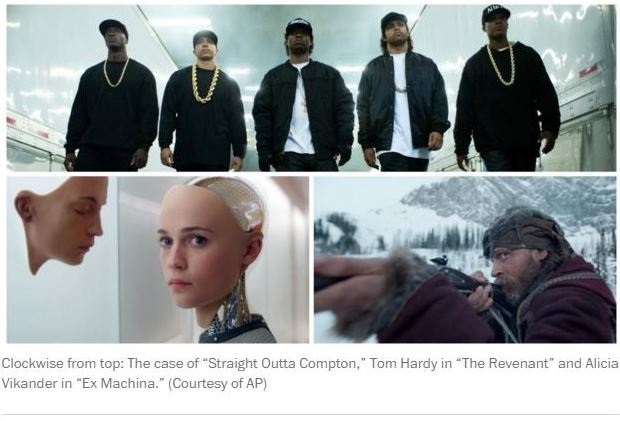 Source: The Washington Post - January 14, 2016
According to The Washington Post:
"You can't talk awards nominations without getting up in arms about who got shafted and which contenders no one saw coming. So let's get down to business."
This Boston-based single-tenant industrial landlord has two peer groups which it considers as competition:
Single-Tenant Triple Net REITs - A category featuring well-known superstar Realty Income (NYSE: O), also known by its screen name "The Monthly Dividend Company." Perennial contender National Retail Properties (NYSE: NNN) is the strong, silent type, paying its dividends quarterly and letting its eponymous ticker symbol NNN do all of the talking.
These two stars have a track record of box office performance for investors, and weighted average remaining lease terms which are more than twice as long. Most industrial REIT lease terms are in the range of five years or so. (In the spirit of full disclosure, The Story of O will disappoint movie goers if you're expecting to learn about freestanding triple-net REITs).
Industrial REITs - Featuring FedEx (NYSE: FDX) landlord Monmouth REIC (NYSE: MNR), another single-tenant focused industrial REIT which has been around since the days of black and white pictures. Monmouth is an industrial REIT many investors turn to for a dependable stream of quarterly dividend distributions.
Monmouth and STAG are two of the highest-yielding industrial REITs, with the current distributions generating annual yields of 8.12% and 6.42%, respectively. The STAG payout is even a bit more eye-catching due to monthly compounding.
Tale Of The Tape vs. Selected Peer Group
The Warren Buffett mantra - "Be greedy when others are fearful, and vice versa" - comes into play here with STAG Industrial shares on sale again. The last time STAG shares were this low was during its fall season performance, as shown below.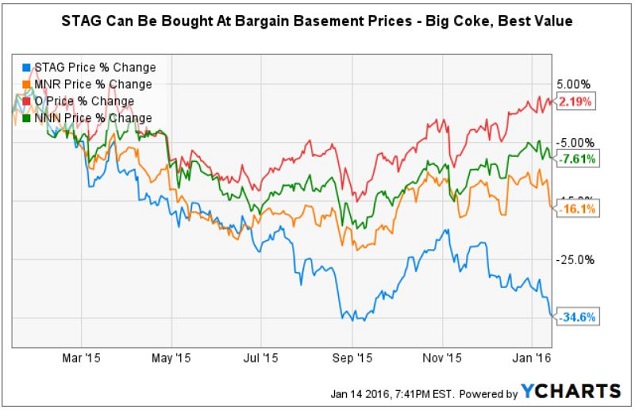 STAG is once again trading in the $17.00 range, putting it squarely in "Price is what you pay, value is what you get" territory. Thank you again, Mr. Buffett - a fan favorite master of ceremonies for decades.
Realty Income - 5% Dividend Increase January 14, 2015
This only happens in the movies. Realty Income just announced a monthly dividend increase from $0.191 per share to $0.1985 per share - a 5% increase versus the distribution paid to shareholders in February 2015.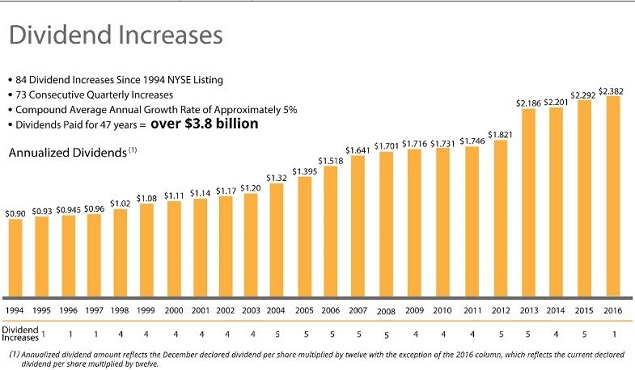 Source - Realty Income press release
The new forward annual dividend for The Monthly Dividend Company is now 4.46%. Since 1994, this San Diego-based REIT has served up over $3.8 billion in dividends. No worries with this business model whatsoever for retirees and other income-focused investors.
In fact, Realty Income, National Retail Properties and Monmouth REIC did not reduce their dividends during the Great Recession. National Retail is one of the few REITs to raise its distribution to shareholders for 25 consecutive years or more. Think of it as a lifetime achievement award.
In contrast, the STAG Industrial business model has not been tested in the crucible of tough economic times, given its IPO was in 2011. This is a risk factor which investors consider when they evaluate STAG for their REIT portfolios.
However, it is not totally fair to throw STAG under the bus just because it has lacked the opportunity to demonstrate it can perform when the going gets tough.
Tale Of The Tape - The Realty Income Chart Is Constructive
This fan favorite has a great-looking chart. However, at close to 18x LTM FFO, it is hard to consider Realty Income a bargain here.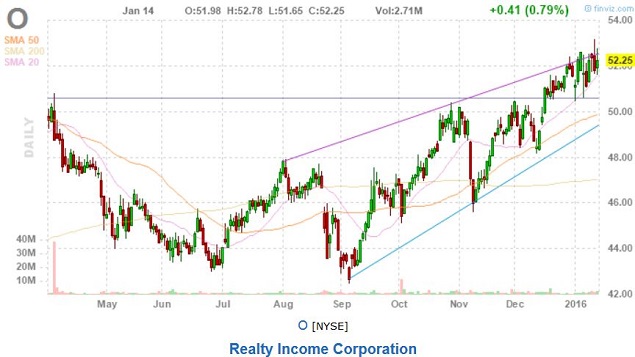 During the past 52 weeks, Realty Income shares have traded in a range of $42.49-53.17 per share. The shares are trading above the current analyst consensus of $50.35 per share.
I expect there may be bump up in the price target at some investment banks to reflect the latest dividend increase. However, any way you slice it, Realty Income is basically fully priced at these levels.
STAG Industrial - At A Glance
The STAG business model of buying older Class B properties in secondary markets is now entering into a multi-year period where significant lease expirations are starting to come into play.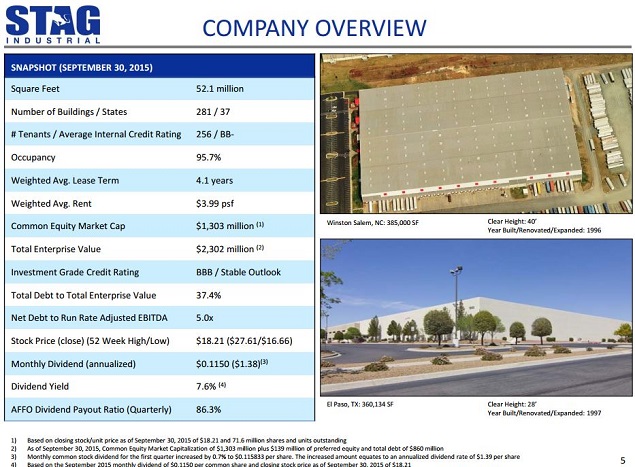 Source: STAG - December 2015 (for all unattributed slides)
The STAG weighted average lease term of 4.1 years is now coming into play, as I discussed in my previous STAG focus article, "STAG Industrial Posts Solid Q3 Results After Mad Hatter's Wild Ride."
The proverbial glass could also be half-full, depending upon what happens with the lease renewals and re-leasing rent spreads.
Notably, the STAG "virtual industrial park" is well diversified by geography, tenant and industry. These will be one-off battles, won or lost at the property level, on a market-by-market basis.
This diversity is similar to the O and NNN portfolios, and a stark contrast to Monmouth's 50% exposure to FedEx. However, the growth in ecommerce appears to make that concentration a "happy problem" to have to manage.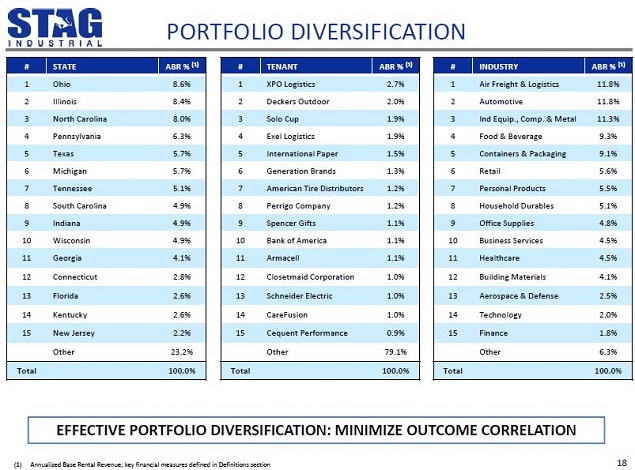 STAG has very sophisticated underwriting approach, so there is no reason to believe there will be any concerns with paying the current distribution. In fact, REIT expert Brad Thomas considers STAG to be a one of his SWAN, or "sleep well at night", REITs. Here is a link to his most recent Seeking Alpha STAG article.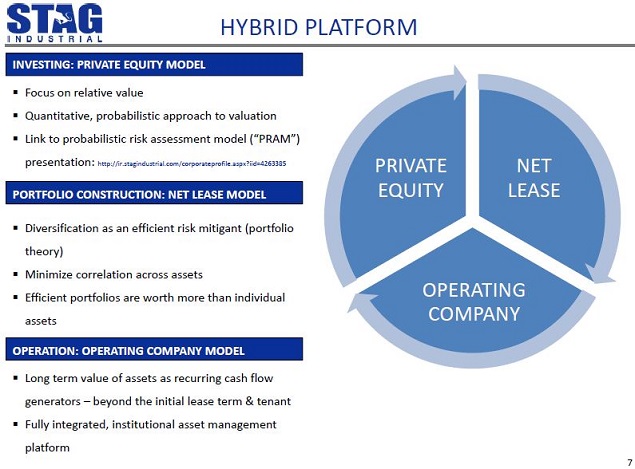 I highly recommend that readers take the time to review the STAG "PRAM" risk assessment model slide deck prior to making a decision to buy this REIT; or, for that matter, to sell at this these low levels.
Heck, even BB&T Capital Markets, an investment bank that initiated STAG at a Sell rating in mid-November, has a $20.50 target price for the shares.
Bottom Line
There appears to be an asymmetrical upside to STAG shares at these levels, which is illustrated in the chart below.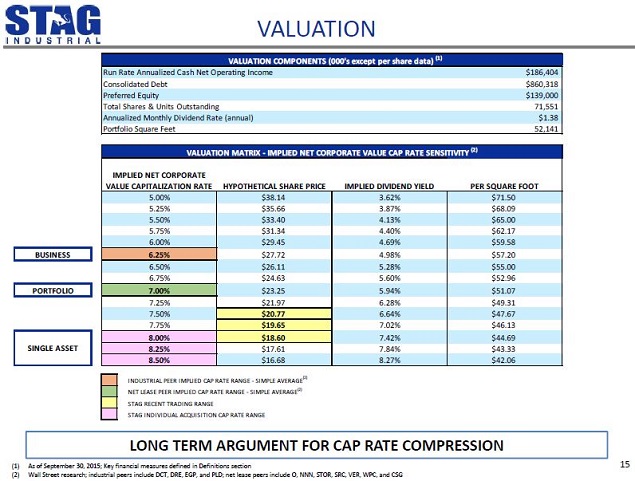 STAG has plenty of "dry powder" to make acquisitions because of its recently announced debt market transactions. There is no need for this REIT to issue any equity at these low share price levels in order to grow in 2016. Based on the 3Q'15 STAG earnings call discussion and zero ATM activity reported during the past few months, management has demonstrated that it takes this concern seriously.
STAG also provides shareholder-friendly monthly updates on acquisition and leasing activity, so there is no reason to expect any negative surprises when the Q4 2015 earnings print is released.
It continues to operate with moderate levels of leverage, as shown in the exhibit below.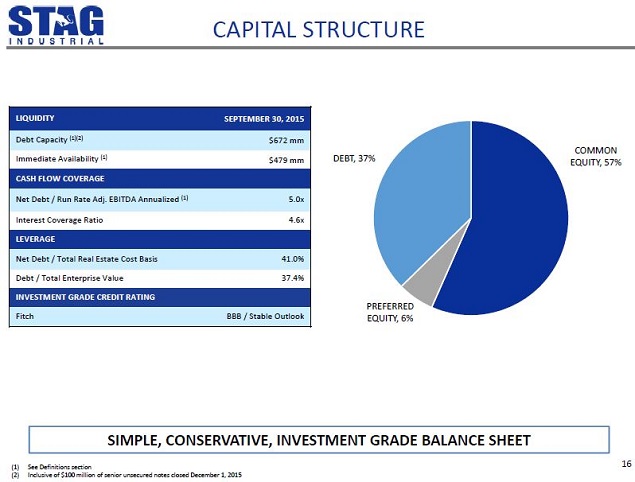 This REIT is able to take advantage of its Fitch BBB rating to issue debt on attractive terms, and STAG has relatively little property-level debt.
This would be in contrast to the Monmouth REIC business model, which uses the 15-year fully amortizing property-level debt to fund its active FedEx build-to-suit program and other acquisitions.
Investor Takeaway
With STAG shares trading around $17.00 per share, investors are able to pick up a BBB rated net-lease industrial REIT with an 8.12% yield on price. The price-to-FFO ratio has now slipped below 12x.
Sure, the chart is ugly, and of course, the shares can slide a bit lower. However, I contend that there is an asymmetrical upside in accumulating STAG shares at current levels.
I think investors can utilize the pessimistic $20.50 target price which BB&T has slapped on the STAG shares to estimate a relatively conservative 2016 total return. This would imply a 20.5% return from potential price appreciation, plus the monthly dividends, for a total return of ~29%.
Based on the table provided by STAG up above, this would equate to about a 7.6% portfolio cap rate. The REIT has been acquiring properties in the 8% range. The low cost of debt available to STAG continues to makes these acquisitions accretive. In December 2015, it issued a $100 million private placement at a 3.98% rate, which matures in 2023.
Investors can add STAG to the triple-net lease bucket of their REIT portfolio, or the industrial bucket. Either way, it will raise the portfolio dividend yield, and provides a nice boost to the NNN and O shares that many investors depend upon for income.
STAG Recommendation: A solid Buy at $17.00 per share.
Disclosure: I/we have no positions in any stocks mentioned, but may initiate a long position in STAG over the next 72 hours.
I wrote this article myself, and it expresses my own opinions. I am not receiving compensation for it (other than from Seeking Alpha). I have no business relationship with any company whose stock is mentioned in this article.