Regrettably, we've closed our position in Constellation Brands, Inc. (NYSE:STZ). The company has just got too expensive for us and we fear a large drop could occur when the excitement eventually wears out.
The story of Icarus poignantly comes to mind when we look at Constellation Brands. The share price is up over 46% since the start of last year and quite frankly for us, it is just flying too close to the sun now for our liking. We've decided to close our position before the wax melts and it comes crashing down.
Now, this might come as a surprise to many. After all, the company has just released some fantastic Q3 results and beaten the analyst consensus forecast for four straight quarters. Our concern is that market expectations are becoming overwhelming, and we're not sure that it can deliver on them.
The growth in sales has been very impressive. Total sales for the first three quarters of FY 2016 are $5.523 billion, up 7% from the $5.165 of revenue the previous year. This has been put down to incredible demand for its Corona Extra, Modelo Especial, and craft beers. So much so that it's constructing a new $1.5 billion brewery to handle the demand.
Whilst we agree that there is an incredible demand for its products, we are not sure if the growth it is experiencing is entirely sustainable, nor are we able to justify paying such a premium for the company's shares in such a volatile market.
On a price to sales multiple basis, the company is trading at extremely high levels, as demonstrated below.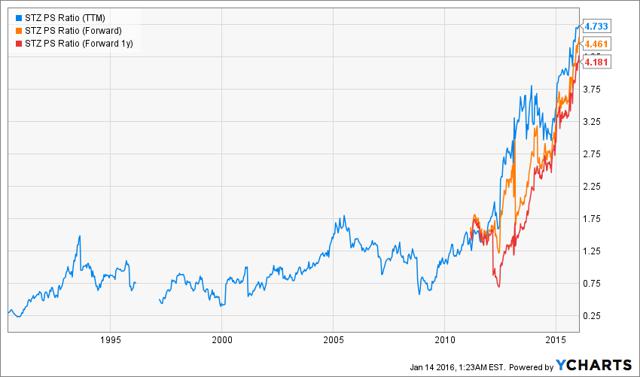 Generally, the price to sales ratio would peak at around 1.75 times sales, but currently we're seeing the stock trading as high as 4.73 times trailing sales and 4.181 times 2018 sales. It doesn't, in our opinion, look like it's going to offer us the share price growth we're looking for, hence why we have sold out with a view to reallocate elsewhere.
Perhaps, the best representation of the disparity between its earnings growth and share price growth is illustrated in the following chart.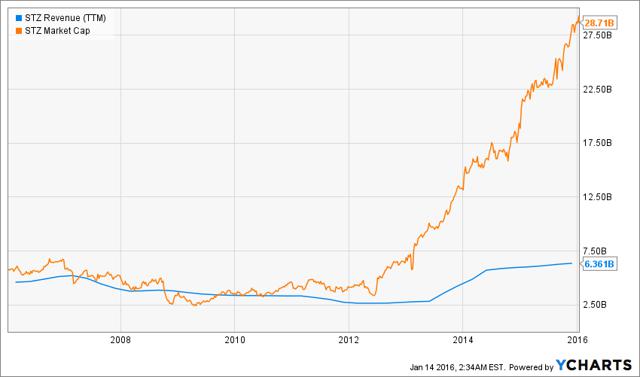 We worry that with all the craft beer acquisitions going on in the industry, the big brewers are neglecting one key thing, and that's the reason why craft beers are so popular. The Brewers Association defines craft brewers as "small, independent and traditional" and this is what we believe to be its allure. They are the alternative choice to the multinational brewery.
By the Brewers Association definition above, craft brewers cease to be craft brewers when they are acquired by a company like Constellations Brands. We feel that it is inevitable that eventually the consumer will grow wise to this, and turn against pseudo-craft beers. This could certainly cause headwinds for revenue growth.
Even if the company could grow its revenue by 13% per year until FYE 2018, it would only get to around $8.7 billion of revenue, giving it a PS ratio of 3.33. If we were to factor in a 4% per annum share price rise too to keep shareholders happy, it would result in a PS ratio of 3.80, as demonstrated below.
| | | | |
| --- | --- | --- | --- |
| Revenue growing at 13% p/a | | | |
| | FYE 2016 | FYE 2017 | FYE 2018 |
| Revenue (million) | $6,812 | $7,697 | $8,698 |
| Shares Outstanding (million) | 204.1 | 204.1 | 204.1 |
| Share Price 4% gain p/a | $149.9 | $155.9 | $162.1 |
| Sales Per Share | $33.37 | $37.71 | $42.62 |
| PS Ratio | 4.49 | 4.13 | 3.80 |
In fact, the only way we could get the PS ratio down to the 1.75 level would be if the company could increase revenue by 46.5% per annum, which we think we would all agree to be a touch out of reach.
| | | | |
| --- | --- | --- | --- |
| Revenue growing at 46.5% p/a | | | |
| | FYE 2016 | FYE 2017 | FYE 2018 |
| Revenue (million) | $8,831 | $12,937 | $18,953 |
| Shares Outstanding (million) | 204.1 | 204.1 | 204.1 |
| Share Price 4% gain p/a | $149.9 | $155.9 | $162.1 |
| Sales Per Share | $43.27 | $63.39 | $92.86 |
| PS Ratio | 3.46 | 2.46 | 1.75 |
These figures, though not an exact science, just make it appear overvalued in our eyes. This doesn't mean that the share price will come crashing down. The heightened multiples, whether it be the PS ratio (4.73), PE ratio (28.48), or EV/EBITDA (18.66), may be the new normal for the company. But until we can ascertain what the new normal is, we can only go off what we do know.
Takeaway
Constellation Brands is a fantastic company and one we'd love to own, but in our eyes, it has become overvalued. In the midst of a raging bull market, we can just about justify paying over the top for a quality stock; but in this kind of market, we just can't and sadly had to close our position.
Disclosure: I/we have no positions in any stocks mentioned, and no plans to initiate any positions within the next 72 hours.
I wrote this article myself, and it expresses my own opinions. I am not receiving compensation for it (other than from Seeking Alpha). I have no business relationship with any company whose stock is mentioned in this article.