This week, the Eldorado Gold (NYSE:EGO) stock has plunged 22% after the company announced that it is going to suspend most of its mine construction work in Greece.
The Canadian gold miner has two construction projects in Greece - Olympias and Skouries- which represent two of the three major construction projects that the company is currently working on and were supposed to fuel Eldorado's growth in the medium term. However, development in Greece has proven to be a nightmare, thanks to Eldorado's dispute with the nation's left-wing government.
Greece's ruling Syriza party, with support from local residents, has been opposing the development of Eldorado's mines, citing environmental concerns. The Vancouver-based miner received some of the key permits from local authorities, but in August, the country's Energy Minister cancelled the company's license, halting the development in the region which encompasses Olympias and Skouries. The company then approached Greece's leading administrative court which gave a temporary ruling in October, allowing Eldorado to resume its activities. This was followed by a positive final verdict in November in which the government's decision to revoke the miner's license was annulled, according to court officials. The final decision was supposed to be published by the end of November, which could have resolved this conflict, but so far, Eldorado hasn't received any official document from the court. Consequently, the uncertainty around Greek assets continued to weigh on Eldorado stock.
Finally, on Monday, Eldorado said that due to the government's "openly confrontational attitude" since the start of 2015, the company is going to halt construction work at Skouries and could do the same with Olympias if it does not receive the necessary permits by the end of the first quarter. Moreover, Eldorado is re-evaluating additional investments in the Stratoni mine, the company's only operating mine in Greece, that could have extended the project's life beyond the current estimate of three years. The Perama Hill and Sapes projects, which were under evaluation for future investment, have also been put on hold. In short, the company's future prospect in Greece, which wasn't particularly bright in the first place, has just gotten dimmer.
This can't be good for Eldorado, given the company had significant exposure to Greece. The Olympias and Skouries are Eldorado's second and third largest gold projects, in terms of size of gold reserves, and represent 30% of the company's total gold proven and probable reserve base. Together with the smaller Perama project, the three represent a third of the company's reserve base. According to analysts estimates, Eldorado's Greek assets formed 30% to 40% of its net asset value. In a recent report emailed to me, Credit Suisse's analysts Anita Soni and Robert Reynolds wrote that Olympias and Skouries represent 16% and 11% of Eldorado's net asset value respectively. The suspension of almost all of the development work at Greece could effectively wipe out nearly all of this value. The reaction from shareholders, therefore, is justified.
But that's just the half of it. If Eldorado fails to secure the key permits and decides to suspend activities at Olympias and Skouries indefinitely, then that's going to negatively impact the company's future earnings and gold production. Eldorado's Greek assets were supposed to play a crucial role in driving the company's production and earnings growth over the next couple of years. In addition to this, Olympias Phase II and Skouries, which were two of the company's lowest cost assets, could have also improved Eldorado's free cash flow profile in the long run. To make it worse, the company may not get anything from Olympias and Skouries but it will still have to bear mine stand-by costs which could be $1 million per month for each project.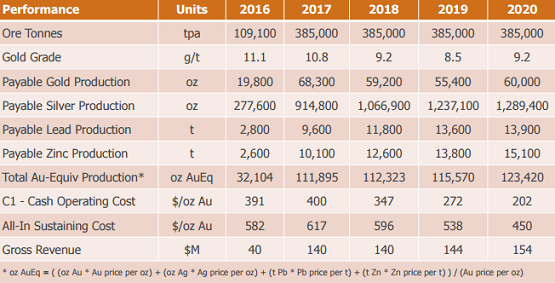 Olympias future growth forecast. Source: Company presentation (Nov. 2015)
Due to significant changes to net asset value, future production, earnings and cash flows, investors may have to re-evaluate their investment thesis. I believe investors should wait until we hear more from Eldorado in its operating and capital guidance update, due on January 25, and get the Greek government's response. Eldorado has effectively given a deadline and thrown the ball in the government's court. Let's see what they have to say.
The silver lining here is at least the uncertainty around Greece which has weighed on Eldorado stock could be nearing its conclusion. Moreover, if the company walks away from Olympias and Skouries, then it will lower its capital expenditure requirements, which may have a positive impact on free cash flows in the short term.
Investors can still take respite in the fact that Eldorado has a decent balance sheet, with a net-debt-to-EBITDA (2015 est.) ratio of just 0.35, one of the lowest in the industry, and ample liquidity with $390 million of cash reserves and $375 million available under the credit facility at the end of the third quarter. The company can still grow production in the long run, even without Greece, on the back of growing output from Kişladağ project in Turkey - which holds Eldorado's largest reserve base - and by betting on the undeveloped Certej and Tocantinzinho projects in Romania and Brazil respectively.
Disclosure: I/we have no positions in any stocks mentioned, and no plans to initiate any positions within the next 72 hours.
I wrote this article myself, and it expresses my own opinions. I am not receiving compensation for it (other than from Seeking Alpha). I have no business relationship with any company whose stock is mentioned in this article.