It is an unfortunate situation that Bed Bath & Beyond (NASDAQ:BBBY) finds itself in. In a more recent article that I authored, titled "Bed Bath & Beyond's Gross Profit Margins Come Home To Roost", I had warned investors of the continued gross profit margin pressures on the retailer's business. Given how far these pressures go back in history and when, juxtaposed against where we are currently in the economic business cycle, it was quite difficult to rationalize just how management would show improving results in the near term. With regards to gross profit margin pressures, it's not just that the company has historically shown this metric to be of great concern, but rather that the pressure has persisted in the current fiscal year and even as the company has taken several measures that should have born out some improvements to-date. In the current fiscal year, the company has actually shown an acceleration of gross profit margin pressure:
In Q1 2015, the company reported a gross profit contraction of 70bps, and in the Q2 2015 period, the company reported a 40bps gross profit contraction.
With the big-box retailer reporting Q3 2015 results, gross profit margins fell once again on a YOY basis from 37.8% in FQ3 against 38.4% in last year's comparable quarter. It is extremely important to understand that the gross profit margin contraction is also occurring on a quarter-to-quarter basis as well as year over year. Shares of BBBY are bearing the brunt of the metric performance, which proved to exhibit a negative sales comp for the 3rd quarter of 2015 as well. As total sales rose, largely due to the efforts related to new store openings, same-store sales fell by 40 basis points. This result came in contrast to the company's expectation for same-store sales to rise in the range of 1-3%, including an impact of about 40-50 basis points in the third quarter and 20-30 basis points in the fourth quarter due to modeled year-over-year fluctuations in the foreign currency exchange rate related to the company's Canadian operations. Even with the expectations surrounding foreign currency exchange rates, Bed Bath & Beyond couldn't come close to its own guidance. I think it is safe to say this is a somewhat disturbing ongoing trend between what management states and the actual performance of the company. Let's revisit some of management's recent commentary and sentiment regarding the company and the retailer's operations:
Warren Eisenberg - Co-Chairman

Thank you, Sue, and good afternoon everyone. Since Len Feinstein and I founded our company over 43 years ago, the mission has remained the same; just take care of the customer. Today more than ever, taking care of the customer means being available wherever and whenever our customer wants to interact with us.

We built our company to be flexible and ready to change to meet the evolving needs of our customers and to face the challenges of a competitive and dynamic retail environment. And while much has changed in the past 43 years, change itself has been a constant as well as our ability to respond successfully to it, and we are prudent to be ahead of it.
Let's take a look at what the CEO had to say about how the company is adapting to the changing retail landscape:
We have been leveraging our stores for fulfillment with our decentralized culture since we launched our online capabilities in 1999 and, as I said, continue to evolve them. Bed Bath & Beyond has been operating as an omni-channel retailer long before it became the norm. When you are customer centric, these services are a natural extension of what you do to satisfy the customer.
It would seem as though we have a major gap in understanding of what drives success and how to measure that success through various customer-centric initiatives. I would be of the opinion that for all the many operational and customer-centric initiatives the company has put forth, none have effectively changed the course of the company's sales and gross profit margins for the better.
The singular bright spot in an otherwise dismal 3rd quarter for Bed Bath & Beyond was the retailer's digital channel sales, which grew greater than 25% and in line with its expectations. Here is some additional color from the company regarding digital sales performance during the quarter:
In our mobile channels, we set new record highs across all key performance indicators during the third quarter, including traffic, orders, sales, average order value and conversion. Global sales during the quarter increased more than 2.5x compared to the same period last year.
Within my realm of expertise, and in keeping with my retail and consumer goods background, I often revisit associates that I have worked with in the past. The hope is that I am able to impart some ideas that can be explored within their respective companies. Bed Bath & Beyond and Target Corp. (NYSE:TGT) are examples of companies that I have worked for in the past as a contractual employee, delivering solutions for various operational needs. Many readers and investors might recall that in a more recent publication, I offered a potential improvement for Bed Bath & Beyond's digital-facing consumer space. I was of the opinion that even though the retailer's digital sales are minuscule when compared to its brick-and-mortar sales, it could improve and fill the gap in sales left behind by its storefronts at some point. Please see what I offered in the following narrative:
Again, here is a perfect example of where the company says it is doing all of these great and wonderful consumer facing and customer oriented things, yet under advanced analytical scrutiny you can see the company is doing absolutely nothing compared to its peers. Simply visit, Macy's (NYSE:M), J.C. Penney (NYSE:JCP), Kohl's or Target's website and what is the first thing you see expressed on these retailers e-commerce platform? That's right, the discount, the promotion, and the coupon! Now go to the Bed Bath & Beyond website... nothing! Anybody can perform this exercise if willing. Where's that beloved 20% off coupon displayed, highlighted or even offered by chance or corresponding to any purchase. Where is anything on the bedbathandbyond.com landing page that says "save" how ever much percent or dollars? The worst part of this "mismanagement" in my opinion is that this is actually a representation of the strategy employed by the executive team post the company's re-launch of its e-commerce platform. This means that after "careful consideration", the company still doesn't recognize what drives consumption habits.
The crux of my suggestion to Bed Bath & Beyond and for readers was to offer greater access to using coupons in the digital channel, alongside promoting coupons in the digital channel. Fortunately, and in my opinion, it seems as though the company has recognized the potential for strengthening coupon access in the digital sales channel, which also serves a "cloud" application for use in stores. During the most recently ended quarter, Bed Bath & Beyond has developed My Offers that can be accessed through the digital sales channel and directly at its website. Unfortunately, it is at the very bottom of the landing page, but I guess you have to crawl before you walk, as they say. Having said that, the company is listening and sourcing improvements to the business.
Search Product

My Offers

SMART SHOPPING JUST GOT SMARTER!

My Offers organizes your print, email, and text offers in the cloud so you can access and redeem them on the go. Learn more about My Offers
Now, let's take a look at what I like to refer to as "fluff for investor sake". The following is an "initiative" put forth by the company on the latest conference call:
For example, we have enhanced our online registry experience this year for both wedding and back-to-college by expanding the ability for registrants and potential registrants to schedule an appointment with one of our expert consultants in the available store. In addition, we have recently launched a social shopping feature that enables registrants to invite their family and friends to recommend items for their registries.
What most investors and readers wouldn't likely be able to recognize is that this is not the first time this initiative has been put into motion. In 2006, the company attempted this very same program, and it failed rather quickly. Can you imagine trying to get all 1,000+ stores to operate the schedule the same way - and to the benefit of such a singular focus, gift registries? To offer readers a more clear depiction of why this strategy did not work back in 2006, it's optimal to understand that the average BBBY store achieves less than one registry origination a day. So, to try and emphasize this segment of the business that benefits the store in such a limited way, at least on the surface, is a very difficult feat to achieve. In other words, what we really have is executive speech for "Let's throw it against the wall and see if it sticks... again".
Now, let's take a look at Bed Bath & Beyond from cash flow perspective, right? I mean at this point in the business cycle, and with the price-to-earnings ratio relatively cheap, cash flow is an important metric with regard to enticing a potential acquirer. In a recent article titled "Bed Bath & Beyond: Still Lacking A Catalyst", the author recognizes some of this subject matter with well-positioned scrutiny:
Bed Bath & Beyond earned $177 million for FQ3 and $538 million for the first nine months of the fiscal year through November. The company generated $489 million of cash from operations for that period, with free cash flow of only $255 million.

The company ended the period with only $491 million in cash, so the balance sheet isn't flush with available cash needed to pay for merchandise to stock the stores. The liabilities section already has $1.5 billion in cash leaving the company in a net debt position of roughly $1.0 billion.
I like what the author has evaluated in the free cash flow trend here that only serves to further highlight the retailer's issues with gross profit margins and sales. But even with that being said, Bed Bath & Beyond does generate good FCF and will likely continue to do so for the foreseeable future. The FCF may decline for several more quarters, but investors should also consider the front-loaded capex spend currently deployed into the company's business cycle that should dissipate in the coming years. This could possibly level-set FCF and/or boost FCF in the future. Within that consideration is what I find attractive to potential suitors.
Bed Bath & Beyond undoubtedly finds itself in a tough spot within a rapidly changing retail landscape. And if I have said it once, I've said it a dozen or so times, "Their core clientele is just not keeping up with spending trends". With Bed Bath & Beyond's core clientele being Baby Boomers, the problem of attracting new or additional clientele has been an ever-challenging problem for the company. So let's see if the CEO, whom I know quite well, will take a gander at what I believe could help alleviate some of the challenges surrounding attracting "new blood" - Millennials and Gen Xers.
I can quite literally walk into any Bed Bath & Beyond store at most any time of the day and in most any city in America and find the following with great consistency: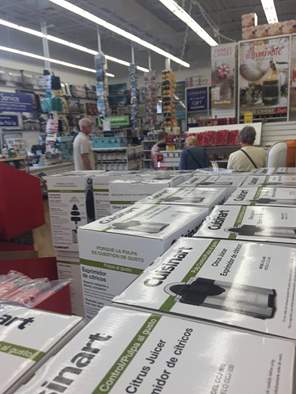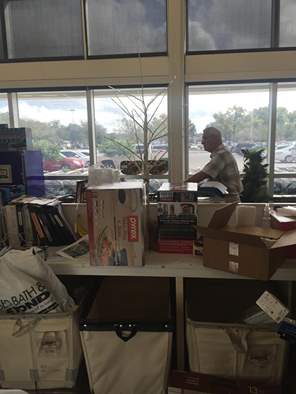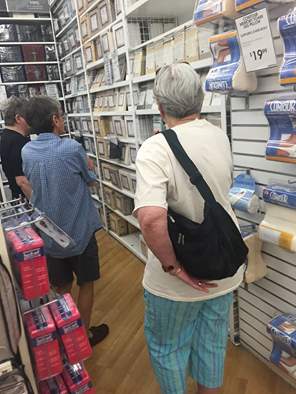 Moreover, these Baby Boomers, while being loyal customers, haven't been able to help the retailer grow sales or gross profit margins. Additionally, I would be of the opinion that its greatest purchase activity is aided by constant coupon transactions. So, how can the home goods retailer expand its consumer base? Experience shopping and activities have been the lure for much of the Millennial and Gen Xer shopping and spending in the 21st century. They are not just buying stuff, they are also buying an experience and time spent outside of the home.
If we take the examples of Target, Macy's, Bass Pro and Wal-Mart (NYSE:WMT), we come to find one these experiences younger shoppers seek out and appreciate. These retail operators have cafés and or restaurants in their retail establishments, be it Starbucks (NASDAQ:SBUX) or McDonald's (NYSE:MCD). Additionally, many will have an eye care center, nail salon, bank and/or hair salon. The number of experiences the younger shopper finds with these retailers helps to not only keep them coming back to the retailer, but also keeps them in the stores longer. Did you know that one of Target's most often purchased SKUs in the retailer's merchandise offerings is actually the pretzel combo? It's not an iPod, it's not a gallon of milk and it's not even a bag of Tostitos tortilla chips.
When we visit shopping malls - granted less frequently than we have in past years - the one constant is that food purchase. Whether we buy anything from any retailer is a hit or miss, but grabbing that Aunt Annie's pretzel, Cinnabon or Jamba Juice seems to be a constant purchase I think we can all agree on. It's become a part of the "getting out of the house" experience. With that said, I believe Bed Bath & Beyond has ample retail square footage to add experiential shopping to its brand. And if you are looking for synergies, look no further.
Have you heard of a little-known company called Blendtec? Bed Bath & Beyond is one of its few affiliates and dealers in the United States. With high-end blenders and great performance features, Blendtec has developed a good reputation with consumers over the years. More importantly, Blendtec is the official supplier of hardware to Jamba Juice (NASDAQ:JMBA). The provider of freshly made smoothies has enjoyed a relationship with Blendtec for many years. Needing only 25-50 square feet of operating and selling space, Jamba Juice cafés could easily fit inside of the Bed Bath & Beyond store footprint. And let's not leave out Aunt Annie's pretzels. While there could certainly be other opportunities to employ experiential shopping at Bed Bath & Beyond, these are just a couple options that I believe could fit quite well with the retailer and drive diversity in the customer base, while possibly plugging holes in the sales outlook.
Speaking of the sales outlook... While growing the retailer's square footage year-after-year, sales are not keeping pace by and large. In 2015, Bed Bath & Beyond will have expanded by a net of 17 new retail locations. Alongside this expansion, the company is now modeling comparable sales consummated through the retailer's customer-facing web sites and mobile apps to grow in excess of 25% and store comps to be a low-single digit decrease to relatively flat for the fourth quarter. Additionally, the company is now modeling net earnings per diluted share to be approximately $1.72-1.86 for the fourth quarter, bringing the full-year modeled net earnings per diluted share to a range of approximately $4.91-5.05.
Certainly, Bed Bath & Beyond has its work cut out for itself, and even more certainly, the company has ample cash on the balance sheet to implement greater returns on capital deployed. While the company has offered a new share repurchase program to commence upon the completion of the former, it may come to pass that the totality of the new share repurchase program takes a back seat to greater strategies aimed at growing sales and profit margins. At some point, the stock price becomes less of a focus, I would suppose. Bed Bath & Beyond is not very different from the other big-box retailers that are finding challenges in different areas of their respective businesses. The rapid shift in consumption habits has borne out a pragmatic approach by retailers to address the issues of the day. It's not an easy feat to adjust to the changing consumer environment, but having to do so is a certainty.
Disclosure: I/we have no positions in any stocks mentioned, and no plans to initiate any positions within the next 72 hours.
I wrote this article myself, and it expresses my own opinions. I am not receiving compensation for it (other than from Seeking Alpha). I have no business relationship with any company whose stock is mentioned in this article.