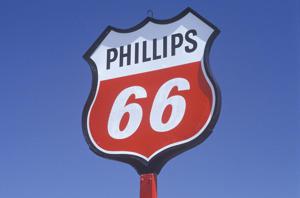 Shares of Phillips 66 (NYSE:PSX) have been on the rise, climbing more than 5% on January 14th as oil prices jumped more than 2%, as the overall market improved, and as news broke that Warren Buffett's Berkshire Hathaway (NYSE:BRK.A)(NYSE:BRK.B) bought another 900 thousand shares of the business. Although I am very much an oil bull right now, the notion that Buffett purchased more of Phillips 66 likely has less to do with his view on black gold and more to do with the quality of the business and the fact that the market seems to be throwing out the good with the bad during this time of panic.
A look at Phillips 66
Phillips 66 is not your typical oil company. I don't know about you, but when I think of an oil company, I tend to think of E&P operators that allocate most of their capital toward extracting crude from the ground or from offshore locations. This is not the case with a company such as this. According to the company's most recent quarterly report, it operates in four distinct segments; Midstream, Chemicals, Refining, and Marketing and Specialties. In the image below, you can see a brief description of each segment.

Click to enlarge
In terms of sales and profits, the two major segments for the company are its Refining and its Marketing and Specialties segments. Collectively, these operations accounted for 97.8% of the business's sales and 79.2% of its segment (excluding corporate adjustments) net income during the company's most recent fiscal quarter.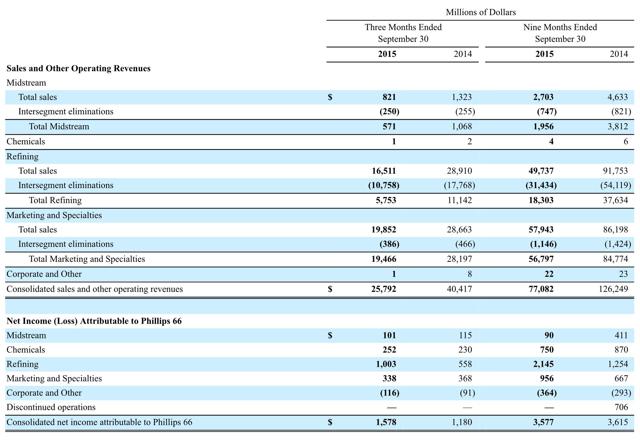 Click to enlarge
The market has been hammering the company
As energy prices have taken a beating, with oil prices dipping below $30 per barrel just the other day, investors have tried their all to get out of anything even closely related to this space. Phillips 66 has been no exception. After seeing shares peak last year at $94.12 apiece, Mr. Market pushed the company's stock down as low as $74.54 recently (though their 52-week low was achieved early last year, when shares dipped to as low as $58.68).
At first glance, this seems logical. After all, during the third quarter, the company's sales totaled just $26.42 billion, 35.6% lower than the $41.05 billion the company reported for the third quarter of its prior fiscal year. Generally speaking, any company that reports such a slide in sales warrants a sizable haircut but, in the case of Phillips 66, all that matters for investors are profits and cash flow. Despite seeing sales fall hard, the company's net income for the quarter stood at $1.58 billion, a move up from the $1.18 billion seen during the third quarter of 2014. Cash flows from operating activities were a hefty $4.22 billion compared to $2.66 billion seen a year earlier, and free cash flow totaled $930 million, up from just $10 million in 2014.
The reason behind the major move up in these categories while sales shrank materially relates to the company's operating costs, which drop significantly. During its most recent quarter, for instance, Phillips 66 allocated 70.3% of its sales ($18.58 billion) toward the purchase of crude and oil products, down from 81.86% ($33.60 billion) of its sales a year earlier. This wasn't due to savvy management, per se, but was more a product of the 3:2:1 crack spread widening in the company's favor.
The 3:2:1 crack spread is the difference between the market cost of purchasing oil and the market price of the final fuels produced from that oil (assuming that 3 barrels of oil result in 2 barrels of gasoline and 1 barrel of diesel, hence the name). In essence, as the price of crude fell hard during this energy downturn, the price of things like motor gasoline fell a lot less, allowing Phillips 66 to keep the difference in the declines as added profit. Take, for instance, the company's refining margins.

Click to enlarge
*Columns 1, 2, 3, and 4 are Q3 2015, Q3 2014, Q1-Q3 2015, and Q1-Q3 2014, respectively.
During its latest quarter, management reported margins (on a per-barrel basis) of $13.96 for the company, up 28.2% compared to the $10.89 per barrel seen a year earlier. This was almost entirely driven by the widening of the 3:2:1 crack spread. In its Marketing and Specialties segment, margins grew from $1.78 per barrel to $2.26 per barrel in the U.S. (though they shrank abroad). All-in-all, the company's profits did shrink, somewhat, in its Marketing and Specialties segment, but its Refining segment saw profits skyrocket from $558 million to $1 billion.
Shares look cheap as well
In addition to seeing a nice uptick in profitability, Buffett also likely purchased Phillips 66 because it is a high-quality company trading at an attractive price. In the graph below, you can see the business's return on equity, return on assets, and cash flows as a percent of assets over the past 10 years. The latter two are not stellar but are, for a labor-intensive business like this, appealing to long-term investors but the return on equity is downright phenomenal.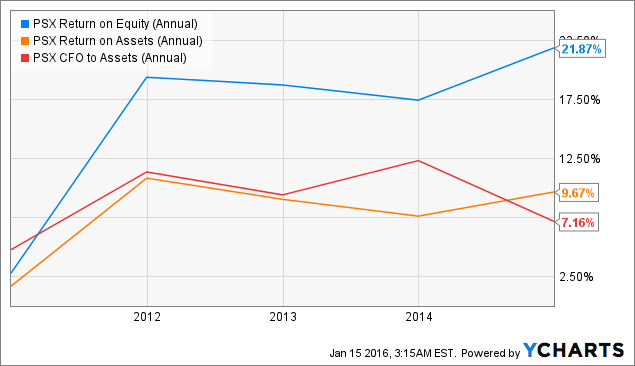 PSX Return on Equity (Annual) data by YCharts
From a cost standpoint, shares also look very attractive for long-term investors right now. In the graph below, you can see what Phillips 66's price is relative to earnings, cash flow, and book value. All three of these indicators, while not showing a rock-bottom share price, seem to indicate that the valuation of a company like Phillips 66 is likely not appropriate given the company's strong financial performance and ability to generate strong profits at a time when most types of energy-related businesses in this space are hurting sorely.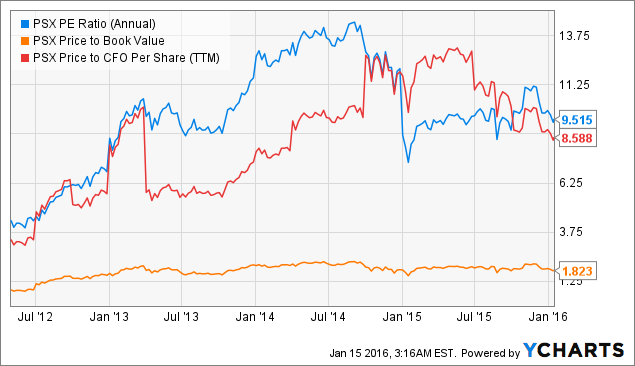 PSX PE Ratio (Annual) data by YCharts
Takeaway
Based on the data provided, it doesn't seem so much that Buffett is making a bullish bet on oil but is, instead, taking advantage of a company whose share price has been unjustifiably harmed by poor investor sentiment. Add to this the fact that, if gasoline prices don't fall more, Phillips 66's margins will stay high and I understand completely why Buffett is making the move he is. In fact, I wouldn't be surprised to see him add much more to his current stake, which is already valued at around $5 billion, but I don't think investors should see this move as particularly bullish for crude (nor is it likely to be a bearish bet since persistently low prices will eventually push gasoline prices lower as well).
Disclosure: I/we have no positions in any stocks mentioned, but may initiate a long position in PSX over the next 72 hours.
I wrote this article myself, and it expresses my own opinions. I am not receiving compensation for it (other than from Seeking Alpha). I have no business relationship with any company whose stock is mentioned in this article.