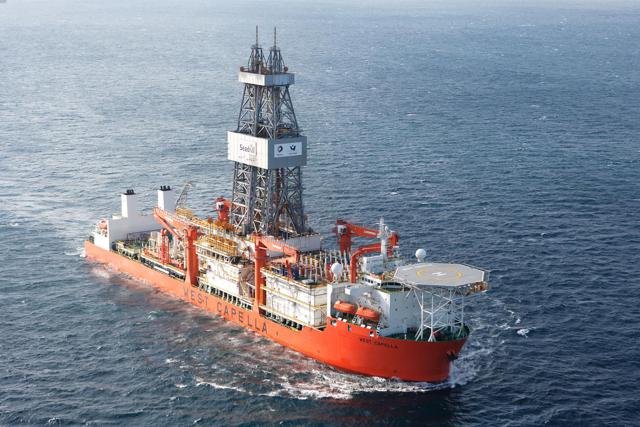 Click to enlarge
Source: Seadrill drillship West Capella.
Seadrill Ltd. (NYSE:SDRL)
This article is an update to my preceding article on Seadrill, published on January 4, 2015, about what to expect in 2016 and beyond.
Yesterday, January 14, Mr. Henrik Stolen from Reuters indicated, that Mr. Per Wulff, in Oslo, painted a stern outlook about the offshore drilling situation, and generally the entire oil industry. He painted a grim situation of the offshore industry in general, pushing the recovery even further in 2017 saying the following:
We have to save more and more money. That's the main thing we can do. It's worrying when we see the oil price falling as it does now because once the oil price is starting to return to normal you can add 12 to 15 months before you see the need for additional rig units.

With an oil price around 30 dollars there is very little appetite amongst oil companies to explore and drill for oil.

We are forced to agree some contracts at below cost breakeven, meaning that we are entering into contracts where we are losing money," Wullf said, adding that he believed this could happen already during the first quarter of 2016.

Then you'll need to have all cards on your hand. It's banks, bonds and equity. It's the entire way around, but there is nothing being decided now.
Commentary:
The proverb says: Every cloud has a silver lining... And it has often been true in my investing career, for some reason. We should never feel hopeless because difficult times always lead to better days, right?
However, we cannot use it blindly, and ignore the financial situation with the stroke of a pen. Seadrill is a company selling a basic oil service (drilling), and we expect the company to present a reasonable profit after paying for the all-in costs needed to accomplish the service in a professional manner. This is a fundamental fact, no way around it.
It involves a significant cash investment, and requires a sufficient level of contracts, at a reasonable day rate, that will allow a satisfactory balance of the books. Thus, it is difficult to learn that SDRL is "forced to agree to some contracts at below cost breakeven, meaning that we are entering into contracts where we are losing money."
This is the main topic here, and unfortunately we cannot really find a definitive answer, yet. Because it will all depend on the price of oil in 2016, and how fast a meaningful recovery can translate to a comfortable tendering at a day rate above the break even point later?
Mr.g Per Wulff said that it will take about 12 to 15 months to see the need of additional rig units, once the oil price has stabilized and recovered enough. He is implying, assuming an oil recovery in the second half of 2016, that the balance rig supply/demand will turn in favor of the offshore drillers early 2018 at the earliest. Now, we understand why the Seadrill 2017 bonds have been dropping to a default level in December.
With the highest level of debt in the offshore industry, Seadrill is vulnerable, to say the least. Is it a reason to scream loudly that the company is too close to the event horizon and cannot escape bankruptcy or any other types of financial restructuring at a dire cost to the common shareholders?
Time will tell, and we should not forget the effect of Mr. John Fedriksen's potential move, and his $7 billion to $11 billion depending on valuation. I commented on another recent interview with John Fedriksen and Per Wulff, on December 20,2015, that can shed more lights on the subject.
I am still hopeful that the oil situation will stabilize faster and stronger than many are expecting, however, I must admit that it is hard to stay optimistic with this oil collapse that never ends. I tend to take anything said with a large grain of salt, when it comes to catastrophic outlook. How do you expect the ones who did not see this collapse coming to tell you when, if ever, and how it will reverse?
This oil bear cycle is not really based on intrinsic fundamental, supply/demand paradigm, and is a "virtual" collapse of a "virtual" oil "paper" market. The real supply/demand that should influence the price of oil has never been really the problem here, who cares really about oil beside what we put in our car once in a while. Oil trading at $30 is a clear example how dysfunctional the market is behaving with a logic on its own, killing thevery industry that it should protect.
How can we justify a drop of 75% of the oil price -- From $120 to $30 -- in about two years? Come on! It is a clear manipulation and we all know it, and probably participate in this scheme, somehow. Emotion and the use of "outlooks" is all what we see, and it will reverse with the same volatility later, not because it is logical but because it is time to make money on the bullish side again.
Yes, China weakness one day, Saudi Arabia bla blas... All is used by analysts to create a "trading atmosphere" and if a lie is repeated thousand times, you know, it turns to be true and the prophets are laughing all the way to the Bank.
At this stage, it is hard to conclude anything about Seadrill. The risk is here and it is hard to ignore it. We all know what may be the consequence assuming the worst case scenario. As Per Wulff said "but there is nothing being decided now."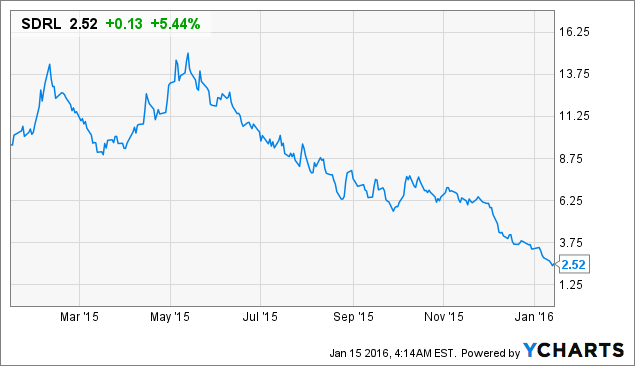 As a long shareholder this situation is not a positive event, because it pushes further away a potential recovery, and endangered my long investment strategy. However, on the other hand, Seadrill is definitely a good trading vehicle because of the volatility and potential of strong fluctuations that come when the stock is trading so low.
Disclosure: I am/we are long SDRL.
I wrote this article myself, and it expresses my own opinions. I am not receiving compensation for it (other than from Seeking Alpha). I have no business relationship with any company whose stock is mentioned in this article.
Additional disclosure: I am trading SDRL exclusively now.