Important Note: This article is not an investment recommendation and should not to be relied upon when making investment decisions - investors should conduct their own comprehensive research. Please read the disclaimer at the end of this article.

As oil prices have continued to set new lows and many oil and gas producer stocks have lost more than three quarters of their value since mid-2014, the moment when oil prices began to slide, there is one distinct stock that has remained a safe haven for investors: ExxonMobil (NYSE:XOM).
In the last two weeks, ExxonMobil continued to impress with its resilience and on at least two occasions stood out as one of the very few gainers in the Energy sector amidst very difficult trading sessions for both oil and the broader market. Since the beginning of 2016, the stock has significantly outperformed the S&P-500, despite a 15% drop in Brent oil price (using January 14 close of $79.07 per share).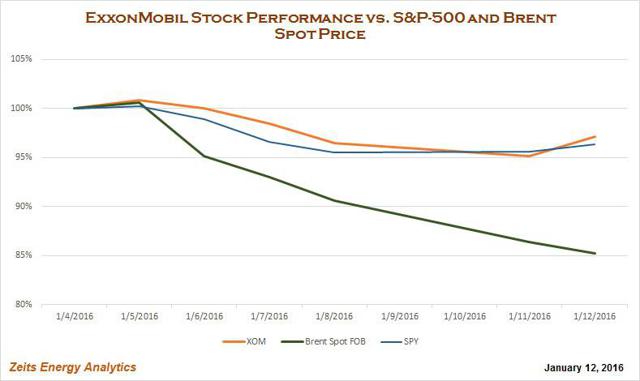 Click to enlarge
The picture is not much different if one were to look at it using a longer time horizon.
Since mid-2014, ExxonMobil's stock has declined ~20% relative to the S&P-500, whereas Brent spot oil price has collapsed by a staggering 72% over the same period of time.
This resilience is quite remarkable and sets the stock apart from other Oil Majors. Is there a way of rationalizing the seeming conundrum?
Relative Performance
To appreciate the degree of ExxonMobil's resilience, it might be helpful to compare the stock's performance to that of other Oil Majors. I included in the peer group the following stocks: Chevron Corp. (NYSE:CVX), BP plc (NYSE:BP), Total S.A. (NYSE:TOT) and Eni S.p.a. (NYSE:E). I deliberately excluded Royal Dutch Shell (NYSE:RDS.A) to avoid distortions associated with Shell's blockbuster acquisition of BG Group plc (NYSE:BG). Given that the acquisition, if it closes, will significantly increase Shell's debt level, and considering the continued collapse in oil and LNG pricing following the acquisition, Shell appears to be an imperfect comparable.
The following graph plots ExxonMobil's stock price performance versus peers and Brent oil price. All stock moves are measured relative to the S&P-500 index and have been adjusted for dividends. (One may debate whether stock moves versus the S&P-500 should be looked at using each stock's historical beta. To minimize complexity, I used simple relative performance, which I believe is good enough for purposes of illustrating my key point in this note.)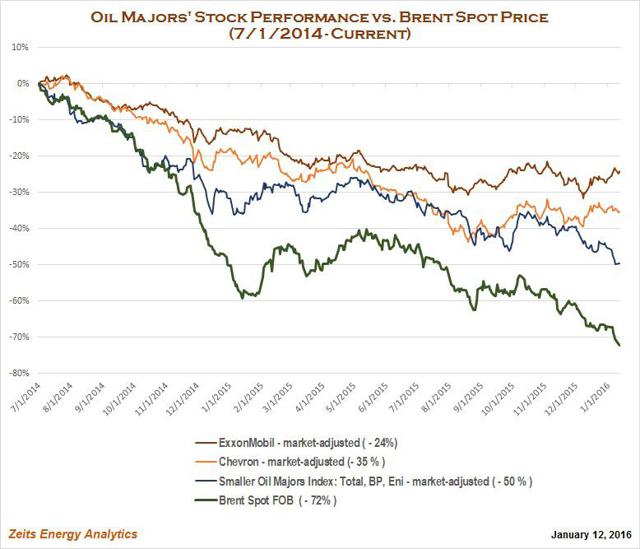 Click to enlarge
To further simplify the comparison, I have grouped three stocks - BP, Eni and Total - into an equal-weighted index. These three stocks have exhibited significant mutual correlations in the past eighteen months.
The first observation is that the BP/Eni/Total index correlated very strongly with the initial decline in oil price, following Brent "on as short leash" all the way to approximately $60 per barrel. Thereafter, these three stocks still remained correlated with moves in oil price, but the degree of correlation declined significantly.
How should one interpret this "kink" in the strength of the correlation between the stock prices and oil price?
I would offer a simple hypothesis: investors are pricing in a cyclical recovery in oil prices into stocks.
A drop in oil prices from $100+ per barrel to ~$60 per barrel could be interpreted by the market as a cyclical correction to pricing levels that should be expected in the downcycle. The decline from $60 per barrel to $30 per barrel, on the other hand, is being heavily discounted as a transitory trough that will not be sustained for long.
It is quite interesting that Chevron's stock, which initially held up firmly, ultimately caught up with its European peers, having declined towards the end of 2015 by a similar percentage.
ExxonMobil, on the other hand, has sustained its strongly differentiated performance all the way until now, being a singular standout within the Oil Majors group with a 24% decline (in fact, materially smaller decline, following today's rally) versus the 50% for the European Oil Majors and 35% decline for Chevron.
Leverage And Portfolio Composition
There are several factors that may help to explain the differentiated performance.
Financial leverage is the most important factor. ExxonMobil entered the cyclical downturn essentially debt-free. The company's net debt increased throughout the oil correction, but still remains modest, ~$30 billion as of September 30, 2015, as compared to the stock's $313 billion equity market capitalization.
If one were to compare Exxon's balance sheet with that of BP, or Eni, or Total, the difference in leverage is quite striking and is clearly a big driver of differentiated stock performance in a changing commodity price environment.
Portfolio composition - Upstream versus Downstream - is another significant factor. Unlike the oil price collapse in 2008-2009, the recent decline in oil prices occurred against the backdrop of expanding demand for petroleum products. As a result, the Refining and Petrochemical businesses partially hedge against the drop in oil prices: lower feedstock prices stimulate end market demand and improve downstream margins on the way down.
ExxonMobil, arguably, has one of the largest natural Downstream hedges among the Oil Majors.
Market Capitalization May Play A Role
Finally, the difference in market capitalization may also matter, even if this factor appears irrelevant from a fundamental view point.
In terms of equity market capitalization, ExxonMobil is in a class of its own within the Energy sector: twice the size of Chevron and three times the size of BP or Total.
A case can be made that large pension funds and mutual funds designate stocks like Exxon as strategic holdings, with time horizons measured by decades, not years or quarters, as is often the case with smaller capitalization stocks dominated by "fast money" flows.
The Important Conclusion
While one can probably rationalize Exxon's outperformance relative to other Major Oil stocks in the past eighteen months, the stock's absolute performance sends a very significant message, in my view.
Notwithstanding the importance of Exxon's downstream assets, the Upstream remains the largest building block of Exxon's stock value. The company is critically dependent on strong oil prices to replace its reserves and production while generating free cash flow that it needs for sustainable dividends.
As one can see from the following slide, Exxon's cash flow from operations during the first nine months of 2015 was insufficient to fund its dividends. The company had to source $5.7 billion from borrowing and asset sales, or $7.6 billion on an annualized basis, to bridge the gap. It is also important to note that the company's current stable production volumes are a result of elevated capital spending - at levels significantly exceeding the current run rate - in the preceding several years.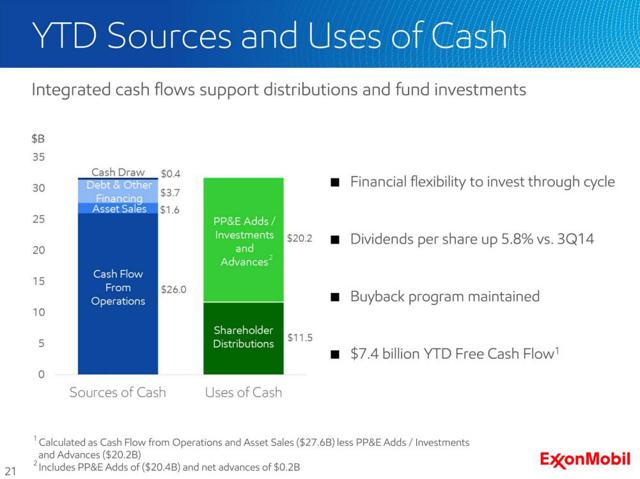 Click to enlarge
(Source: ExxonMobil, October 2016)
The following graph shows the impact that oil prices make on the stock's fortunes. The two-fold drop in Brent price from Q3 2014 to Q3 2015 - from the average price of $101.90 per barrel to the average of $50.34 per barrel - contributed to a $5.1 billion drop in Exxon's Upstream earnings, or over $20 billion on an annualized basis. The figure makes a monumental difference, even on Exxon's scale.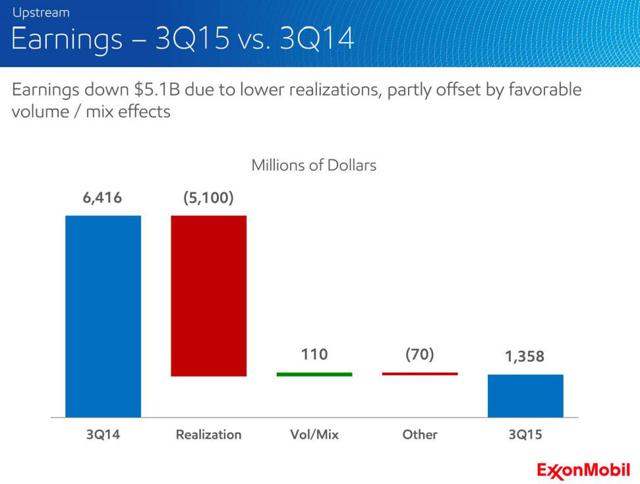 Click to enlarge
(Source: ExxonMobil, October 2016)
I would argue that the stock's remarkable resilience would hardly be possible without the market effectively taking a macro view that oil prices will ultimately rebound. Moreover, I would argue that Exxon's current stock price reflects a rebound to levels higher than $70 per barrel (possibly, significantly higher).
Is the stock dramatically overpriced in the light of the current oil price or is it a "steal?"
In the context of the above discussion, the answer is obviously critically dependent on the assumed future trajectory of commodity prices.
For more in-depth data and analysis of commodity fundamentals, please consider subscribing to Zeits OIL ANALYTICS that provides in-depth analysis of global and North American crude oil market.
Disclaimer: Opinions expressed herein by the author are not an investment recommendation and are not meant to be relied upon in investment decisions. The author is not acting in an investment, tax, legal or any other advisory capacity. This is not an investment research report. The author's opinions expressed herein address only select aspects of potential investment in securities of the companies mentioned and cannot be a substitute for comprehensive investment analysis. Any analysis presented herein is illustrative in nature, limited in scope, based on an incomplete set of information, and has limitations to its accuracy. The author recommends that potential and existing investors conduct thorough investment research of their own, including detailed review of the companies' SEC filings, and consult a qualified investment advisor. The information upon which this material is based was obtained from sources believed to be reliable, but has not been independently verified. Therefore, the author cannot guarantee its accuracy. Any opinions or estimates constitute the author's best judgment as of the date of publication, and are subject to change without notice. The author explicitly disclaims any liability that may arise from the use of this material.
Disclosure: I/we have no positions in any stocks mentioned, and no plans to initiate any positions within the next 72 hours.
I wrote this article myself, and it expresses my own opinions. I am not receiving compensation for it (other than from Seeking Alpha). I have no business relationship with any company whose stock is mentioned in this article.