Just a few days ago I posited that JPMorgan's (NYSE:JPM) balance sheet was providing the investing community with clues that the company's string of tepid loan growth was ending and that a period of aggressive expansion was likely upon us. We received Q4 results yesterday and the company's earnings report showed us that things in the banking world are not as bad as investors had feared and that JPM is indeed ramping up its efforts to lend aggressively.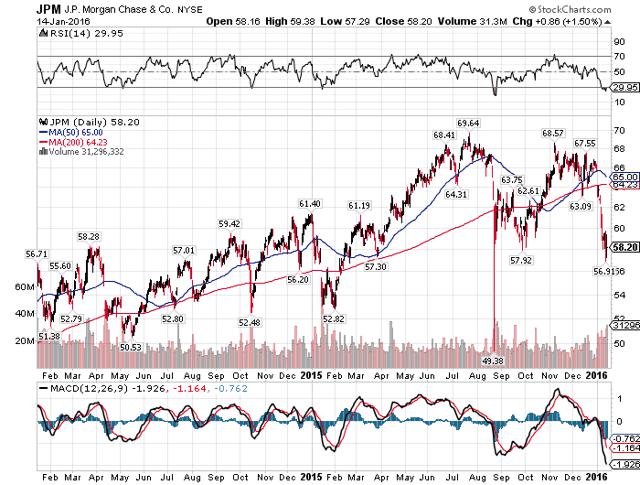 JPM's Q4 was overall a very strong showing. The company's revenue and earnings both beat expectations handily as strong fundamentals and prudent expense controls helped. JPM is widely regarded as one of the best banking franchises anywhere in the world and with good reason. We saw more of why one should never doubt JPM's ability to produce and Q4 was further proof of that.
JPM's Q4 has all the qualities you'd want from bank earnings including strong performances from its core segments and prudent expense controls. JPM - like virtually every other bank on the planet - has spent the last couple of years trying to right size its personnel base and that has helped JPM produce earnings beats including Q4. Noninterest expense fell 2% in Q4, something I expect will continue to happen as JPM maintains tight controls on costs. And as JPM finds ways to grow revenue in 2016, its overhead ratio should continue to fall.
Speaking of growing, the company's loan growth is what I'm really excited about as I mentioned in my linked article above. JPM is beginning to aggressively gather deposits and lend them out and that strategy should allow it to take market share and grow its earning assets. Average core loans were up 16% and the company's loan-to-deposit ratio is now at 65%, up 9% on the year from 2014's rock bottom levels. JPM's focus on gathering deposits and ramping its LTD ratio is the basis of my bull thesis and the company certainly delivered on that in Q4 once again. I look very forward to what JPM can produce in terms of loan growth in 2016 as it continues its efforts to expand its deposit base so it can lend aggressively.
I've also touched on JPM's credit quality in the past as well, indicating that JPM is boosting its lending prudently and not just boosting it; anyone that remembers the financial crisis understands there is a distinct difference between the two. Of course, Q4 saw a lot of focus on energy-related lending as that entire complex has been absolutely decimated in recent quarters. Banks will be taking the brunt of the losses from the onslaught and JPM is no exception, with net charge offs jumping $100 million during Q4. The losses related to energy were the lion's share of the jump in charge offs - surprising no one - and commentary from CEO Dimon suggest that the write offs from energy loans aren't done yet. Just how much damage energy ends up doing to JPM is still a variable at this point but the strength and diversification of JPM's business model means the losses should be more than manageable.
JPM certainly has areas of weakness - energy and asset management come to mind - but it has tremendous strength as well. Q4 confirmed for me that the loan growth I spoke about a few days ago is coming to fruition and that means that JPM's lending base should see meaningful growth in 2016. A big variable for JPM is the Fed - will it stick to its four hikes this year? - but regardless of what the Fed does, JPM will continue to increase its lending and earnings should grow on an absolute basis even without the benefit of wider spreads.
As JPM grows revenue this year and keeps a tight lid on costs, its overhead ratio should dip into the high 50s from its current 61%, driving EPS growth. And even if worries over interest rate spreads come true the higher level of lending should allow JPM to not only create more net interest income but also to spread that income over a relatively smaller cost base. That will drive meaningful EPS growth in 2016 and in short, Q4 confirmed for me that all of the bullishness I felt heading into the quarter is justified. JPM is on the path to growing its bread and butter lending business by banking the old-fashioned way and that means upside in 2016.
At just 8.5 times forward earnings and EPS growth for this year expected to come in at just 2%, the bar for JPM is pretty low this year. JPM could see that amount of EPS growth from expense reductions, higher levels of lending, share repurchases or interest rate spreads widening among any other number of factors. The idea that JPM will grow EPS by just 2% is ludicrous to me considering all of these factors and the real kicker is that fear about the Fed's ultimate rate hike path really don't even matter. There are enough other drivers of earnings growth that I don't really care if the Fed hikes or not in JPM's case; it doesn't need it. Q4 was a strong showing in JPM's core business and the fallout over energy losses is far too overblown. Q1 will likely provide us some additional clarity on the energy situation but at this point, the losses are small enough that I don't see it as a material threat to earnings this year. At $57, JPM is a bargain and I'm in.
Disclosure: I am/we are long JPM.
I wrote this article myself, and it expresses my own opinions. I am not receiving compensation for it (other than from Seeking Alpha). I have no business relationship with any company whose stock is mentioned in this article.