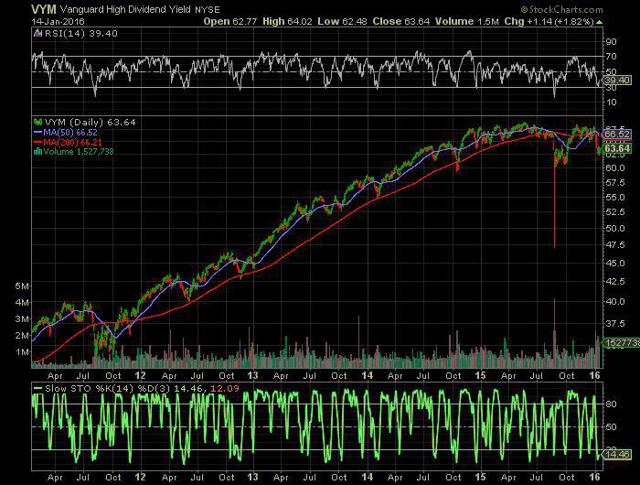 Click to enlarge
If you are looking to generate income with a certain bundle of savings, consider buying the Vanguard High Dividend Yield ETF (NYSEARCA:VYM). With this ETF, investors get a diversified collection of companies and a yield of 3.22%. If creating your own dividend portfolio with individual stocks doesn't appeal to you, then purchasing this ETF is an easy way to get diversification along with yield under one ticker.
The market already fell by 9% in the recent correction over the past few weeks and is bouncing off of an oversold level. Therefore, it currently looks like a good time to buy this ETF as a long-term income generating holding.
VYM has a diverse collection of dividend paying stocks, which allows the ETF to offer a better yield than other dividend ETFs such as the SPDR S&P 500 Dividend ETF (NYSEARCA:SDY), which yields 2.57% or ProShares S&P 500 Dividend Aristocrats (NYSEARCA:NOBL), which yields 2.02%.
Here are VYM's top 10 holdings as of November 30, 2015:
| | |
| --- | --- |
| Company | Weighting |
| Microsoft (NASDAQ:MSFT) | 4.70% |
| ExxonMobil (NYSE:XOM) | 4.10% |
| Wells Fargo (NYSE:WFC) | 3.40% |
| General Electric (NYSE:GE) | 3.40% |
| Johnson & Johnson (NYSE:JNJ) | 3.30% |
| JP Morgan Chase (NYSE:JPM) | 2.90% |
| AT&T (NYSE:T) | 2.50% |
| Proctor & Gamble (NYSE:PG) | 2.40% |
| Pfizer (NYSE:PFE) | 2.40% |
| Verizon (NYSE:VZ) | 2.20% |
Source: vanguard.com
I just want to quickly highlight the top four holdings in the ETF. The top holding in the ETF, Microsoft, is in a new growth phase. Microsoft has new found growth with its cloud offerings and its strategy to convert existing customers into subscription customers. The company is expected to grow revenue between 6% and 7% and grow earnings at 13% in FY17 according to consensus. As that growth is achieved, Microsoft will be pulling in more cash flow to continue to grow its dividend. The company has increased its dividend every year since 2005.
ExxonMobil has experienced weakness since the price of oil dropped in mid-2014. However, that has allowed the dividend yield to increase to 3.9%. Although I wouldn't want to own ExxonMobil individually until the price of oil returns to recovery mode, the company does round out the ETF with a strong yield.
Wells Fargo is positioned to benefit from the new interest rate increase cycle. As interest rates are increased, the company's margins will widen. This well-run bank is owned by Warren Buffett and represents a best of breed financial stock.
General Electric is in the process of completing its sale of its finance business to focus more on its industrial business. This will better position the company for the next recession as companies with large banking exposure typically get slammed in recessionary times. This move will also allow the company to focus on the industrial side and on the 'internet of things', which has plenty of growth opportunity going forward.
The top holdings along with the others are a diverse collection of solid dividend paying companies. This ETF is a great way to invest for income without picking individual companies yourself.
Dollar Cost Averaging Strategy
For those who want to build a position in VYM, you can consider buying a set amount of shares every month on a regular basis. This will allow you to dollar cost average into the ETF, similar to how a 401K plan works. By buying shares every month, you won't have to worry about fluctuating prices. The current market over the past few months has been scary, but a dollar cost averaging strategy can allow you to buy at low prices when the market falls and reap the benefits of a rising market as the market increases. You can also use your dividends to buy more shares as a dividend reinvestment plan. This strategy allows you to build a position over time, thus gradually increasing your income from the dividends.
Covered Call Strategy
Investors who own the underlying VYM ETF can consider selling call options at strategic times to add to the amount of income that they are getting from the dividends. I wouldn't want to sell a call against the position right now since the market just corrected and is at an oversold level. What investors can do is wait for the stock to hit an overbought level according to RSI and stochastic oscillator readings on standard stock charts.
If you refer to the stock chart at the top of the article, you'll see that VYM is currently oversold according to the RSI indicator at the top of the chart and the stochastic oscillator at the bottom of the chart. When the RSI hits 70 and the stochastic oscillator hits 80, the ETF will be overbought. That will be the time to sell an out of the money call option.
When an overbought condition exists, look at selling an out of the money call option that expires in approximately one month. You'll keep the premium that you sold, which can add to the dividends that you will already be collecting. By waiting for an overbought condition, you'll increase the chances of the call option expiring worthless, which is good as you'll keep the premium sold. If the ETF happens to continue rising up to the strike price that you sold, the underlying position will be called away. That is the risk, but you can always buy the ETF back at a better price.
As an example, an out of the money call option expiring one month away may be trading for $1.00. If you sell that call, you'll collect $100 for every call that you sell. Keep in mind that you'll need to own 100 shares of the ETF for every call that you sell. That's like creating your own extra dividend payment.
If you like my analysis, click on FOLLOW at the top of the article near my name. This will allow you to see my new articles on your homepage. If you choose to get real time alerts, you'll get email alerts when my articles are published.
For those who prefer to invest in individual stocks that are likely to outperform the market over the long-term, consider joining my subscription service. I also include macro/market commentary based on economic indicators. I'm currently ranked in the top 1% of blogging analysts according to Tipranks.com for accuracy and performance. Click here for more information about the subscription service.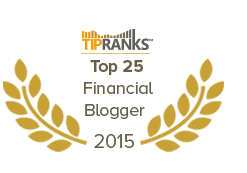 Disclosure: I/we have no positions in any stocks mentioned, and no plans to initiate any positions within the next 72 hours.
I wrote this article myself, and it expresses my own opinions. I am not receiving compensation for it (other than from Seeking Alpha). I have no business relationship with any company whose stock is mentioned in this article.