Commercial real estate investment trust VEREIT, Inc. (NYSE:VER), formerly American Realty Capital Properties, is not having a good start to the new year. The REIT's stock is down ~11% in a very weak market, and the company continues to struggle to regain investor trust after its fast ascent and fall under its former Chief Executive Officer Nicholas Schorsch.
Though hopes were high last year when new Chief Executive Officer Glenn Rufrano took the helm, the stock has failed to excite investors. VEREIT's common stock trended downward consistently throughout the year. It's 1-year price return: -24%. Not great.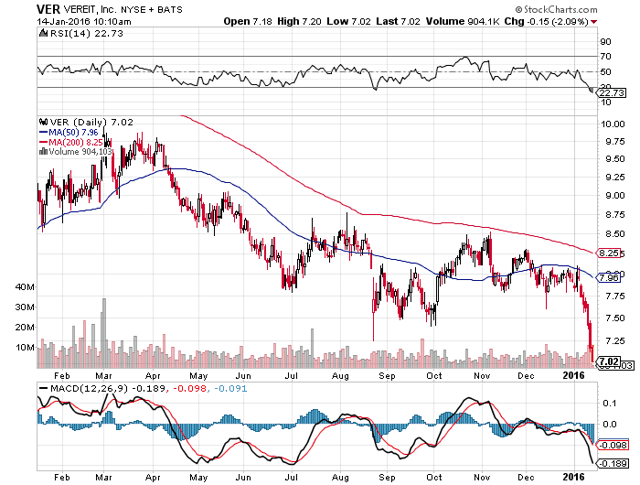 Click to enlarge
Source: StockCharts.com
What have you done for me lately?
The stock hasn't done much for investors, really, even though the commercial REIT reinstated its dividend in the second half of 2015 after suspending it in December 2014. VEREIT has since reorganized, hired a new management team, rebranded and entered into agreements with Golden Gate Capital to re-sell its Red Lobster portfolio.
According to VEREIT's latest press release from December, the company said that is was selling $400 million worth of its previously purchased Red Lobster restaurants "at accretive valuations". The newly announced asset sales come only a month and a half after VEREIT announced the sale of more than $600 million worth of restaurant properties to Golden Gate Capital in order to shrink its portfolio size, reduce balance sheet risk and get its debt levels under control.
VEREIT guided for significant leverage reductions until the end of the year, and targets a net debt/normalized EBITDA ratio of 6-7x. That's still high, but would be way less than where the ratio stood two years ago.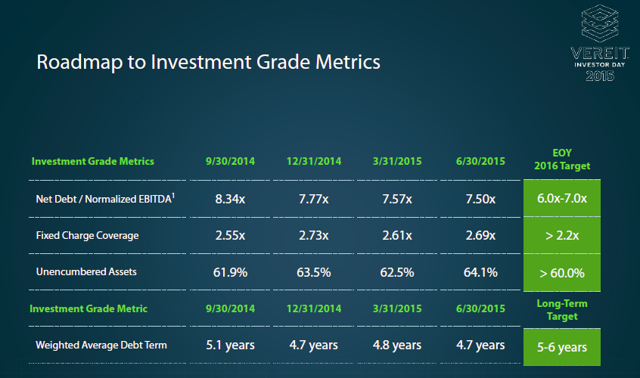 Click to enlarge
Source: VEREIT Investor Presentation
VEREIT has implicitly guided for additional asset sales back in November so the December announcement did not come as a surprise for investors. Glenn Rufrano has made it a mission to divest restaurant properties, and 2016 will see further asset sales. Commenting on the latest transaction, Rufrano stated:
Following our previously announced transaction with Golden Gate Capital, we welcomed the opportunity to expand our partnership. With today's announcement, VEREIT will have sold nearly $415 million of Red Lobster properties and plans to sell approximately $600 million of additional assets through our strategic partnership, providing a favorable form of liquidity and significantly reducing our overall exposure to restaurant real estate.
VEREIT acquired the Red Lobster portfolio in 2014 when the REIT was still under the stewardship of Nicholas Schorsch. VEREIT's shifting focus toward asset dispositions has determined the narrative for the last six months. VEREIT plans to divest a total of $1.8-$2.2 billion worth of properties until the end of the year.
The divestment of VEREIT's Red Lobster properties less than two years after the purchase underscores that the current Chief Executive Officer is pushing the rationalization of VEREIT's property portfolio hard. But that comes at a price for the REIT because investors, for the most part, are still staying away from an investment in VEREIT, and rather take a wait-and-see approach. Whether it's the REIT's immediate past or the latest batch of restaurant sales, so far investors haven't taken the bait.
But that could turn out to be a mistake, because VEREIT has become too cheap. From a valuation and yield point of view, VEREIT does not look too bad as an investment, though it needs to be said that the REIT is only an appropriate dividend vehicle for investors with a high risk tolerance.
VER sells for 0.73x book value and a 7.84% dividend yield. One could argue that the uncertainty and FFO contraction, which is the flip side of the latest asset sales, are already more than priced into VEREIT's common stock at this point.
Your Takeaway
VEREIT has not yet recovered from its troubled past, although the current Chief Executive Officer is trying hard to push the rationalization, read: shrinking, of its property portfolio. So far, Rufrano has had success, selling undesired restaurant properties back to Golden Gate Capital and planning on selling more assets in 2016. The stock, however, still languishes, indicating that investors are still uncomfortable with the REIT. From a valuation and yield perspective, though, the REIT might be worth a shot. Especially now that the stock has become oversold again.
Disclosure: I/we have no positions in any stocks mentioned, and no plans to initiate any positions within the next 72 hours.
I wrote this article myself, and it expresses my own opinions. I am not receiving compensation for it (other than from Seeking Alpha). I have no business relationship with any company whose stock is mentioned in this article.