For the last two years, we've taken the time to pause and reflect on changing themes in business and current events. In addition to looking at what got the most "buzz," we want to mull over the stories that would give you the most edge moving into 2016.
In this illustrated review of the year, the "Hot" (or profitable) items will appear on the left, while the "Not" (or disappointing) corollary appears on the right. We hope you have as much fun reading as we did putting the list together.

Click to enlarge
For the second year in a row, oil prices have declined as OPEC wages war against North American producers. Cocoa beans, on the other hand, enjoyed a record 2015 - though that may not last much longer.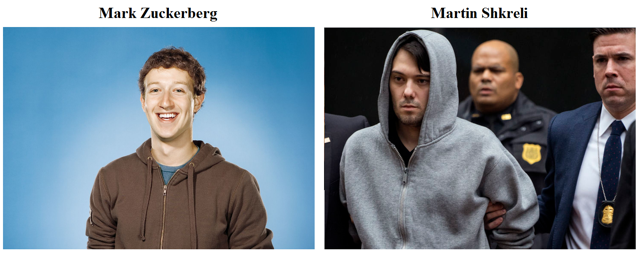 Click to enlarge
Vast contrast in CEO behavior leads to adoration for one, and universal disgust for the other. Of course, we applaud Mark Zuckerberg on the creation of his $2.5 billion charitable foundation.

Click to enlarge
Millennials are setting a new trend, demanding certain selective content - but not paying for bulky cable packages. Providers will either adapt (in the case of HBO Go), or suffer the losses.

Click to enlarge
In a year that baffled experts and casual observers alike, the real estate magnate has dominated Republican Primary polls since he first entered the race. On the other hand, the well-financed but low-polling Jeb struggles to distinguish himself in a crowded field.

Click to enlarge
We were surprised to learn that the world's largest taxi company doesn't own any vehicles. Gene Friedman, the Taxi King of NYC, claims Uber (Private:UBER) is "the nastiest, most morally corrupt company ever." This article from Bloomberg nicely summarizes the growing rifts in this highly competitive industry.

Click to enlarge
Joseph Edelman's Perceptive Life Sciences Offshore Fund was one of the five top performing hedge funds of 2015. Since 1999, it has posted consistently impressive annualized gains of 19.37%. Bill Ackman's Pershing Square Holdings, on the other hand, took a real beating last year.

Click to enlarge
2015 was a watershed year in the automobile industry. While VW was mired by news that its vehicles had skirted emissions tests, Tesla (NASDAQ:TSLA) continued to position itself as the clear choice for the future.

Click to enlarge
We don't advocate chasing the hottest acronym, of course, but the contrast between FANG and BRIC has been stark. Perhaps that's a sign that individual investors should closely monitor fundamentals, rather than the latest trend.
Have some ideas of your own? Great! We welcome all nominations and suggestions in the comments. Happy New Year to our readers, whom we hope to see on next year's "Hot List!"
Disclosure: I/we have no positions in any stocks mentioned, and no plans to initiate any positions within the next 72 hours.
I wrote this article myself, and it expresses my own opinions. I am not receiving compensation for it. I have no business relationship with any company whose stock is mentioned in this article.