The US dollar has strengthened significantly against the majority of the world's major currencies in the last two years. This, along with cheap oil prices, could be a catalyst for more traveling from US consumers. One company we believe could benefit from this is Expedia (NASDAQ:EXPE).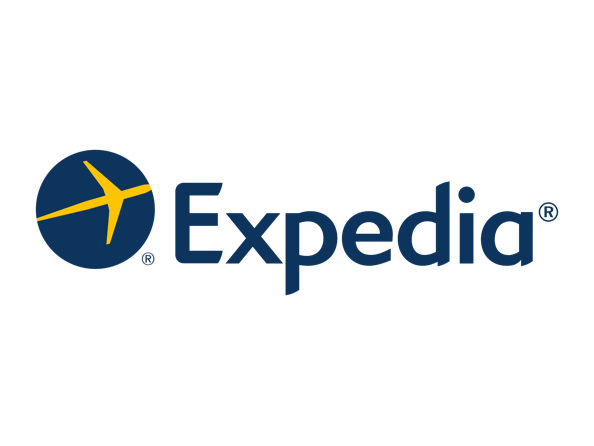 While it is true to say that a strong USD is not great for tourism inside the United States and the businesses that rely on it, it does make traveling overseas that much more appealing for US consumers, especially when combined with the low oil prices. As Expedia is an online travel company that provides consumers with everything from flights to complete holiday packages and rental cars to cruises, it could be about to benefit greatly. It operates numerous well-known brands worldwide covering mainstream and niche areas of the travel industry. Shown below is the company's portfolio of brands.

Click to enlarge
Source: Company Presentation
Should Expedia be worried about slowing tourism to the United States? We don't think so. International users will vacation whether the USD is strong or not, the only variable is the destination. As Expedia provides access to around 271,000 hotels in over 200 countries, we believe it has this eventuality covered.
The growth of the business overseas in the last ten years has been fantastic. The diversity of the company's customer base (shown below) has improved significantly, but also reveals just how much further the company has left to grow.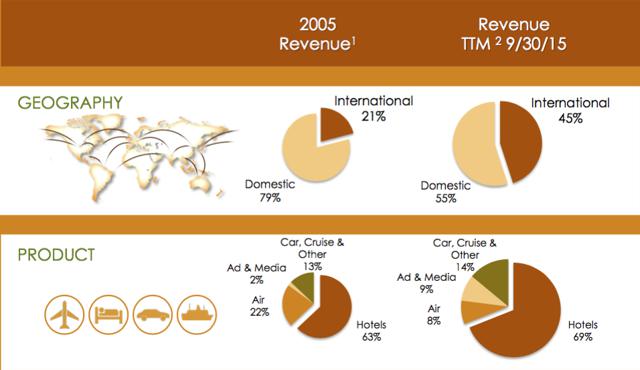 Click to enlarge
Source: Company Presentation
The rising Chinese middle class is going to be a big growth catalyst for Expedia if they can capture a meaningful slice of it. Chinese disposable income is forecast to grow at a rapid rate, and the $165 billion that Chinese tourists spent in 2014 will at least double by 2030.
One other item that we really find encouraging is the fact that Expedia covers all bases in the travel industry now, and although we still have a slight preference for Airbnb (Private:AIRB) as a platform, the acquisition of HomeAway (NASDAQ:AWAY) was a great move by the company.
When we travel, depending on the number of people traveling, we usually check both a hotel comparison site and Airbnb. By acquiring HomeAway it now means the company can compete for the business they may have been losing to Airbnb. The additional lodging alternatives is incredibly significant and at the time of the acquisition HomeAway had approximately 1.2 million properties listed across 190 countries. Successful integration of HomeAway within Expedia could eliminate the need for people like us to use Airbnb.
The company is well-positioned for the rise of mobile bookings. The company estimates that one in four of its hotel room nights are booked on a mobile device. We have used the app for booking ourselves and find it to be very efficient.
In terms of valuation Expedia looks to be good value for money right now.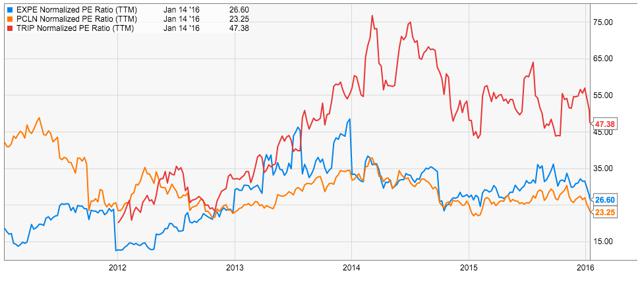 Click to enlarge
Source: Ycharts
The stock is currently trading at a (normalized) PE ratio of 26.6 times trailing earnings, compared with Priceline (NASDAQ:PCLN) and TripAdvisor (NASDAQ:TRIP) which trade at 23.25 and 47.38 times trailing earnings, respectively. We've chosen to normalize the price to earnings ratios here because there was a one-time item in Q2's results which throws off the balance. Without normalizing Expedia's PE ratio would be showing as 16.98.
Whilst Priceline's PE ratio is lower, we do see Priceline as being undervalued right now. But that's for another day.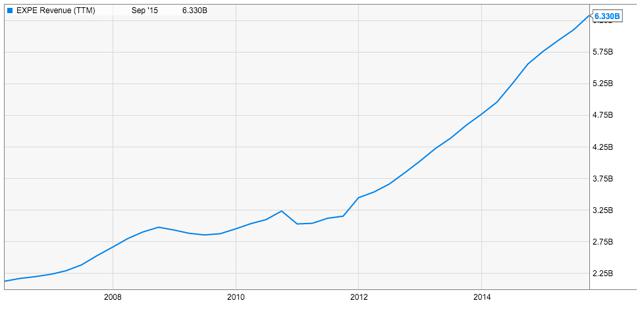 Click to enlarge
Source: Ycharts
In the last ten years the company's revenue has rocketed, as demonstrated above. We believe the stronger USD, falling oil prices, and integration of HomeAway will help sustain this growth in the short-term. In the long-term the growing middle classes in China, Indonesia, and India will do the same. For this reason, we believe the company can continue to grow its revenue at an average of 20% per annum for the next 3 years, after which growth will continue to be strong, but at slightly lower levels.
When a stock is good value for money, which we believe Expedia's is right now, and is going to grow revenue at that high rate, it makes for an extremely compelling investment in our opinion. We expect the share price to grow at a similar rate to its revenue growth.
Disclosure: I am/we are long EXPE.
I wrote this article myself, and it expresses my own opinions. I am not receiving compensation for it (other than from Seeking Alpha). I have no business relationship with any company whose stock is mentioned in this article.