Watch all hell break loose as the China economy tanks and the Chinese currency devalues by a material amount. Unreliable statistics from the officials in China have lulled the world into a sense of calm despite repeated and significant warning signs that China was coming unglued.
The Shanghai stock market has had wild swings in recent days with circuit breakers (now removed) limiting further declines. China's foreign exchange reserves, once thought to be a fortress of stability, are in free fall with a $108 billion fall just this month.
In the past few months. China has expended well over $700 billion to protect its currency with little effect as its exchange rate continues to plummet.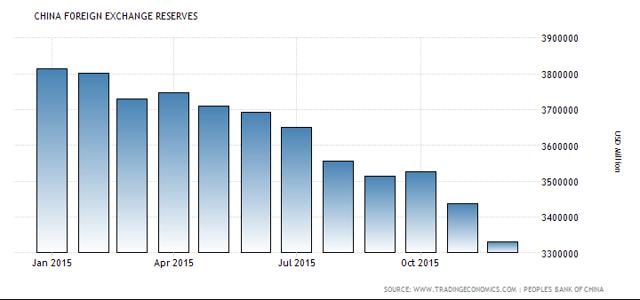 Click to enlarge
Source: Trading Economics
Selling U.S. currency to prop up the yuan is a fool's game which will merely deplete reserves but do little to stem the eventual collapse of the currency, in my opinion.
China's exchange rate problems began to accelerate last August and have recently gotten worse. The slope of the curve is sharply upwards and the $108 billion China expended to lean against that wind had no visible impact on the outcome.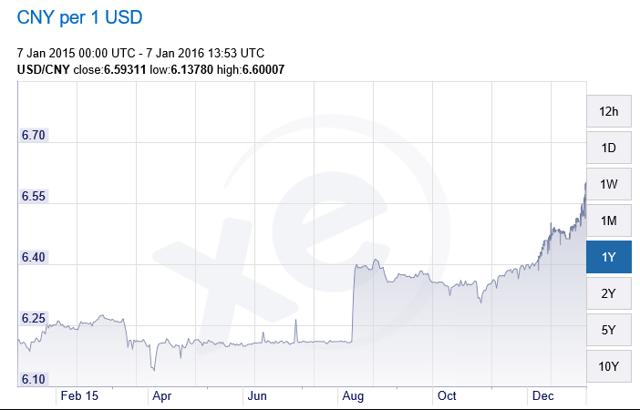 Click to enlarge
Source: xe.com
For a trading economy like China, a lower exchange rate has serious repercussions the most dangerous of which is inflation. Inflation in China has been under control for the past two decades but raged over 20% during the early 1990's. I believe we are headed towards a similar environment.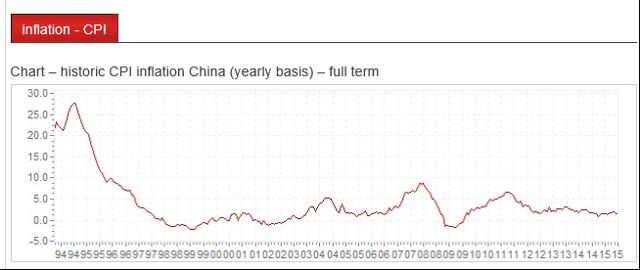 Click to enlarge
Source: Inflation.eu
If inflation does accelerate in China, that country will join Brazil and Russia who already suffer from double digit inflation. Contagion from China is a greater likelihood given the size and importance of its economy. Based on purchasing power parity China is already the largest world economy, and ranks second only to the United States on a current dollar basis.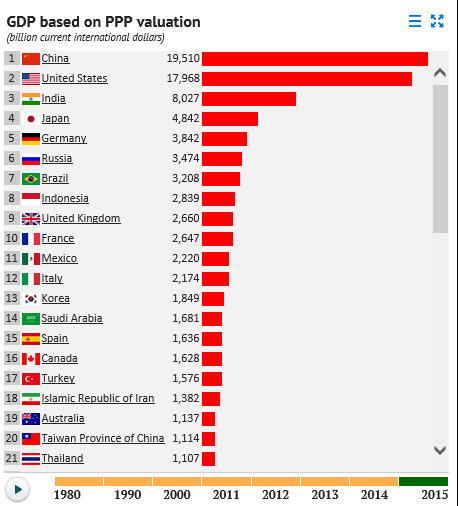 Source: IMF
Regardless of whether the currency issues China faces resolve themselves in inflation or otherwise, there is little doubt they will impact Chinese growth with damaging effects on already beat up commodity prices and create the potential for a new financial crisis.
China has racked up $28 trillion in debt or about half of the world's debt. Some analysts fear that Chinese debt issues will trigger a Lehman-like moment in 2016.
This may be a time for investors to move cash to the sidelines and watch. Downside risks are significant and upside may be limited by slower economic growth, higher rates in the U.S. and potentially lower earnings for companies with sizable exposure to customers in China.
There is a good case that the best investment for 2016 may be cash. For those who are more aggressive, a modest short book will lean against any broad market declines such as those I fear are on the way. The best shorts are profitable, growing companies with high liquidity which have enjoyed major gains in the past two years since this is where investors will turn first to raise cash and where there is plenty of liquidity to cover the short. I like Apple (NASDAQ:AAPL), Netflix (NASDAQ:NFLX) and Ali Baba (NYSE:BABA) as shorts in this market.
Disclosure: I/we have no positions in any stocks mentioned, and no plans to initiate any positions within the next 72 hours.
I wrote this article myself, and it expresses my own opinions. I am not receiving compensation for it (other than from Seeking Alpha). I have no business relationship with any company whose stock is mentioned in this article.