Cartesian, Inc. (NASDAQ:CRTN) is a thinly traded, overlooked microcap company. In the most recent years, the company has done a few accretive acquisitions and has real potential to experience top line growth due to secular demand in the big data industry and realized synergies. There is also probable potential for margin expansion, which will help fuel upside. Downside is limited due to strong balance sheet and the initiation of a repurchase program.
Summary
CRTN is a provider of management consulting services in the technology industry/sector. In fact, the company almost exclusively focuses upon the communications, technology and digital media sector. Currently, the company has >400 consultants and has operations/offices in seven major cities around the world; Boston, Kansas City, New York, Paris, Philadelphia, Washington and London. Finally, the majority of customers are some of the biggest Fortune 500 companies, in which CRTN helps convert their business model in a more efficient manner.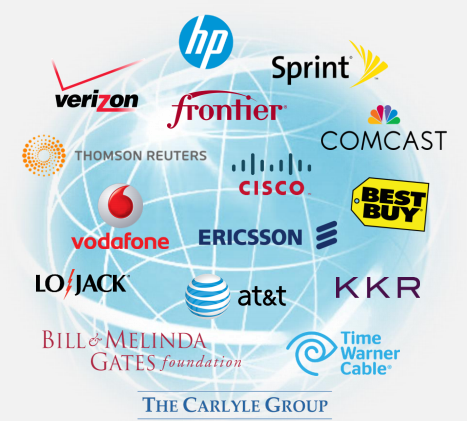 Source: November Investor Presentation
Participating in a Significant Growth Market will lead to Topline Expansion
One of the biggest factors that will help to influence CRTN's topline growth is the expansion of big data on a corporate standpoint. Many corporations would like to use big data as leverage in order to positively improve customer relationships and grow their customer base. CRTN steps in as consultants or experts in order to help these corporations realize their goal. Because many of these corporations lack the expertise to develop or advance a big data strategy, they hire consultants such as CRTN. It has been projected that the annual corporate spending via big data for companies in the Financial Service, Software & Internet and Communications and Media industries represents $6.4bn, $2.8bn and $1.2bn, respectively. Consequently, big data revenue forecast implies for exponential growth…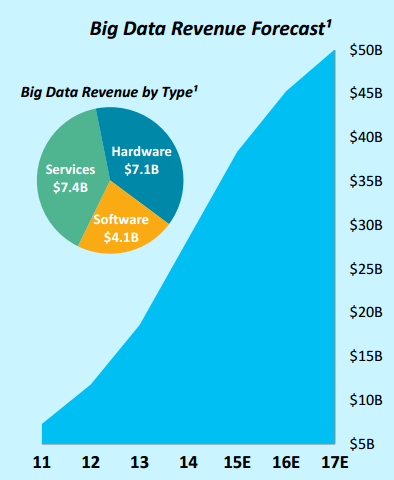 Source: November Investor Presentation
In the big data industry, for corporations to meet big data expectations, these corporations have begun to focus on efficiency, specifically network efficiency. In short, the more efficient a network is, the more smooth, per se, operations will be, in the Internet of Things (IOT), enterprise mobility, cloud, payments, and content markets. There is also a big demand for data in emerging markets. CRTN is making or has made, investments into emerging markets (on the mobile side) via Latin America, MEA and the Asian Pacific market.
CRTN will help corporations improve on three key aspects involving big data. First, they will use their expertise as third-party consultants to help improve their customers' business and network optimization. Secondly, CRTN will leverage their knowledge to provide, more so, a blueprint that will deliver the most efficient product/service to the end-user (Go-To-Market for new products). Finally, CRTN will help their customers cut back on network cost management. With their track record (>25 years of experience) and stickiness of the business model (talked about more later), CRTN will be able to cross-sell and upsell their play of products, effectively leveraging their unique business model.
Accretive Acquisitions
After reading CRTN's recent quarterly and annual reports, I came to the conclusion that the company is very successful at making accretive acquisitions. For an example, take the recent Farncombe acquisition. Farncombe was acquired on July 22nd, 2015 for $6.8mm. Interestingly, Farncombe has an annual revenue run-rate of $12-15mm. Moreover, in the first quarter that CRNT operated with Farncombe as a business, Farncombe contributed $2.9mm in revenues, which in turn, improved revenues by 9.7% YOY. Farncombe is also profitable, on an operating and net income basis, which will help the company improve overall margins.
Specifically, Farncombe is a provider of consulting and advisory services to the digital TV sector. They have over 100 global clients and offices located in London, Basingstoke, and Paris. The acquisition will provide a significant amount of cross-selling and upselling opportunities to existing and new customers. Furthermore, the Farncombe acquisition has already experienced very positive synergies, even though it has only been around six months since acquiring.
CRTN has experienced higher levels of customer activity (as proven by the increase in revenues in the last quarter).
A good majority of their customers have pursued cross-selling and upselling activities. The combination of Farncombe and CRTN allows both business models to work off of each other in a positive fashion. Examples of cross-selling includes but is not limited to strategic and analytic opportunities via EMEA.
As stated before, CRTN was a positive contributor via profitability in Q3. Due to its history of profitability, the Farncombe acquisition will continue to help bring CRTN to an overall positive state of profitability.
Management has stated that their North American EMEA sales team has produced a decent increase in customer interest via Farncombe. Specific interests from Farncombe are coming from IPTV strategy, Wi-Fi-testing and content sourcing. This is another suggestion that Farncombe will be a decent revenue driver going forward.
Not all is good and glory in regards to acquisitions or partnerships. On February 25th, 2014, CRTN signed an investment agreement with Elutions. Elutions is a provider of operational business intelligence solutions. The agreement is a five year term, with an additional two year contract if things go smooth. In the agreement, CRTN will invest in commercial energy markets. More specifically, CRTN will help North American and European Clients drive for energy and operations saving via Elution's Smart Buildings and Smart Assets. Overall, the goal is to help clients/customers reduce their total energy cost structure. Terms of the agreement are…
"Under the investment agreement, Cartesian will: (1) issue and sell 609,756 shares of common stock to Elutions at a price of$3.28 per share, for an aggregate purchase price of $2 million, (2) have its U.K. subsidiary, Cartesian Limited, issue a non-convertible promissory note payable to a European subsidiary of Elutions' in the amount of $3.3 million (in equivalent Great Britain Pounds Sterling) in conjunction with Cartesian (U.S.) issuing to Elutions a common stock purchase warrant related to the note for the purchase of 996,544 shares of Common Stock at $3.28 per share, and (3) issue to Elutions a common stock purchase warrant pursuant to which Elutions can earn the right to purchase up to 3.4 million shares of Cartesian stock at prices ranging from $3.85 per share to $4.85 per share based on Cartesian's financial results related to certain client contracts obtained jointly by Cartesian and Elutions."
Since the partnership, CRTN has continued to work with Elutions in order to build a pipeline of opportunities and more importantly, working on bringing current sales to a close. They have not added any new potential customers since 2Q15, yet they did state that they are seeing an increasing in pipeline activity.
Since the partnership, Elutions has not provided CRTN a decent run-rate of revenues that were expected. Recently, CRTN took a $300,000 hit to their $3mm of Elutions inventory. What is more concerning than a non-cash inventory write-down, is that CTRN incurs around $400,000/quarter due to this partnership that has not produced shareholder value thus far. Many investors are not thrilled about the Elutions partnership either as show in the conference calls…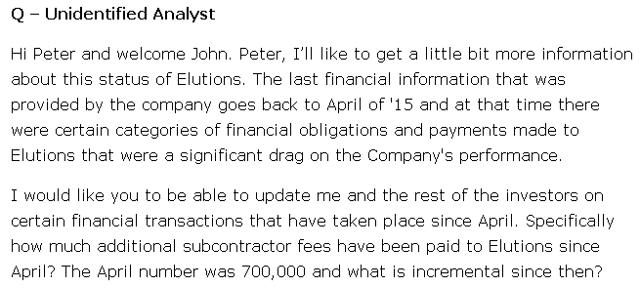 Click to enlarge
Source: Q3 2015 Conference Call
This caller is Richard Nespola. Nespola was TMNG's founder (the previous name of CRTN) and holds 6.3% of the shares outstanding. Later in the call Nespola states that he would either like to see the partnership restructured or terminated, for a variety of reasons.

Click to enlarge
Source: Q2 2015 Conference Call
If you go through the conference calls you can see that the majority of callers have real concern considering the partnership with Elutions (it may also be why the share price is falling). It is frustrating seeing a partnership not living up to the hype that was expected. However, there are a few notable items that should be discussed in regards to this partnership.
First, Elutions owns 16.8% of CRTN's shares outstanding. Due to the high investment in CRTN, the stakes to make this partnership work are high. Secondly, Elutions originally agreed to buy a 7% stake in CRTN at $3.28/share. Before the deal the company was trading around $2.88/share. This is a suggestion that Elution believed CRTN was an undervalued opportunity. Currently the company sells for $2.14/share. Given the improvements since the partnership, this is another suggestion that the company is undervalued again (talked more in detail later).
Finally, investors need to realize that the sales time for Smart Buildings and Smart Assets is a complex and drawn out process. However, on a customer standpoint, an investment in Smart Buildings or Smart Assets is a no brainer…

Source: Elutions Smart Buildings

Source: Elutions Smart Assets
The company has stated that they are in the process of closing a deal and that they are experiencing an influx of customers in the pipeline via Elutions. Finally one of management's key goals of 2016 is to get this partnership firing on all cylinders. We understand the frustration investors must feel about this partnership, however, partnerships take time. Based on the ROI customers can get from Elutions products, I feel like there is strong probability of the partnership playing out for the better.
Valuation
A thesis for an investment in CRTN is based off of topline growth coupled with an improvement in the bottom line. Downside is protected due to strong balance sheet, high insider ownership, a recent repurchase program and rather large net operating loss carryforwards.
| | | | | | |
| --- | --- | --- | --- | --- | --- |
| | TTM | 2014 | 2013 | 2012 | 2011 |
| Revenues | 75 | 72 | 55 | 53 | 63 |
In millions
From 2010-2012, revenues took a nosedive (from $67mm to $53mm in three short years). Faltering revenues were mainly from an increase in competition from the result of industry wide consolidation. However, from 2012-TTM revenues have increased 9.07% annually. The flexibility of the business model and good management decisions/investments led to a topline turnaround. Going forward, there are a few key areas that will help continue to grow the topline at a decent rate.
First, the Farncombe acquisition will most likely experience additional synergies going forward. Remember Farncombe was only recently acquired around six months ago. Both business models (CRTN's and Farncombe's) complement each other in regards to cross-selling and upselling potential. In fact, management stated in their recent conference call that cross-selling and upselling have already been transpiring. Finally, revenues were improved on a consolidated basis by 9.7% in the mrq, mainly due to the Farncombe acquisition. Further synergies will be realized in 2016 from Farncombe, which will help drive topline growth.
Secondly, CRTN recently expanded upon an agreement with an EMEA Tier One service provider (in Q2). In the past, CRTN has helped deliver a variety of solutions to this customer. The most recent accomplishment with this customer is a collaboration via tech based initiatives, solely focused on improvements in the service delivery to this customer's customers. What is interesting and provides base for topline expansion is that this new agreement is a $34mm dollar deal ($28mm of this is expected to be realized in 2016). Not only does this show that topline growth is probable going forward, but it shows; stickiness of business model and how the company upsells to higher margin products from existing relationships.
Thirdly, the company is helping another Tier One customer in order to support the transition of several million acquired subscribers into their newly developed network. Thus far, CRTN has been helping this customer provide services such as product management, management consulting, technology solutions and custom software development. This customer has been very beneficial to CRTN's topline and has actually hired CRTN so they could pick up additional work where other providers have failed to do so. Revenues will be driven by this customer especially in their core business and will experience cross-selling from the Farncombe business segment as well. Finally, this new contract is additional proof that an increase in client activity is transpiring in North America.
If you look at CRTN's margin history in the past five years or so, it does not look pretty…
| | | | | | | |
| --- | --- | --- | --- | --- | --- | --- |
| | TTM | 2014 | 2013 | 2012 | 2011 | 2010 |
| Gross Margins | 35.6 | 37.1 | 37.6 | 37.8 | 37.0 | 37.8 |
| Operating Margins | -5.3 | -1.2 | -3.5 | -2.1 | -6.7 | -4.6 |
| Net Income Margins | -7.05 | -1.97 | -3.71 | -2.24 | -7.00 | -3.26 |
As with revenues, margins have been experience lackluster due to industry wide consolidation, which in turn has led to pricing pressures. Albeit an overall margin squeeze, when looking forward, CRTN's margins have plenty of leg room.
First, the company obtained a new CEO, Peter H. Woodward, on June 3rd, 2015. One of Woodward's main initiatives going forward is to speed up the transition of the company's service centric business model (a low margin model) to a technology enabled managed solutions business model (a much higher margin business model). This shift in business models started to take place ~18 months ago. With Woodward on deck as the new man running the show, the shift from lower margin services to higher should accelerate (as is one of his plans). This interview of Woodward is very valuable and should be watched by investors.
In the TTM, there have been a decent amount of one-time charges that have put pressure on margins. One of the biggest margin squeezers is from an increase in SG&A. First, the Farncombe acquisition has added an additional $0.9mm in SG&A. A second hit to the SG&A was a $1.4mm lease termination fee, of the McLean, Virginia facility, severance costs (from the old CEO), and other relatable acquisition expenses. Finally, there was a $0.1mm hit to SG&A from intangible asset amortization related to the Farncombe acquisition. Disregarding these one-time expenses, SG&A would have only been 38.5% of revenues compared to 46.1% YOY.
Going forward, these one-time charges will be an issue of the past, which in turn will help enhance the bottom line. The reason why SG&A costs were up on an organic standpoint is from the need to support higher revenue growth (sales expenses were up $1.0mm in the first nine months). Going forward, I believe that management will continue to maintain an appropriate cost structure, especially due to the fact that their focal point is margin expansion. Investors should also remember that CRTN would have had profitable operating income if it was not for the one-time expenses experienced in the mrq.
Another way that margins will continue to improve is due to continual upselling and cross-selling with existing customers. One of CRTN's biggest growth drivers going forward is that they are underpenetrated by their largest customers. Cross-selling and upselling with existing customers will provide the most instantaneous and cost effective measure for continual top and bottom line growth.
One new customer is a good example of how CRTN can cross-sell its products. This customer (not named), has given CRTN a variety of different offerings (north of ten). Thus, CRTN's wide array of products and most recent acquisition of Farncombe has started to pay off (as shown by this new cross-sold customer).
Investors should think of Q3 as a sort of inflection point to where the company is headed. First, the Farncombe acquisition will drive topline growth and provide more support for the bottom line (due to its positive operating income). Secondly, the company is moving fast into a higher margin business model and out of the lower margin one. Thirdly, the sticky nature of the business model allows the company to upsell to higher margin areas with already existing customers (this is also beneficial to the topline). Finally the new customers that the company signed agreements with will act as tailwinds due to the potential for one of these customers to be an eight digit customer.
Downside
As stated previously, a downside in CRTN is low. One may try to argue that downside is high due to the unprofitability of the firm as a whole. I disagree. First, the company has a very flexible business model and structure. What I mean by flexible is that fixed costs are low. In my opinion, a company with a high fixed cost structure puts significant overhead on the business and adds risk to the investment profile.
The biggest expense to CRTN is from variable costs. If CRTN had low gross margins, variable costs would be an issue. However, due to decent gross margins, and the company's transition into a higher margin business, variable costs can be somewhat mitigated. As revenues grow and margins improve, CRTN should start to see added value to their bottom line.
The downside is also protected from a high cash position coupled with low debt. Currently, cash represents 48% of the market cap. With debt of only $3.27mm, cash of $9.14mm, and overall low fixed costs, CRTN has plenty of liquidity going forward.
What is interesting is that CRTN has had a high cash to market cap position for several years now. Management has finally started to put the cash to work via acquisitions (Farncombe) and through a share repurchase program. Granted the company only repurchased 12,089 shares at $2.44/share out of its $2mm plan. However liquidity issues may be the reason for the low amount of shares repurchased. Albeit, the current shares repurchased suggests that management believes the company is undervalued at these levels.
Finally the company has ~$27mm in net operating loss carryforwards, in which the majority of these do not expire in the near-term (2025 is the next expiration). As the company drives for higher margins, these NOLs will help offset taxable income in the future. Furthermore, due to the uptick in consolidation in the industry, CRTN's NOLs make for an attractive acquisition target. Given the fact that the company is undervalued on an EV basis, has a strong balance sheet, zero takeover defenses and has a significant amount of NOLs, CRTN makes for a compelling takeover target.
Risks
Customer concentration may be one of the biggest near-term risks. CRTN's ten more significant customers accounted for 87.9% and 83.1% of consolidated revenues in 2015 and 2014, respectively. A loss of any one customer has potential to do significant topline damage.
Continual consolidation in the industry has a tendency to damper revenues and earnings. Continual consolidation can result in price reductions, a loss of client projects, top and bottom line reductions and a loss in overall market share. However, due to the industry wide consolidation, CRTN makes for a great acquisition target, given the company's balance sheet structure.
Overall macroeconomic conditions can negatively affect the company's performance. Macroeconomic conditions such as; changes in the credit market, rapid technology changes, and overall business confidence can dampen the top and bottom line. A strong balance sheet and low fixed costs help to mitigate macro risks.
Currently the biggest fixed costs is the $400,000/quarter that CRTN pays via the partnership with Elutions. If the partnership does not start driving revenues, this could be lost or wasted investor money. Currently it seems as if this partnership is the overhang on the stock price.
Conclusion
A target price of $3.00-3.28/share (43-56% appreciation over current price) is arrived at via; continual growth in the topline (added synergies from Farncombe and upselling/cross-selling), improving margins due to shift in business model and potential for more cash to be put to work (acquisitions or further repurchases). Due to the low downside (as explained above), we believe that CRTN represents an asymmetrical risk/return profile for attentive microcap investors. Investors should be patient if acquiring shares in CRTN due to the low volume traded per day. The majority of investors do not even know that CRTN exists. CRTN is a great example of how microcap investors can generate alpha. To close I would like to leave off with this quote from Rene Descartes...
"When it is not in our power to determine what is true, we ought to follow what is most probable"
Disclosure: I/we have no positions in any stocks mentioned, and no plans to initiate any positions within the next 72 hours.
I wrote this article myself, and it expresses my own opinions. I am not receiving compensation for it (other than from Seeking Alpha). I have no business relationship with any company whose stock is mentioned in this article.
Editor's Note: This article covers one or more stocks trading at less than $1 per share and/or with less than a $100 million market cap. Please be aware of the risks associated with these stocks.