Looking for a safe place to hide from the market pullback and collect some dividends in the meantime? We went looking for Mr. Market's favorite dividend paying stocks over the past month and in 2016, and, no surprise, utilities have been getting more support than the lion's share of other dividend stocks.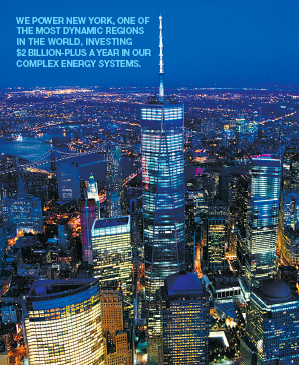 (Source: Con Ed website)
NY area-based Consolidated Edison (NYSE:ED) is leading all electric utilities stocks year-to-date - it's up 3.75% vs. a -5.87% loss for the S&P, and is among the top five performing electric utilities over the past month. It also held its value better than the S&P over the past year and is up 8.62% over the past trading quarter. These figures don't even include ED's dividends. If you're looking for relative safety in volatile times, ED sports a very low beta of just .13.

Dividends: The company has raised its quarterly dividend in the first quarter over the past several years, so we should see an improvement over the $.65 payout. In 2015 they announced an increase on January 15th, so that news should be imminent.

Our High Dividend Stocks By Sector Tables track ED's price and current dividend yield (in the utilities section).
ED is the only utility stock in the Dividend Aristocrats, and is currently the seventh-highest yielding stock in that elite group.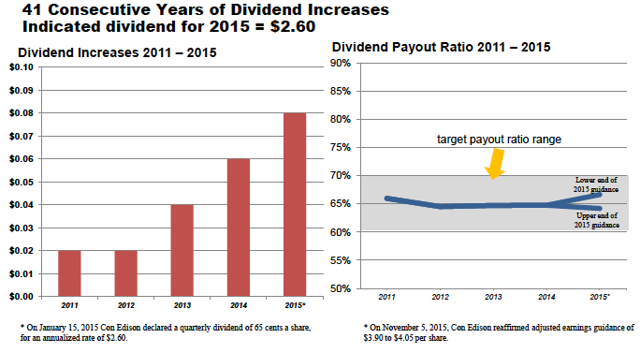 Click to enlarge
(Source: Con Ed website)
Analysts' Targets: So, here's the conundrum - with all this market support that ED has been getting, it has moved above analysts' high price target. What do you do now? Wait for the market to revert to less volatile ways, in which case utilities may fall back out of favor, or dive in?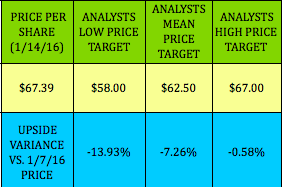 Options: If you're hesitant to buy it at this price, maybe you would want to "get paid to wait." This $65.00 May 2016 put pays $2.30 and gives you a $62.70 breakeven, slightly above analysts' mean price target of $62.50. You won't collect any dividends or participate in any price gains though.
Our free Cash Secured Puts Table will give you more details for this and over 30 other income-producing trades:

Click to enlarge
An alternative short-term strategy would be to buy ED and sell "out of the money" covered calls in order to earn some extra income. The May 2016 $70.00 call pays $1.45, slightly more than ED's next two dividends, if they remain at $.65, which would double your dividend payout. The $70 strike price is $2.61 above ED's $67.39 price/share, so you would have some participation in price gains, if they occur.
We just added this trade to our Covered Calls Table, where you can see more details for it and over 30 other income-producing trades.

Click to enlarge
This table shows the three main income scenarios for this trade:

Earnings: Like many utility stocks, this isn't a big growth story - ED's revenue has been slightly down over the past four quarters, and its adjusted net income and adjusted diluted EPS have been up less than 2%. ED's dividend payout ratio has jumped around quite a bit in the past four quarters, but improved dramatically in Q3 2015. They've kept a lid on dilution, with shares outstanding having grown just .07% in the past four quarters.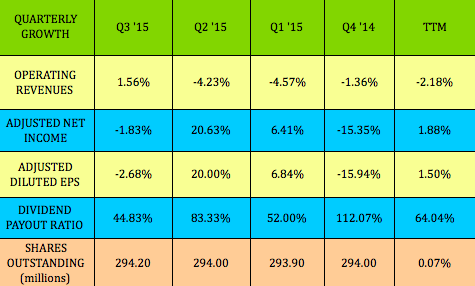 2014 vs. 2013: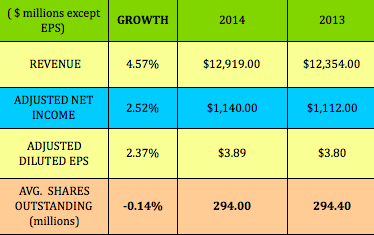 The company's rate base has shown steady growth since 2009 in all segments: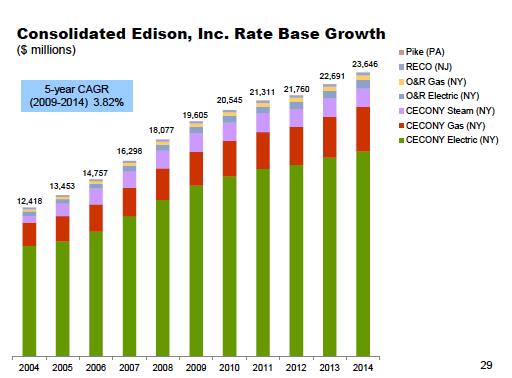 75% of ED's rate base is electric service: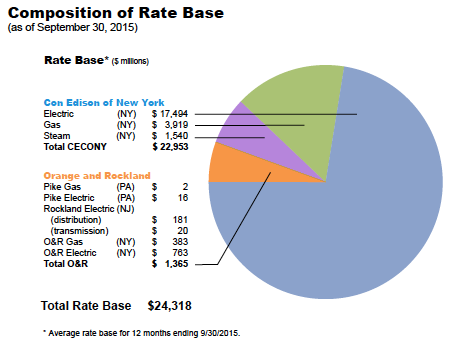 One source of future growth is oil-to-gas conversions for multi-family buildings, of which there are, of course, thousands of in the NYC area: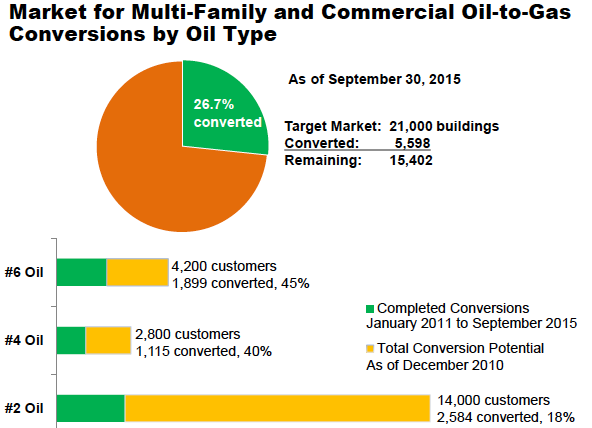 Con Ed also benefits from the NY area's strong economy, in addition to recent rapid growth in residential building: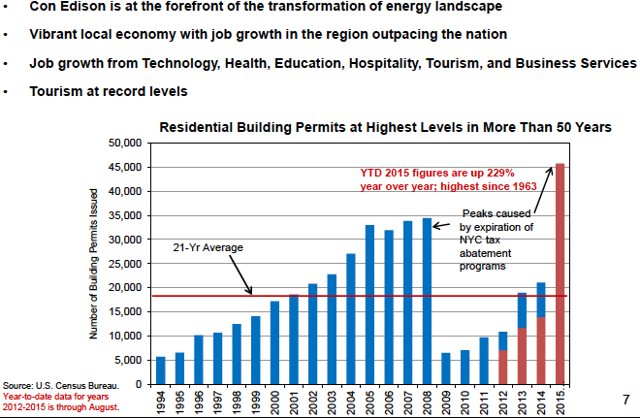 Click to enlarge
(Source: ED website)
Valuations: Surprisingly, even after its recent gains, ED still looks cheaper than the broad electric utilities industry averages on a price/sales, price/book and P/E basis. It is, however, closer to the high end of its five-year P/E range of 14.29 to 17.77.

Insider Buying: Insiders have been buying shares steadily over the past several months, all the way back to February 2015 - (we could only fit September - December here). Granted, most of these purchases are relatively small amounts, but it's still a positive sign to see management have some skin in the game: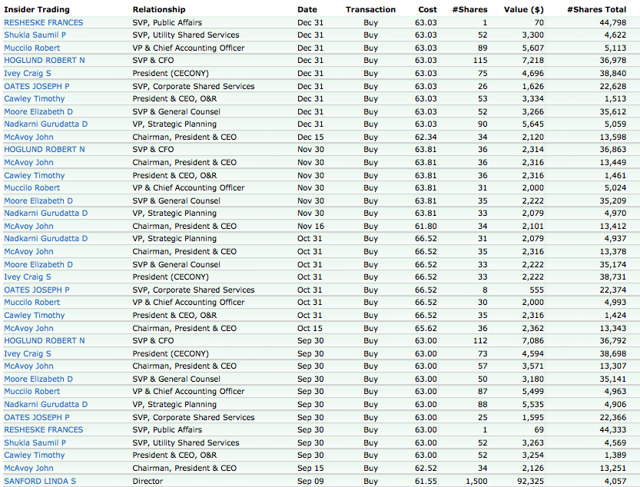 Click to enlarge
(Source: finviz.com)
Financials: ED shows a better ROI, lower ROE, slightly lower operating Margin, but a lower than average debt load.

ED's debt maturities will get heavier in 2016 before nearly disappearing in 2017, and rising considerably in 2018:

(Source: Con Ed website)
Liquidity: The company has averaged about 29% usage of its $2,250 million credit facility since mid 2011.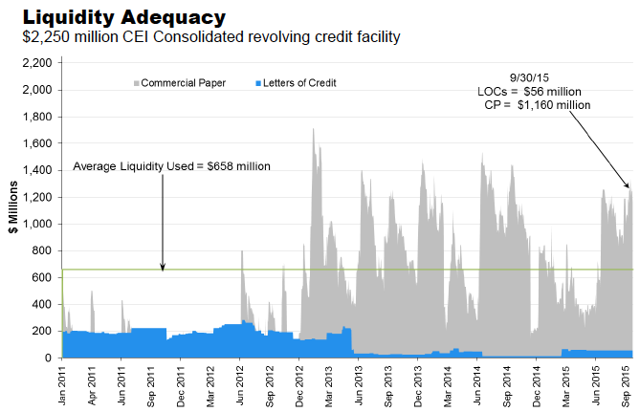 Click to enlarge
Capex: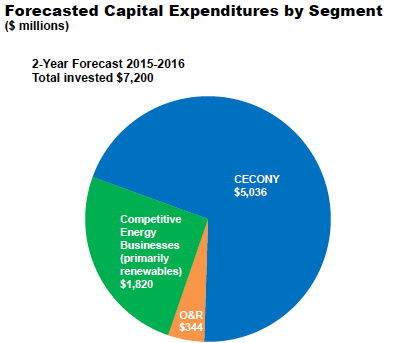 Renewables: ED has grown its solar capacity quickly since 2011, and now has the sixth-largest solar capacity in the US.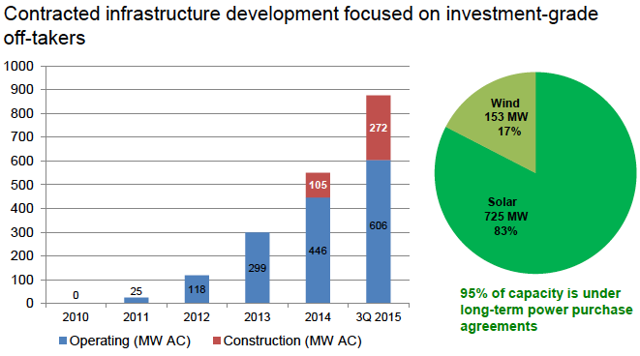 Click to enlarge
(Source: Con Ed website)
All tables furnished by DoubleDividendStocks.com, unless otherwise noted.
Disclaimer: This article was written for informational purposes only.
Disclosure: I/we have no positions in any stocks mentioned, but may initiate a long position in ED over the next 72 hours.
I wrote this article myself, and it expresses my own opinions. I am not receiving compensation for it (other than from Seeking Alpha). I have no business relationship with any company whose stock is mentioned in this article.