The recent sell off in Emcore (NASDAQ: EMKR) seems to be driven by confused shareholders. It stems from the disposal of the space solar business because that division was the most profitable portion of the business. The remaining fiber division has value and I will explain why.
Price Target $10
The Remaining Business
Emcore Corporation is a vertically integrated optical communication component and indium phosphide "INP" chip manufacturer. Their products are integral to the cable TV DOCSIS 3.1 build-out as well infrastructure spending in fiber to the premise (FTTP), datacom and telecom applications.
The recent sale of Emcore's space photovoltaic division for $150 million in cash has created a focused optical manufacturer and a robust balance sheet in the process. Emcore's strong balance sheet has allowed the board of directors to return capital to shareholders by repurchasing $45 million in common stock by use of a Dutch auction. They also stated they will likely offer a one-time cash dividend toward the beginning of 2016.
Key Growth Drivers
Key growth drivers are accelerated spending by Emcore's customers to meet the demand for increased bandwidth and surprising demand for their wafer chips. Revenue drivers result from the transition from traditional copper based internet infrastructure to a hybrid fiber network. High bandwidth applications such as 4K television adaptation, streaming television services, web browsing and applications accelerate the need for service providers to update their existing infrastructure. One gigabit per second Internet speeds will be required to operate in the growing technological space, and Emcore provides products necessary to facilitate gigabit per second Internet connections at a reduced cost in comparison to traditional fiber networks. According to Jeff Heynen of IHS, in a survey issued for cable operators which control 87% of the world's capital expenditures in cable spending, 42% of the cable operators plan to deploy a distributed access architecture or hybrid fiber cable network by 2017. This data strengthens the thesis, which Emcore is primed to capitalize on with increased spending for HFC networks. (Heynen, 2015)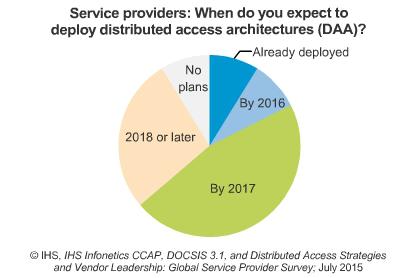 Underlying Business is Accelerating
Two of Emcore's 10% customers, Arris and Pace, announced a merger in the spring of 2015 (merger), which caused Arris and Pace to pause spending on DOCSIS 3.1 line cards and end user products toward the end of 2015. The Arris-Pace merger closed at the beginning of January 2016, so spending should resume to accelerated levels. The main catalyst accelerating Arris' spending for DOCSIS 3.1 products is a contract they secured with the Australian government, NBN Co. The government business enterprise delivers a high speed broadband access network to all Australians, which chose to build its next-generation hybrid fiber-coaxial broadband network. The Australian hybrid fiber network provides Emcore increased revenue through additional sales volume of their CATV and FTTP products. From 2014 to 2015 Emcore's Asia segment revenue grew 95% from $8.6 million to $16.8 million.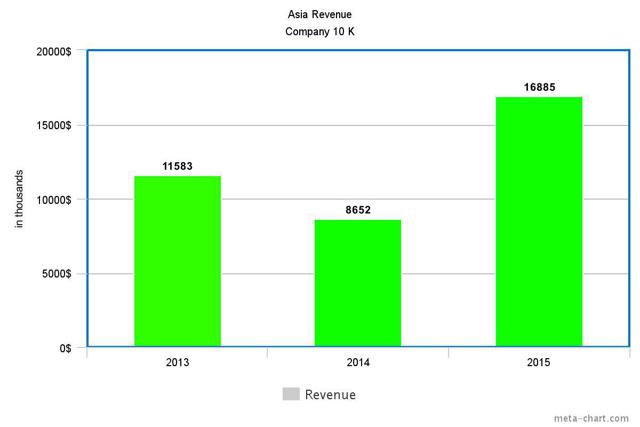 Click to enlarge
With Arris installing DOCSIS 3.1 in Australia, I expect Emcore's Asia segment sales to double to $32 million in fiscal 2016. This growth potential makes Emcore appealing to a competitor.
The main factor for stock price appreciation is the potential buyout or merger of Emcore's remaining fiber business. According to the company's fiscal 2015 10-K, it states "The Strategy Committee may from time to time consider strategic opportunities to enhance shareholder value, which may include acquisitions, investments in joint ventures, partnerships and other strategic alternatives, such as dispositions, reorganizations, recapitalizations or other similar transaction"(10-k). This statement leads me to consider Emcore remains open to strategies of being acquired and merging with another company if the opportunity presents itself.
Some things that need to occur for there to be a buy-out.
Reduce the cash position
Satisfy the liabilities
From a valuation perspective, as of fourth quarter 2015 they had $151,310,000 in cash and equivalents, less $25,465,000 in total liabilities worth $4.90 a share. I believe Emcore would have to return most of this capital to shareholders in the form of a cash dividend while maintaining ample working capital to see themselves through an acquisition. This is good for shareholders because in order to make their underlying business valuation look attractive to a competitor, shareholders would receive most of this cash, somewhere between $2 through $3 per share. Otherwise, it creates an added premium for an acquirer to pay current shareholders and reduces the likelihood of an acquisition. Assuming this cash is returned to shareholders, this leads me to value their continuing operations.
Their underlying business is worth $8 per share.
Emcore's continuing operations show strength by being EBITDA positive (once you add back share-based compensation and depreciation) and continuing down the path toward profitability.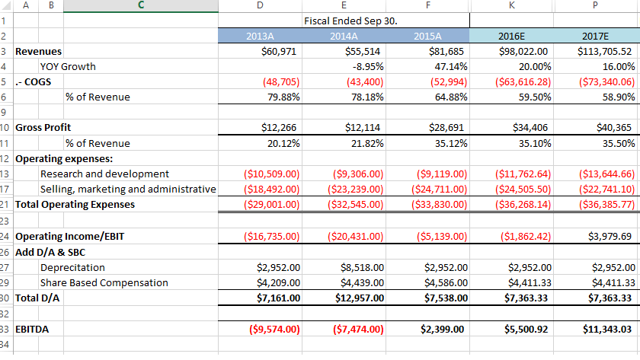 Click to enlarge
This creates a situation to seek out a comparable buyout. The most recent comparable situation is Koch Industries acquiring Oplink Communications for $445 million (link), which equates to a price to sales ratio of 1.95. If Emcore were to be acquired based on their run rate of $100 million in annual revenue for fiscal 2016, I reach a valuation of $8 per share. A 2 times price to sales ratio is possible because of Emcore's sustained revenue growth in the market segments of DOCSIS 3.1 and InP product lines. This becomes a value adding segment to an acquirer. Now that the underlying business is valued, I move on to the value of their accumulated net operating loss (NOL) tax benefits.
Their tax benefits are worth an additional $2 per share
Another more complicated component is Emcore historically has been unprofitable, which has allowed them to accumulate $434,400,000 in net operating loss benefits (NOL) which can be carried forward 20 years or backwards two years, and these NOLs apply to their operating income to reduce their own or their acquirer's tax payments. NOLs are of a particular interest because if Emcore is acquired, these NOLs may cause the acquirer to pay a premium to utilize more NOLs from the annual SEC. 382 deduction limit. As of the most recent quarter, Emcore had $247 million in federal NOLs subject to SEC. 382 limitations and $187 million in unencumbered NOLs which may be utilized immediately upon acquisition. The unencumbered NOLs can be used all at once or at the discretion of the acquirer. To be conservative, I derive $50 million in value for Emcore's NOLs, or another $2 per share in value based on the tax savings to an acquirer.
An underlying business trading at a discount
In summary, shareholders could receive a large dividend of $2 to $3 per share, while also having an underlying business valued at $10. After explaining how I derive value, my price target is $10 per share or a market capitalization of $257 million. Emcore looks attractively priced at these levels because of the anticipated spending acceleration in DOCSIS 3.1 products, the probable one-time special dividend, and the possibility of a sale to a competitor. From the closing price $5.47 on 1/13/16, the potential return to $10 is 83%.
Disclosure: I am/we are long EMKR, ARRS.
I wrote this article myself, and it expresses my own opinions. I am not receiving compensation for it (other than from Seeking Alpha). I have no business relationship with any company whose stock is mentioned in this article.
Additional disclosure: Emcore is a Micro-cap stock which is prone to extreme price movements. This article contains estimations and projections which may or may not be accurate. Before making any investment decision you should seek the advice of a financial adviser.