XPO Logistics (NYSE:XPO) stock fell to a new 52-week low on Thursday, falling below $20 for the first time since 2013. As explained in previous articles, XPO's recent losses are a reflection of the concerns surrounding its acquisitions of ND and Con-way; many investors believe the purchases were too large.
Moreover, investors worry that the guidance is too aggressive, and that XPO is growing too large, too fast. Nevertheless, I had the chance to speak with management at XPO earlier this month, and we talked in detail about these concerns. One statement from Scott Malat that I thought was especially important is the following:
"We're targeting EBITDA of at least $1.25 billion this year with CapEx of about $500 million. With approximately $350 million of interest expense, $70 million in working capital, and $30 million in cash taxes, we have a line of sight to a few hundred million dollars of normalized free cash flow in 2016."
I have often said that one of XPO's biggest problems is that investors aren't buying its EBITDA targets anymore. Investors hear all these big EBITDA goals but don't see EBITDA translate to the actual bottom line, despite the fact that XPO had operating income of $44 million last quarter. However, this year XPO will finally generate positive free cash flow, approximately $300 million based on Malat's above statement. As seen below, that is a big increase from its last four quarters, and will be enough to make the company net income positive.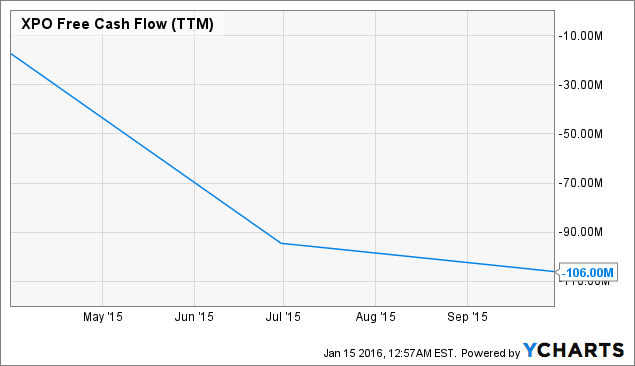 XPO Free Cash Flow (NYSE:TTM) data by YCharts
Looking ahead, XPO finally has ND and Con-way fully acquired, two very profitable businesses that should drive margin appreciation and consistent profits. But still, I wondered and asked XPO management what happens in the event of another 2008-like event in the economy. What happens if low oil prices start to collapse the energy market, and junk bonds devalue, and it starts a ripple effect that leads straight to credit markets and transportation. Furthermore, what happens if the well-known issues in rail don't improve. Here is the answer, an answer that I think is crucial for XPO investors to hear.
"We have spent a lot of time analyzing this type of scenario. Our costs are largely variable. In a negative GDP environment, our EBITDA will go down, maybe even 20% in a 2008-like environment. Our CapEx is flexible though, and we think we can defer our growth CapEx in any given year in amounts greater than any expected EBITDA drop. So, in a downturn, our free cash flow could actually increase. "
Anyone who has followed XPO long enough has heard Bradley Jacobs talk about such an environment, but I thought this answer was interesting given how much larger XPO has become. Some investors feel the company has taken on too much risk. However, based on this answer, that assumption is not exactly true, and it further suggests that the panic selling in XPO stock is unwarranted.
With that said, XPO stock price is most certainly frustrating, but at the end of the day this is a company that will generate several hundred million in free cash flow this year on the way to at least $1.7 billion of EBITDA in 2018, which would likely result in free cash flow of at least $600 million.
Notably, CH Robinson Worldwide (NASDAQ:CHRW) has free cash flow of $635 million over the last four quarters, and it is about three times more valuable than XPO right now.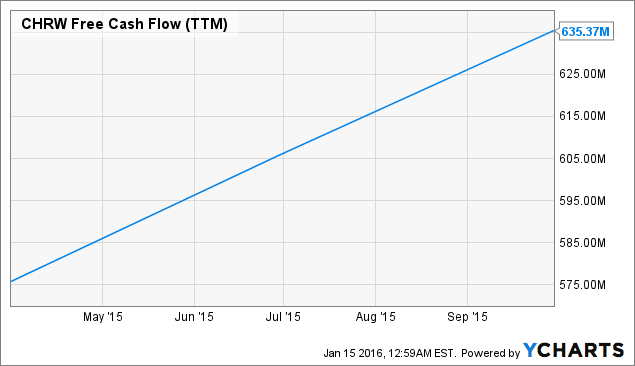 CHRW Free Cash Flow (TTM) data by YCharts
Given the fact that XPO Logistics is well on its way to being far larger than CH Robinson, and just as profitable, one could argue that at the bare minimum, XPO Logistics has upside of at least 200% by 2018 based on its future creation of free cash flow relative to CH Robinson's FCF and valuation.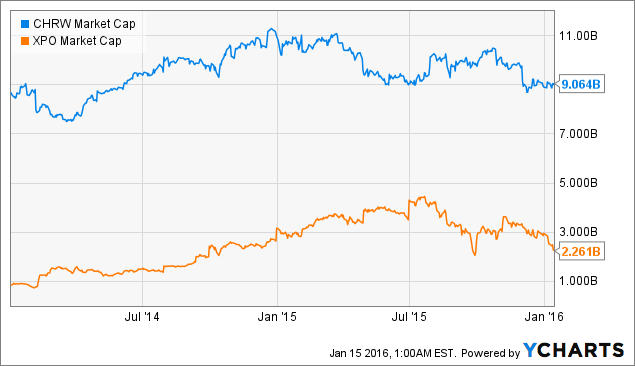 CHRW Market Cap data by YCharts
When you put all this together, there is no doubt that XPO is a great long-term investment from this point forward. But unfortunately, you might want to buy and close your eyes for a few months before realizing just how good it truly is.
Disclosure: I am/we are long XPO.
I wrote this article myself, and it expresses my own opinions. I am not receiving compensation for it (other than from Seeking Alpha). I have no business relationship with any company whose stock is mentioned in this article.