The recent movements in crude oil prices are very substantial in historical context.
Headline inflation will return to target once oil prices stabilize, but recent further declines in global oil prices are calling into question when such a stabilization may occur.
Inflation expectations in the U.S. may be falling. If so, this would put downward pressure on inflation.
Relatively low oil prices remain a net positive for the U.S. economy.
These were the main conclusions made by James Bullard, President and CEO, Federal Reserve Board-St. Louis, in a speech on January 14th titled, "Oil Prices, Inflation and U.S. Monetary Policy." Bullard effectively pushed out the path of inflation and in so doing pushed out the timing of the next rate hike from the Federal Reserve. The Fed Funds Futures reacted by pushing out the odds for a rate hike in April, already marginal, all the way out to June.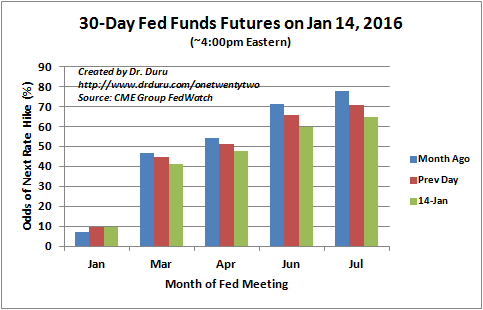 Odds for the next rate hike have moved from a marginal April expectation to a June expectation
Source: CME Group FedWatch
Two charts from the presentation tell Bullard's inflation story. First, a correlation has arisen between oil prices and inflation expectations. Given inflation expectations help drive actual inflation (according to economic theory anyway), oil's fall suppresses the likely path of inflation.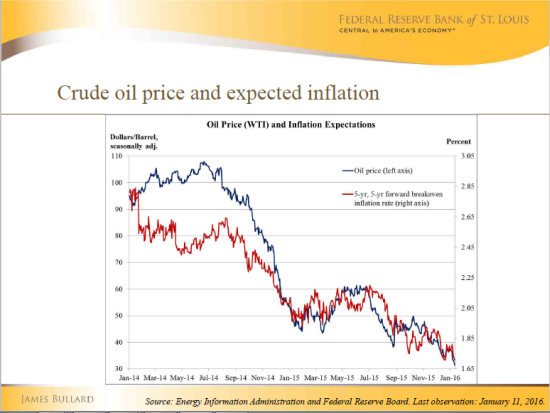 Inflation expectations are tumbling along with oil.
The next chart hypothesizes what might happen to inflation if oil continues to fall further (to $20/barrel on WTI) before stabilizing. This scenario matches Bullard's concerns that earlier forecasts of stabilization were over-optimistic. In this scenario, inflation does not stabilize until early 2017.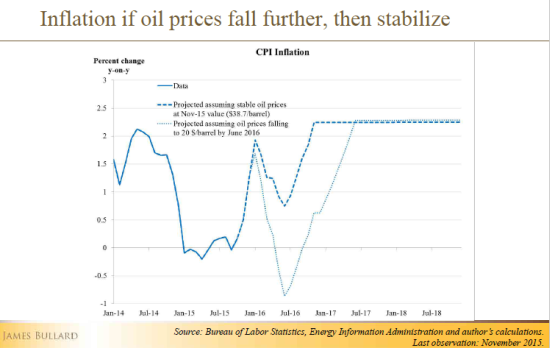 $20 oil shifts inflation stabilization out to early 2017
Under these circumstances, it makes sense that the market pushed out the next rate hike to June. Per my claims last year, I fully expect the Federal Reserve to follow the market's rate expectations. Surprisingly, the U.S. dollar index (NYSEARCA:UUP) proved resilient to this shift. The index is still holding support at its 50-day moving average (DMA). However, with "risk-off" sentiment intensifying in financial markets, growing strength in the euro (NYSEARCA:FXE) and the Japanese yen (NYSEARCA:FXY) may yet take the index down. I would treat such an event as a fresh buying opportunity for the index mostly out of bearishness for the euro and the extreme oversold nature of equity markets. The red flag I raised on the Japanese yen at the start of the year continues to unfold as feared.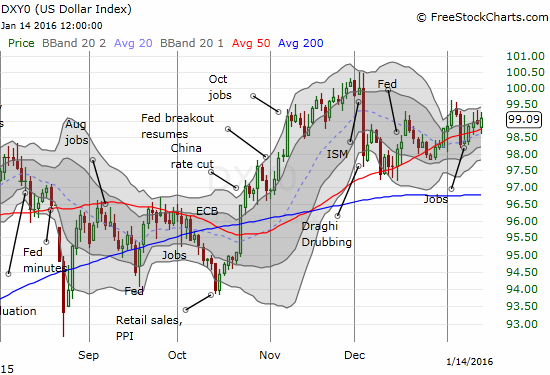 The U.S. dollar is off its recent highs, but still (marginally) positive for the year as it follows support at its 50-day moving average.
Source: FreeStockCharts.com
Be careful out there!
Disclosure: I/we have no positions in any stocks mentioned, and no plans to initiate any positions within the next 72 hours.
I wrote this article myself, and it expresses my own opinions. I am not receiving compensation for it (other than from Seeking Alpha). I have no business relationship with any company whose stock is mentioned in this article.
Additional disclosure: In forex, I am net long the U.S. dollr