Anadarko (NYSE:APC) is one of the giants, but with a depressed price environment, the bigger they are, the harder they fall. That's clearly evident in Anadarko's 40.96% decline in 2015. Despite a large amount of debt and a strong decline in cash flow, I believe Anadarko is well-positioned to make it through this decline given their project base. My outlook for oil and natural gas continue to be bearish and while I believe Anadarko will continue to see a decline in the short-term, there will be a buying window in the NTM for the LT.

Click to enlarge
Capex Planning
The company, based upon Q3 figures, derives 55.1% of revenue from oil, and 29.9% from natural gas and natural gas liquids. The rest of revenue comes from gathering and marketing, at 14.97%. In taking a look at the underlying environment, we can start to paint a better picture of what's in store for this company's Q4 ER.
With OPEC continuing to protect its market share against American producers, production caps are not in place. Iranian oil is set to hit the market soon, for which the country also holds 10% of global oil reserves. If these reserves are liquidated, there could be serious downward pressure on oil prices and even hit the Standard Chartered price target of $10/barrel. That price target may even approach if the reserves stay intact and Iran beats projections on their weekly and monthly output figures. The recent EIA report showed crude inventories increasing 0.2 million barrels and what's interesting as the 482.6 million barrels in current inventory is a level the EIA hasn't seen in 80 years. That's a very large supply and demand imbalance and is one of the major factors driving oil prices lower.
On the natural gas side, we are starting to see reductions from the 3,475 Bcf storage, which is normal for this time of year given the seasonal weather. Week over week, we saw a 168 Bcf reduction. However, it should be noted that this number is still well above the 5-year average of 3,001 Bcf, thus still showing the strong oversupply.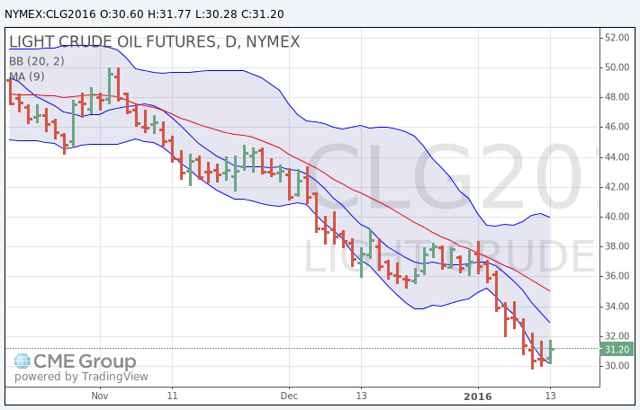 Click to enlarge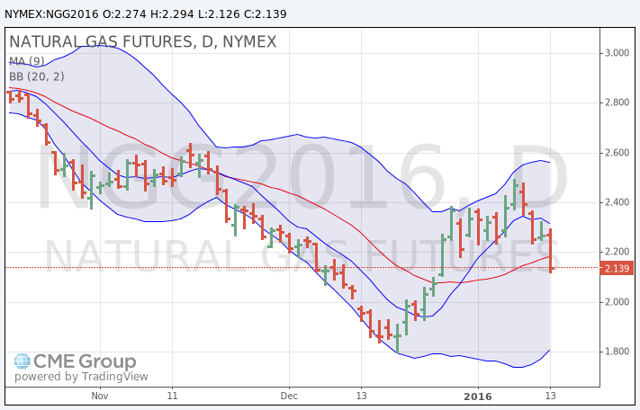 Click to enlarge
Source: CME Group
With all this pessimism for oil and natural gas, companies like Anadarko are forced to take measures to preserve liquidity. The company extended its $3 billion credit facility to January 2021 and received "commitments" to renew its $2 billion credit facility in 2017. Backed by a current and quick of 1.10 and 1.07 respectively, the company has adequate liquidity, which is so crucial to have given the rising number of bankruptcies we've seen in the energy space attributable to companies overleveraging themselves. Now, an obvious hit to liquidity was the $5 billion Tronox settlement early last year, but that's over now - priced in.
It also shouldn't come as a surprise that this company has begun to prop up its revenues after a significant decline in YOY from $4.23 billion to $2.23 billion. They increased their midpoint Q4 guidance due to efficiency gains by more than 15,000 bopd. This will assuredly help revenue be boosted with the upcoming Q4 ER, as they have now guided 70-72 million boes for Q4.
With this kind of positive news, it's important to note that the underlying price environment has created a large headwind for Anadarko and that's directly visible in its ability to place more long-term growth projects online. For example, their rig count has been nearly cut in half and they've had to defer 200 completions since 2014. Yet, this is exactly where I believe Anadarko begins to set itself apart from the competition.
The company guided $5.4-$5.6 billion in capex for the full year 2015, with a $60 WTI and $3 HH in mind. While these spots are well-off current prices, we should reasonably expect a capex reduction for 2016, especially in light of negative FCF for the last four quarters. Anadarko has maintained a very balanced split of capex, whereby roughly 50% of the budget has been directed towards short-term projects. Even with a potentially reduced budget, next year, their global diversification of growth projects coming online will help them to begin to offset the low-priced environment.
Laying The Foundation
Take a look at the chart below. We can see the clear increase in U.S. onshore production, which while this is a major theme of the overall market, is going to prove to be useful for Anadarko in the long-term. Wattenberg has over 4,000 identified drilling locations and the company already has the required infrastructure there to expand production. There's an estimated 1.5 BBOE in net resources at Wattenberg that has yet to be tapped.
Eagleford has been the strong beneficiary of decreased well and completion costs. While this area has been hit the hardest with the rig count declining from ten to just one for Anadarko, there's still over 2,000 identified drilling locations for Anadarko.
Furthermore, a very understudied catalyst is their Delaware Basin assets. Dubbed "Wolfcamp," there's over 5,000 identified drilling locations and has a 1 bboe potential, at minimum. This is certainly a work in progress and while I don't expect it to be operating at full strength until energy prices recover, it's an iron in the fire.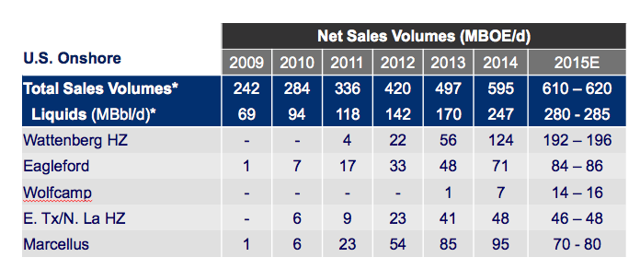 Click to enlarge
Source: Investor Presentation
The excellent growth potential doesn't just stop with U.S. Onshore. One of Anadarko's clear strengths is its global diversification. With identified projects in Alaska, the Gulf of Mexico, Ghana, Mozambique, New Zealand and Colombia, the company is minimizing its total risk level. That kind of balance is going to be critical moving forward.
The flurry of deepwater Gulf of Mexico projects seeing increased potential is excellent. For example, Heidelberg has three wells that strike their first oil some time in Q1. The zone has some 200-400 million barrels of recoverable resources and a set guidance to start producing 80,000 bopd. Then, there's Lucius, which is the exact same size as Heidelberg, operating in an area that is expected to contain 300 million barrels of recoverable resources. Lucius is already producing 80,000 bopd and will remain a positive source of income for Anadarko for several years to come.
Next, there's the Mozambique LNG project. While I'm very bearish on the outlook for global LNG, given my pessimism on the closing global arb opportunity and massive capacity coming online in Australia, this project is nonetheless an ancillary stream to diversify their current composition. They've secured project financing, have access to a 17,000 acre LNG facility, and have identified 75 tcf in recoverable resources. That's an absolutely massive amount of future revenue. Furthermore, the location of the LNG field gives them direct access to Asia, which currently boasts the highest global LNG prices.
The other notable project I wanted to bring to light is their Jubilee project in Ghana, which has now surpassed a 100,000 bopd. This figure is up from previous guidance and while Jubilee isn't new, their TEN complex is. It is expected to come online mid this year, and provide another push to the top line that so desperately needs it.
Given the rising amount of bankruptcies in the energy sector and increasingly unstable amount of debt from these companies that could increase the risk of default, M&A starts to become a more attractive option for some of the larger players. Yes, Anadarko did fail in its attempt to buy Apache (NYSE:APA), as they misjudged the premium, but the fact remains that the company may pickup high quality assets at the lower tiers of the market and I don't want shareholders to forget this as a possibility. Thus, I'm remaining optimistic that Anadarko's management won't make the same mistake twice in low-balling an offer.
It's Cheap, But Not Too Cheap
Trading Anadarko largely depends on two things: your time horizon and your outlook for oil. The stock is heavily oversold with the RSI showing a < 20 reading and has been showing these types of readings consistently since November 1. Tying back into my outlook for oil prices, I continue believe that this company has not seen its bottom. So, while I'm advocating for an entry, I'm not ready to go long just yet. Averaging down is not a bad idea, but a little bit of patience must be exercised. Look at the significant dip we've had in just the last two months. In November, this stock was trading at $67/share, and now it's at just $35. That's absolute madness and is going to pay off for the long-term investor.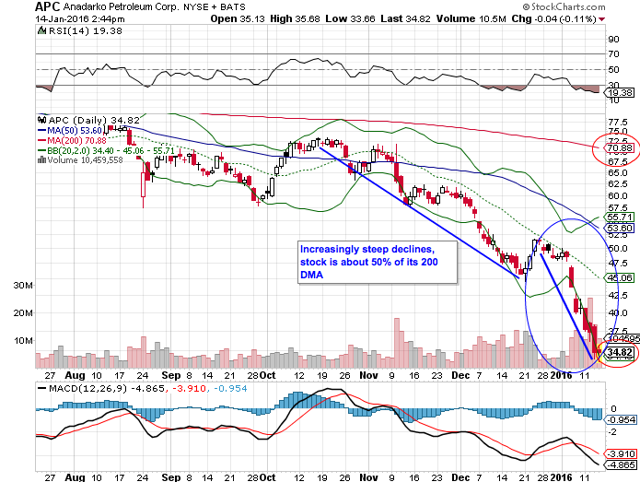 Click to enlarge
Source: StockCharts
In addressing the company's current yield of 3.08%, the company is currently paying out $138 million in quarterly dividends. Would it be a grand idea to cut this dividend and conserve the cash? Cash assets, after all, have been reduced from $8.34 billion to $2.07 billion YOY. Maybe the excess cash could start being directed towards paying down the $15.89 billion in LT debt that carries an interest burden of nearly $200 million per quarter. Yet, cutting the dividend would have a monstrously negative effect for the stock and I fear that many shareholders would exit immediately upon such news. While I do not see a dividend cut in the cards for the near-term, any surprise event like this could aggravate losses.
Conclusion
The company is set to report Q4 earnings on February 2nd before the bell, which will largely be a turbulent week as many oil and gas companies report, as well. The speculation on Anadarko's stock up until that date will be largely determined by the first earnings reports we get from the oil and gas industry, as well as the daily price swings for energy prices. I advise the investing audience to be patient on their plays with Anadarko.
Disclosure: I/we have no positions in any stocks mentioned, and no plans to initiate any positions within the next 72 hours.
I wrote this article myself, and it expresses my own opinions. I am not receiving compensation for it (other than from Seeking Alpha). I have no business relationship with any company whose stock is mentioned in this article.