In a miserable market environment for all types of equities, ACAS remains an overlooked opportunity as its fundamentals remain strong.
ACAS management has been slowly working towards maximizing shareholder value for over a year, and recent developments have further highlighted the fundamental value of the Company and forced additional pressure on management to achieve maximum value. On 1/7/16 the Company announced that it had "completed the initial phase of its strategic review process, and was going to proceed with the solicitation of offers to purchase the Company or its various business lines in whole or in part". ACAS's share price closed at $13.97 before its announcement that its Board had decided to proceed with the sales process - it is now approximately $13 a share - primarily a function of the recent market sell-off.
As described below, ACAS fundamentals remain strong and it has a strong balance sheet. In a normalized market, there is no reason why ACAS should not be valued close to its net asset value of approximately $20-to-$21 per share - representing upside of 55%-to-60%.
Away from recent general market turmoil, it has been an interesting few months for ACAS - a few highlights:
On 9/30/15 ACAS finally filed with the SEC the preliminary documents for its long-discussed plan to maximize shareholder value by separating its asset management business from its balance sheet.
On 11/16/15 the activist investor Elliott Management ("Elliott") announced that funds managed by it owned a 9.4% economic interest in ACAS, and that Elliott strongly opposed ACAS's planned reorganization transaction. Elliott estimated that ACAS was valued at $18 to $23 per share. After signing a confidentiality agreement in late November, Elliott increased its economic stake to 10.3% of outstanding shares at 9/30/15.
Under pressure from Elliott, on 11/25/15 the Company's announced that it had initiated a review of strategic options, including the sale of the Company or it various business lines in whole or in part", and that it had engaged Goldman Sachs and Credit Suisse as its advisors.
The Company announced after the market close on 1/7/16 that it had "completed the initial phase of its strategic review process, and was going to proceed with the solicitation of offers to purchase the Company or its various business lines in whole or in part". Goldman Sachs and Credit Suisse will assist with the solicitation.
ACAS Fundamentals Remain Strong
ACAS remains at a significant discount to NAV despite its strong balance sheet
ACAS stock remains at a significant discount to book - at $13.00 per share, it is at an almost 37% discount to 9/30/15 NAV of $20.44 per share.
Table 1 presents a Pro Forma Analysis of ACAS's balance sheet and NAV per share including effects of the items discussed in this article, including 4th quarter stock repurchases, ACAS's disclosure that it would sell a "significant majority" of its Senior Floating Rate Loans by 12/31/15, and announced 4th quarter dispositions of a couple of debt investments.
Pro forma for the 4th quarter purchases of 20.7 mm shares, ACAS would have approximately 238.9 mm shares outstanding as of 12/31/15 - resulting in a pro forma 9/30/15 NAV of $20.97.
Compared to a share price of $13.00 per share - the dollar value of the "market discount to NAV" is approximately $1.9 billion.
Pro forma for the above actions, ACAS's total investments portfolio will be reduced from $7.1 billion at 9/30/15 to approximately $4.7 billion as of 12/31/15 - which includes the fair value of $1.1 billion for ACAS's asset management unit - American Capital Asset Management ("ACAM"), and $3.6 billion of debt and other equity investments. Comparing these amounts versus the above described market discount of $1.9 billion highlights the fundamental undervaluing of ACAS by the market.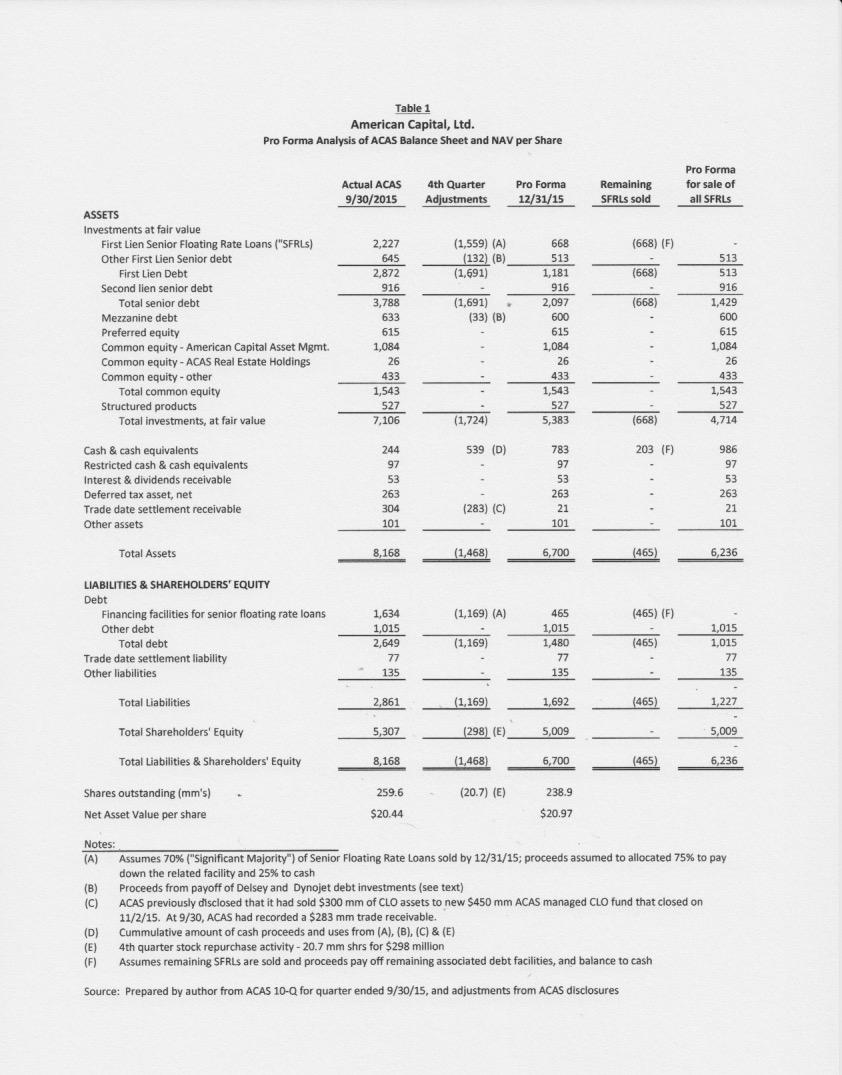 Board's quick decision to proceed with sale process
As noted above, as part of its initiation of its review of strategic options on 11/25/15 it engaged Goldman Sachs and Credit Suisse as its advisors. It is hard to imagine that ACAS's board would have decided so quickly to proceed with the sale of the entire business or its parts without very strong positive initial feedback from its two bankers.
There are a multitude of potential buyers for ACAS and several ways the sales process in whole or in various parts might proceed. The natural buyers would be the many of the global private equity and asset management platforms that are already engaged in managing non-investment grade credit, mortgage and private equity assets similar to those owned and managed by ACAS. These buyers would be easily able to minimize operating costs and achieve operating efficiencies to enhance their value.
Without being privy to the confidential information about the sales process, it is difficult to know exactly what the timing is for the sale process. However, it is reasonable to think that the board and its advisors would want to move the process along quickly since the Company effectively becomes a lame duck in the markets, and investors are pushing for action.
ACAS management is strongly aligned with other shareholders to maximize shareholder value
The ACAS management team is strongly motivated to maximize shareholder value through their significant stock options and holdings.
As presented in table 2, there are estimated remaining outstanding stock options of 36.8 million as of 12/31/15 - representing 14.2% of shares outstanding as of 9/30/15.
Management also owns approximately 2% of shares.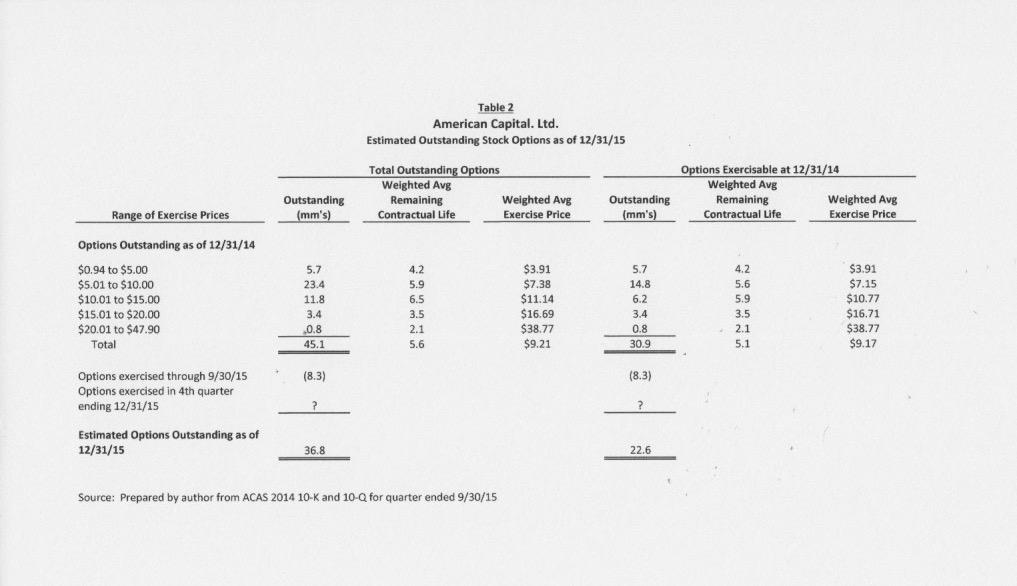 ACAS shareholders represent almost 72% institutional investors
As of 9/30/15, institutional investors owned approximately 72% of ACAS shares (source: Yahoo Finance).
As noted earlier, Elliot managed entities own a combined economic exposure representing 10.3% of shares - it appears that Elliot acquired most of its exposure post-9/30/15.
On 1/9/16 Blackrock filed its updated 13-D indicating that its managed funds owned 27.4 million shares of ACAS - representing 10.4% of shares (as of 9/30/15).
ACAS has been, and is expected to continue to be, a significant acquirer of its stock on accretive terms
The Company has been an active acquirer of its stock on accretive terms. As part of its announcement on 11/25/15, ACAS announced that it had increased the range on its stock repurchase program from $300-to-$600 million to a new range of $600-to-$1,000 million.
The Company also announced that it entered into a 10b5-1 program to accomplish the stock repurchases - which permits the Company to continue to repurchase stock.
On 1/4/16, ACAS announced that it had repurchased 20.7 mm shares in the 4th quarter for an aggregate cost of $298.4 million (average share price of $14.44) - representing 8.0% of outstanding shares at 9/30/15. For the year, ACAS acquired 36.9 million shares.
The Company reiterated that the announced stock program was still in effect, and Company expects to complete the program by 6/30/16. The Company has purchased $433 million under the program to date - with up to $567 million to go. At $15 per share - this amount could be another 38 million shares that could be acquired.
As apparent from Table 1 above, ACAS has plenty of cash to use for its plans to repurchase shares without incurring any debt.
ACAS selling Senior Floating Rate Loans / freeing up capital for stock repurchases
On 12/16/15 ACAS filed a Form 8-K that indicated that it expected to sell a substantial majority of its senior floating rate loans by 12/31/15, and had made reductions in the associated financing facilities.
As of 9/30/15, ACAS's senior floating rate loan portfolio was $2.227 billion and the outstanding funded amount of the associated financing facilities was $1.634 billion (with an aggregate commitment amount of $1.75 billion). The sale of these loans provides significant capital available for repurchasing stock.
The Senior Floating Rate Loans were minimally accretive to ACAS earnings - their sale will have minimal income statement impact.
ACAS disclosed two transactions in the 4th quarter that also freed up capital for repurchasing stock: (1) on 11/17/15 ACAS announced that it received Eur 91.4 mm (about $100 million) from its unitranche investment in Delsey (9/30/15 aggregate FMVs of $107.3 million comprised of 1st lien debt of $96.5 million, and mezzanine debt of $10.8 million); and (2) on 12/8/15 ACAS announced the sale of its portfolio company Dynojet for an undisclosed sum (9/30/15 FMV of $57.3 million comprised of 1st lien debt of $35.3 million and mezzanine debt of $22.0 million).
Disclosure: I am/we are long ACAS.
I wrote this article myself, and it expresses my own opinions. I am not receiving compensation for it (other than from Seeking Alpha). I have no business relationship with any company whose stock is mentioned in this article.