Earlier this week oil prices hit a twelve-year low. This wasn't great for the markets, but it is good for the consumer, and got us thinking about where this extra money in our pockets is going to end up. Other than emptying our pockets at Starbucks (NASDAQ:SBUX) we also considered getting our hair cut and styled.
Regis Corporation (NYSE:RGS) is nearly ten times larger than its closest competitor in the hair salon industry with 9,357 salons. This kind of monopoly, in this kind of industry, you would imagine means the company should benefit from the extra money in consumer's pockets from falling oil prices and rising wages. But will it?
As of the fiscal 2015 10K it operated through three operating segments:
North American Value - 76% of total sales
North American Premium - 17% of total sales
International -7% of total sales.
So who are Regis Corporation and would they benefit from a rise in disposable income? Well they're probably better known for their brands rather than the company name. Their brands include SmartStyle, Supercuts, Cost Cutters, Regis Salon, and MasterCuts, and are designed to be seen as affordable salons aimed at the large and stable middle market.
We think a rise in disposable income will actually hurt the company, and the best hope for it is a recession - which nobody really wants let's be honest. The average price for a cut at Supercuts is $14.95 and at SmartStyle (its largest brand) it is $18.95 for a cut. This is great when you're trying to reduce your expenses, but when you've got money to burn and want to treat yourself, you're going to look elsewhere. People do take pride in their appearance and we feel they will certainly pay a little more to look good.
Revenue peaked for Regis during the middle of the last recession and has been on a wicked decline ever since, as shown below.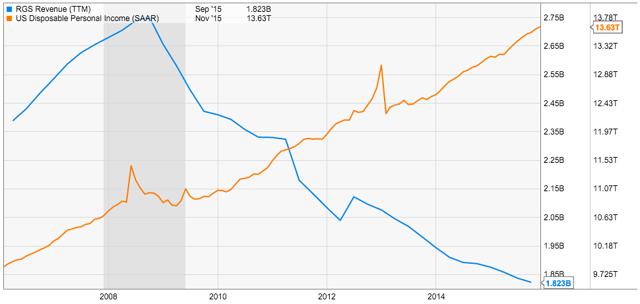 Click to enlarge
(Source: Ycharts)
As mentioned above, there is a premium segment too. This represents 17% of its total sales currently, but is actually down year over year despite the better economic conditions. The average service transaction in the premium segment is $45.
We put the decline down to our opinion that the premium segment doesn't represent a premium product unfortunately. We feel that the Regis Salons look tired and antiquated in comparison to a more modern salon like what Toni and Guy provide to consumers. Without a significant rejuvenation for the brand we feel it will never capture enough of the Millennial market or make the company relevant again.
There has also been an interesting rise in boutique barbershops around the world. We're well aware anecdotally of the popularity of these barbershops, and who can deny how appealing they are for the average male consumer?
Take for example Ted's Grooming Room & Ottoman Lounge by Ted Baker (OTCPK:TBAKF), which operates a relaxed grooming emporium, uses Turkish blades, a flaming torch, and they even give you a hand massage. Oh, and while you wait you can have some craft beer, champagne, or a Turkish coffee. This to us is more than a trip to the barbers, it's an experience, and when there's money in your pocket, we know which we'd prefer.
It is for these reasons that we see revenue continuing its decline through 2016 putting further strain on a share price which is already down 11% in the last 52 weeks.
The company does have a good level of cash and equivalents ($176 million) compared to its long term debt ($120 million), but whether it would be enough to rejuvenate the brands and make them relevant to the growing Millennial market is a rather large question mark.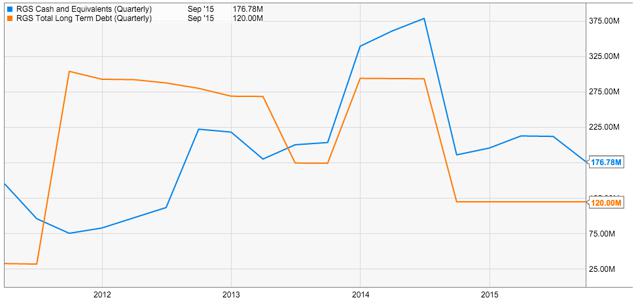 Click to enlarge
(Source: Ycharts)
It hasn't been a great five years for shareholders. As shown below, $100 invested in the company in 2010 would be worth a meager $106.10 today, compared to its peer group which would be worth $298.58.

Click to enlarge
(Source: Company 2015 10K)
Unfortunately, we don't see this improving any time soon and believe it is more likely to lose you money than gain it on an investment at this point. We would, however, recommend putting Regis on a list for consideration in the event of a recession. At that point the company's value-orientated business model might just benefit.
Disclosure: I/we have no positions in any stocks mentioned, and no plans to initiate any positions within the next 72 hours.
I wrote this article myself, and it expresses my own opinions. I am not receiving compensation for it (other than from Seeking Alpha). I have no business relationship with any company whose stock is mentioned in this article.